If you want to maximize your performance in the water, reach your swimming goals, and ensure your competitors don't outswim you, then it's essential to have the right swimming equipment.
Over the last decade, I've tested countless pieces of swim gear, and in this article, I put it all together so that you can build your ultimate swimming equipment list– and avoid wasting money on unnecessary gear you don't need.
So whether you are a beginner-, a lap-, an elite-level competitive- or an open-water swimmer, or even a triathlete, our guide covers every piece of swim gear you'll ever need. From the fundamentals, training gear, and swim accessories to competition and open water equipment.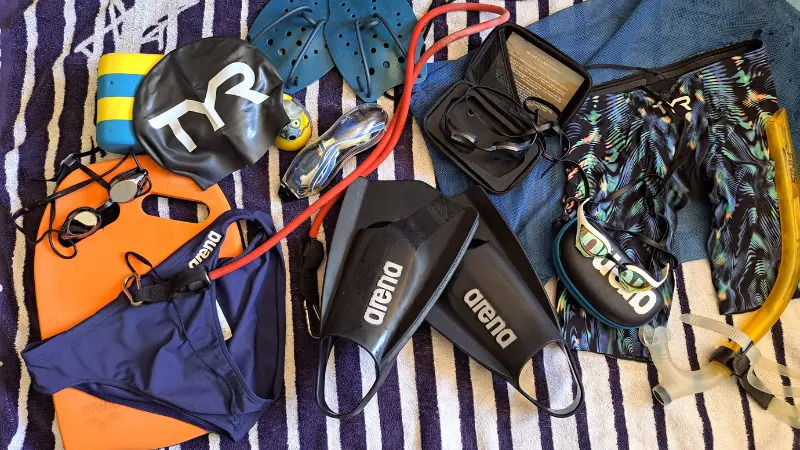 Swimming Equipment for Beginners (The Fundamentals That All Swimmers Need)
This section provides all the essential gear you need to get started with swimming. This is a good place for beginners and lap swimmers to start, but it's also vital that elite swimmers own this equipment since this is the gear you use daily.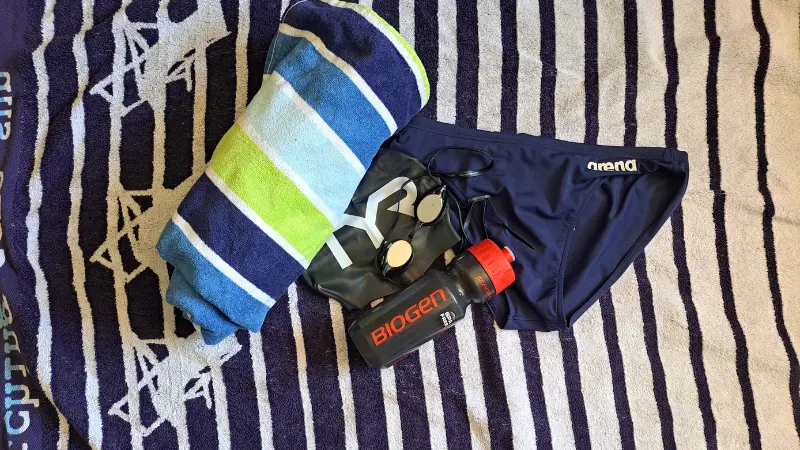 Training Swimsuit
One of the most obvious pieces of swim gear you'll need is a swimsuit. There are various options available for both men and women.
The important part is to choose a suit made for training. For men, you can choose between a swim brief or a jammer. Women have the option between a one-piece or a two-piece training suit. Some good swimsuit brands for swimmers include Speedo, TYR, Arena, Sporti, FINIS, Mizuno, and Jolyn.
There is no right or wrong suit to pick here. The important part is to pick something that's functional, and you feel comfortable wearing.
Training Goggles
Goggles come in many colors and flavors– there are goggles for open water, racing, training, and more.
It's, however, essential to have a solid pair of training goggles since you will be wearing them daily.
Goggles help you to see clearly in the water, which enhances your performance since you can focus on speed, technique, and timing turns correctly. They also protect your eyes from pool chemicals and provide comfort by keeping water out.
Personally, I like the custom Magic5 swim goggles since they are incredibly comfortable.
For a cheaper option, consider the Sporti S3 antifog goggles.
Swim Cap
Swim caps help keep hair out of your eyes and protect your hair from pool chemicals. On top of that, a swimming cap is mandatory for many public swimming pools.
There are various caps available. I prefer silicone or lycra caps over fabric-type polyester/neoprene caps.
(While we are on the topic of protecting your hair from pool chemicals, check out my article on the best swim shampoo and conditioner to keep your hair healthy).
Related guide: Best swim caps for long hair.
---
Water Bottle
It's crucial to ensure that you're always hydrated while training– and therefore, you need a water bottle (or two) on hand. I usually have one bottle of water and another for my sports drink supplement, which provides carbs to fuel my muscles with constant energy throughout my swim workouts.
Even mild dehydration while training can significantly reduce your physical performance. It can also affect your mental focus, resulting in a bad workout.
Towel
You'll need a towel after you've swam your laps for the day to dry off. You can choose between a traditional cotton towel or a microfiber towel.
Traditional towels are more comfortable, while microfiber towels allow for quick drying and are also very compact.
Swimming Training Equipment and Tools to Become a Better Swimmer
In this section, I cover all the swimming training gear you will use almost daily in training. Competitive swimmers must own all the gear in this section.
Lap swimmers and triathletes should also own most (if not all) of this swim gear.
At the same time, beginners can slowly start incorporating various pieces into their training as they get more comfortable in the water.
Often you can also use various pieces of this swim equipment simultaneously.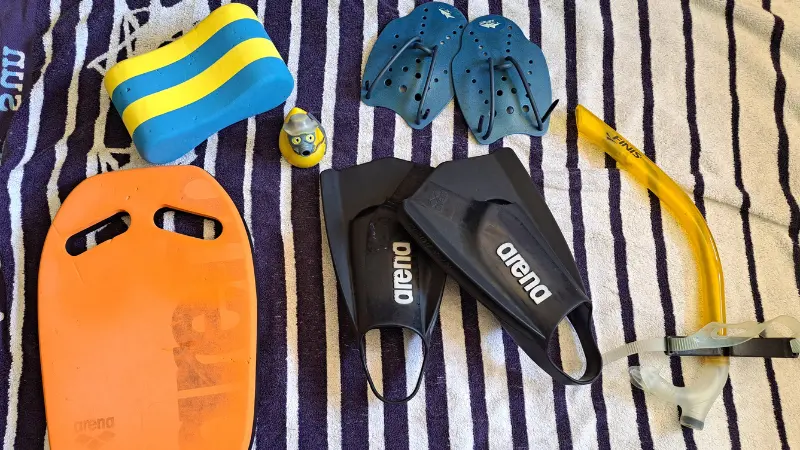 Kickboard
A kickboard is a valuable piece of swim training gear for building a powerful kick and lower body strength and endurance.
The legs are some of the biggest muscles in your body, so it's crucial that you can use them effectively to propel yourself through the water.
In fact, the kick contributes to an average of 31% of your swim propulsion for long-axis strokes like freestyle and backstroke. In comparison, it can contribute up to 70% in short-axis strokes like breaststroke and butterfly.
Apart from contributing a hefty amount to propulsion, your kicking speed also determines how fast your arms move. So even if it contributes less propulsion (freestyle, backstroke), you still need to kick quickly to have an effective high-tempo arm stroke.
Kickboards can be used in conjunction with a snorkel and fins.
For additional leg strength, check out my article on the best leg exercises for swimmers.
Pull Buoy
A pull buoy is a foam-shaped device that you place between your thighs to elevate your body in the water and remove the kick, allowing you to focus on your arm strokes.
It has various benefits, including better swimming technique, upper body strength and endurance, and a stronger pull, to name a few.
You can use a pull buoy in combination with a snorkel and paddles.
Swimming Fins
Fins are one of my favorite pieces of training equipment and have many uses and benefits, helping you to become a better swimmer.
Fins aren't only good for swimming faster (allowing you to simulate race pace), but they are also great for building leg strength, power, and endurance– and, as mentioned, a strong kick is crucial for being a fast swimmer.
They're also helpful for helping develop ankle flexibility, which is vital for an efficient kick.
Swimming Paddles
Paddles have similar benefits to swimming fins but are for your upper body instead of your lower body.
Some of the more apparent benefits of paddles include improving propulsion and upper body strength, power, and endurance. Additionally, paddles can be a tool to help improve your pulling technique and arm mechanics.
Likewise to having a strong kick, you also want a strong pull.
While you need fast kicking for a high arm tempo, the arms can provide a lot of propulsion, allowing you to swim faster. A better arm stroke also means you can swim more efficiently.
Want more pulling strength? Check out my article on the best arm exercises for swimmers. Or check out the best upper body exercises for swimmers.
Swimmer's Snorkel
Apart from fins, a swimmer's snorkel is also one of my go-to tools for swim training.
A swimmer's snorkel is different from a traditional snorkel in the sense that– well, it's made for swimmers! This means you can use it with various swim strokes, and it won't come off during turns or when swimming fast.
Snorkels are great for improving breathing efficiency and aerobic conditioning, making you fitter!
They're also super useful for improving your swimming technique by removing the head movement to breathe, which allows you to focus solely on your stroke. This is also good for fixing muscle imbalances caused by unilateral breathing.
Furthermore, snorkels can also help you swim 5-6% faster, which is helpful for sprint and kicking sets.
To level up your breathing further, read my article on these breathing exercises for swimmers. (PS. Using a snorkel is one of them!)
Swimming Accessories and Aids to Make Your Life Easier
Swimming accessories are additional pieces of swim gear that can make your life easier. This gear isn't essential, but I recommend looking through it to see if there's anything that can help you.
I recommend that most swimmers invest in at least a mesh bag and resistance bands. The rest is optional (although still very useful). You may also want to consider picking up a swimming backpack, nose clip, earplugs, and a rubber duck.
Competitive and open-water swimmers/triathletes should also seriously consider using a tempo trainer.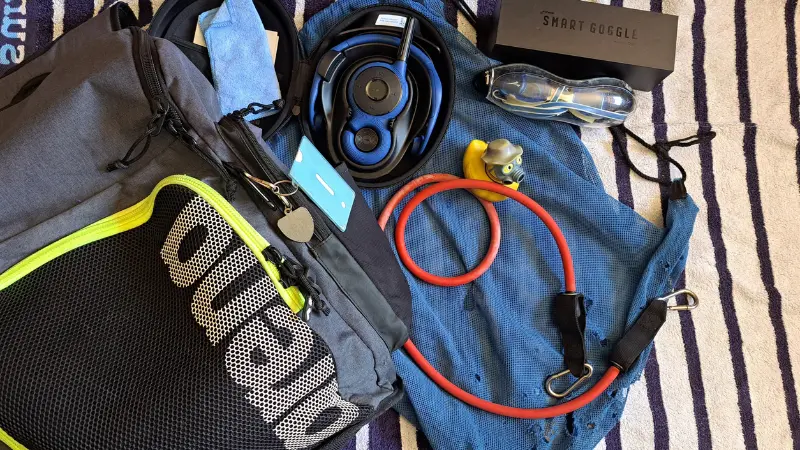 Mesh Bag
A mesh bag helps carry all of your training gear. Depending on the design, you can also fit your water bottle, caps, goggles, and even your towel in it (if you opt for a compact microfiber towel).
Due to the mesh design, you also don't have to worry about wet gear since the water will drain out and evaporate naturally, ensuring your equipment is ready for the next time you want to train.
Overall, I highly recommend a mesh bag– it will make your life much easier.
Nose Clip
If you struggle with water entering your nose and causing discomfort while you swim, then a nose clip is the perfect solution. Nose clips also help control breathing, which beginners may struggle with.
For more advanced swimmers, nose clips are also a good tool. Nose clips have been shown to help improve your underwaters and are also helpful for holding your breath on sprint events like the 50m freestyle.
Many backstrokers also use nose clips to stop water from entering their noses while racing.
Ear Plugs
Ear plugs aren't necessarily for everyone, but for some swimmers, this swimming accessory is a must-have.
Swimmers who are prone to ear infections or have sensitive ears will significantly benefit from having a pair of earplugs on hand for swim practice.
Not only will this make swimming more comfortable for you, but also ensure that you are in the water consistently. And as every great swimmer knows– consistency is the secret ingredient to success in the pool.
Goggle Case
Your swim goggles are one of the most important pieces of swimming equipment you have. Therefore it's a good idea to take care of them since you'll be using them daily.
A goggle case is an excellent way to protect your swim goggles and increase their durability. Not only will this keep your goggles protected, saving you money in the long run, but it'll also ensure they are always in your swim bag, so you don't accidentally forget them.
You can also use it to store an extra pair of goggles in case something happens to your regular pair.
Swim Parka
A swim parka is one of my favorite swimming accessories for morning practices, swim meets, or the cold winter months.
Surprisingly, swim parkas can also help enhance your swimming performance, as suggested by this study published in the Journal of Sports Sciences. (Which is also why all Olympic swimmers wear them).
By helping you maintain an optimal core body temperature, you are able to swim faster.
Apart from keeping you cozy and helping you swim faster, a parka looks cool and is easy to slap on when jumping out of the pool after practice on a cold winter morning.
Smart Swim Tracker
Swim trackers come in all shapes and sizes nowadays. From the traditional swimming watch to smart swim goggles and easy-to-wear devices that clip onto your goggle strap.
These trackers can help you measure a plethora of metrics while training, which not only keeps you motivated and accountable but also helps you improve week-over-week.
You can measure training distance and laps, swimming pace, calories, intensity, stroke rate, swolf (a measurement of efficiency), heart rate, other technique metrics, and more, depending on the device.
I like to use the FINIS Smart Swim Goggles as my tracking device. This is because it allows me to see metrics like distance, laps, and splits directly inside my goggles while training. After training, I can sync the goggles to the app and get access to all the other tracking metrics.
For open water swimmers and triathletes, a watch with GPS capabilities will be more beneficial to provide an accurate measurement of your performance when training in open water conditions.
Swimming Headphones
While waterproof swimming headphones aren't a must-have, they can be a lovely luxury.
Swim headphones can make your training more engaging and exciting, especially if you train on your own.
You'll not only be able to listen to your favorite music and podcasts while swimming but may also be able to get active coaching through an app, as in the case of the Zygo Solo swim headphones.
This can be great for keeping you consistent and motivated with your training since it can be tough to swim on your own.
Depending on the model, it can also double as a swim tracker, although it will be less advanced than the devices made solely for this purpose.
If you're looking for an excellent option, I recommend the Zygo Solo swim headphones. Unlike other headphones that use an MP3 player, these can stream directly from your phone via Bluetooth, making them super convenient.
Resistance Bands and Tubing
Every swimmer should have a pair of resistance bands and/or tubing in their swim bag.
Resistance bands refer to any elastic training band. In contrast, tubing refers to a type of resistance band specifically used by swimmers. Coaches often make swimmers simulate their strokes using tubing to build strength and activate muscles.
Not only are these bands useful for providing a quick dryland warm-up before you jump in the pool (to help reduce your risk of injury and activate your muscles to ensure a better workout), but you can also use them for various strength exercises to become a better swimmer.
If you train at an outdoor pool, they are also useful if a thunderstorm shows up mid-practice. This means you can still get a good workout, even if you have to get out of the pool.
Tempo Trainer
A tempo trainer is a simple but handy device that you place in your swim cap. Competitive and open-water swimmers/ triathletes will benefit most from this device. Still, it can also come in handy for lap swimmers.
You synchronize the tempo trainer to a specific swimming pace or interval. It then helps you maintain the correct stroke rate to hold that interval.
Competitive swimmers can use this to drill their perfect race pace and stroke rate into muscle memory so they can crush it in the pool on race day.
Similarly, this is useful for open-water swimmers and triathletes to help train your pace and stroke cadence to match what you want to do during your race.
This is an excellent piece of swim gear to set yourself up for success.
Rubber Duck
If you want to develop an efficient and fast backstroke, you must ensure your head doesn't bop around while swimming.
Placing an item like a rubber duck on your forehead while swimming backstroke is an effective drill to teach yourself this concept and turn it into muscle memory. To make it harder, you can try swimming faster while balancing the duck on your forehead.
Some coaches may use plastic or polystyrene cups to do this drill, but in my opinion, the rubber duck works better.
Incorporate the duck into your cool-down or warm-up when swimming backstroke. You can also create specific drill sets where you use the duck. Make sure to use a medium size duck and get creative with its style (you get some funky ducks out there!)
Swimming Backpack
As you may have noticed– swimmers have quite a bit of gear to carry around. Often, a mesh bag alone won't be enough to carry everything, and that's where the swimming backpack comes in.
Sure, you can use any backpack you have, but a swimming backpack is perfect for poolside usage. It has various compartments to store wet equipment and specific gear like kickboards and goggles. It's also waterproof and will stand upright to keep everything dry inside.
Plus, it looks cool– and everyone will know you are a swimmer!
Swim Tether
A swim tether is a piece of equipment that allows you to swim in a stationary position without the need for a full-length lap pool. This is particularly useful to maintain your swimming fitness when traveling or if your pool is temporarily closed.
Hook the tether to a secure anchor point and swim normally. The tether will hold you in place, meaning you can use a small pool to get a full-blown swim workout.
Of course, it will be harder to track your workout since you won't be doing laps. That said, you can swim for a set period. The idea here isn't really to try to replicate your regular workouts but rather to stay in shape and maintain fitness.
Swimming Resistance Equipment for Extra Power and Strength
Swimming resistance equipment is additional swim gear that can help you build power and strength in the water. This is particularly useful for competitive swimmers who do a lot of sprint swimming and where speed is an essential factor.
Competitive swimmers don't need every piece of resistance gear mentioned here. Still, I would recommend investing in at least a swimming parachute for training purposes.
Any other type of swimmer can also use this equipment to give their training a boost, but it's optional if you're not a competitive swimmer. That said, I don't recommend beginners to use resistance equipment.
Swim Parachute
A swim parachute is a piece of swim gear that clips around your waist and has a parachute attached at the end of a cord that you pull behind you.
This is my go-to piece of swim gear for adding extra resistance in the water and developing power.
Using a parachute will be surprisingly tough (especially in the beginning). That said, it gets (slightly) easier over time and is excellent for incorporating into sprint sets off the blocks.
Resistance Pulley
A resistance pulley isn't something I use too often in my training, but it's great fun to incorporate now and then. That said, some coaches like to use these a lot in training.
Similar to the swimming parachute, the resistance pulley is great for working on power as well as speed.
To use it, you tie it to a secure anchor point on one end of the pool or have a teammate hold it (just make sure they don't let go).
You then try to swim to the other end of the pool (you may or may not be able to do this as the resistance increases the further you go). Once you can't swim any further, turn around and sprint back. You now have the belt pulling you, which means you go super fast and is excellent for working on overspeed sprint work.
Drag Suit
A drag suit is a type of swimsuit that well– adds drag while swimming.
This is good for building extra strength and endurance in the water, allowing you to swim faster when racing or training without it. (Granted that you used it for an extended period or training block).
The benefit of a drag suit over other resistance swimming equipment is that it provides constant resistance in the water, which benefits you aerobically and anaerobically throughout your entire swim workout.
It's also easier to use with other swimmers in your lane than a parachute.
Competitive Swim Gear for Racing
While competitive swimmers mostly use the same swimming equipment for training as other types of swimmers, there are a few items of competitive swim gear used for racing.
These items help competitive swimmers maximize their performance so they can hit their qualifying times, win gold, and break records.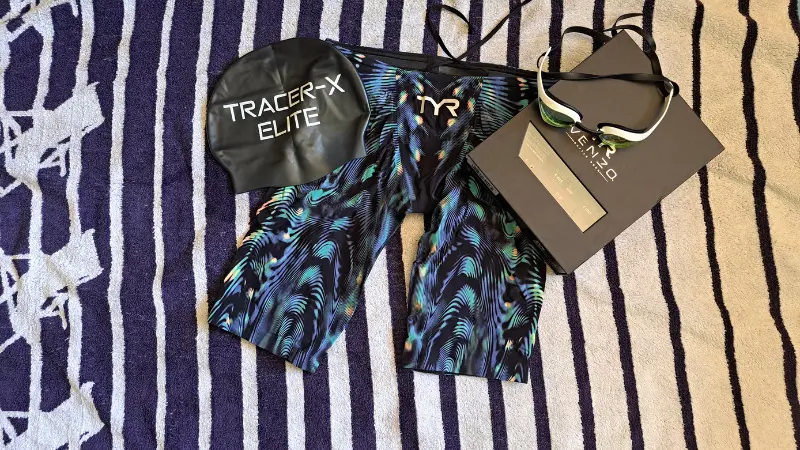 Tech Suits
Tech suits are the holy grail when it comes to performance gear for competitive swimmers.
These specially designed racing swimsuits help improve your swimming performance by reducing drag, increasing power, and enhancing blood circulation. Numerous studies, as well as real-world applications of these suits, have shown how effective they are.
Tech suits can be costly, but luckily various options are available, from budget, to 12 and under, to flagship suits.
Racing Goggles
While racing goggles don't offer quite the performance benefit that tech suits do, many competitive swimmers still swear by them. (Myself included).
These goggles are hydrodynamic and ensure top-notch vision when racing so you can perform at your best and reach your swimming goals.
Racing goggles also tend to be more expensive than standard training goggles.
Racing Dome Cap
When it comes to swimming, every split second counts. This is why swimmers will try to optimize their hydrodynamics in every possible way when racing– cap included.
A dome cap is unique from other swim caps since it doesn't create any wrinkles, optimizing your hydrodynamics in the water and cutting away those split seconds that can be the difference between winning and losing.
These caps are also comfortable so that you can race without any distractions.
And like racing goggles and tech suits, they are much more expensive than their traditional counterparts.
Open Water Swimming Gear
Similar to how competitive swimmers have a few pieces of swimming gear specific to them, so do open water swimmers.
These items aren't usually used in pools (except for the goggles if you want) but during actual open water training or racing sessions.
Open Water Swim Buoy
An open water buoy is different from a pool pull buoy. These buoys are much larger and aren't for improving any specific part of your swimming. That said, they are important for any open-water swimmer.
The primary purpose of the open water swim buoy is safety.
The buoy will make you visible in the water so that other swimmers, water users, and officials know where you are. They also provide a place to hold onto if you need to take a break or get a cramp during your swim.
Open Water Swim Goggles
Regular pool goggles are acceptable for open-water usage, but serious open-water swimmers prefer to have a pair of goggles optimized for these conditions.
Open water goggles are bulkier, more comfortable, polarized, and provide a larger field of vision compared to pool goggles.
I don't swim open water often, but one of the problems I have when I do is that I swim skew. A goggle with a broader field of vision will undoubtedly help adjust to open water conditions and minimize veering off track.
Open Water Swimming Wetsuit
Whether you use an open-water wetsuit depends on the water temperature where you swim and your swimming level.
If you swim in cold conditions, you'll need a cold water wetsuit to keep you warm.
Wetsuits also provide performance benefits that can help you swim faster and win your race. If you are a serious open-water swimmer, it's worth investing in a wetsuit for performance.
The Various Benefits of Swim Gear
There are various benefits of using swimming equipment in your workouts. And the great part is that most pieces of swim gear will provide more than one of the benefits listed below.
Helps Improve Your Swimming Technique
Technique is the most crucial part of being a good swimmer.
While strength and endurance are also vital, if you don't have good technique, you'll never be able to swim fast.
This is because good technique will reduce your drag in the water and allow you to swim efficiently.
Swim gear is excellent for working on your swim technique.
Paddles can help you work on your arm mechanics and hand entry, pull buoys can help with your body position, and snorkels teach you an ideal head position. At the same time, fins and kickboards reinforce proper kicking mechanics.
Builds Strength and Power
Swim gear is great for improving your strength and power in the water in two main ways.
The first is by isolating specific body parts, which means you'll have to work harder to move your weight through the water. This is great for strength.
The second is by adding more resistance. Equipment like fins and paddles increase the surface area that your muscles have to work against, in turn allowing for more strength and power.
Using swimming equipment as part of sprint sets is another great way to work on your power in the water.
Builds Endurance and Conditioning
Similar to how isolating specific body parts and adding extra resistance increases strength and power, this is also good for endurance and conditioning when applied to long-distance swimming, like 400s or more.
Equipment like snorkels is also great for improving your breathing efficiency and aerobic conditioning in the water.
Optimized Swimming Performance on Race Day
Whether you race in a pool or open water, various pieces of swim gear are available to help you perform better.
Gear like tech suits and wetsuits will help reduce drag, increase power, and optimize blood circulation.
Different goggles and caps can also help you perform better by providing optimal vision and further reducing drag.
Provides Variety to Your Swim Workouts
Imagine if you could only swim up and down with the occasional sprint set or body position kicking set mixed into your swim practices.
Sounds boring to me.
Swimming equipment allows you to spice up your swim practices by enabling swimmers to work on various aspects of their stroke and performance.
It also allows coaches to come up with creative sets to help swimmers get better in the water.
Use Swimming Equipment to Level Up Your Performance
Different pieces of swim gear have various use cases and benefits that won't only benefit you in training but also in competition and even outside of the water.
Depending on your swimming level and goals, you don't need every piece of equipment on this list. That said, for most swimmers, you should have all of the fundamentals and training gear. You can then decide which accessories you'd like to go with that.
Competitive swimmers will have to invest in some racing gear as well, while open-water swimmers will need open-water swim gear. The resistance swimming equipment is optional but highly recommended if you want to give your swimming a boost.
Train hard!