If you're looking for the perfect pair of swimming fins to level up your swimming, look no further. 
With so many options available, finding the best swimming fins for you can feel overwhelming. 
That's why in this article, I compare and review the best swimming fins on the market– taking the guesswork out of the equation and walking you step-by-step through the process of finding the best swim fins for you.
So whether you're a competitive swimmer, triathlete, or swim for fitness and fun, I've got you covered. 
Soon you will be able to enjoy the numerous benefits that swimming fins offer. 
(Wink wink, fins can help build a powerful kick, and that is your ultimate secret weapon to leave your competitors trailing in your dust, or should I say bubbles?)
In this article, I go over the following:
The best swimming fins
How to choose the best swim fins for you
The benefits of training with swim fins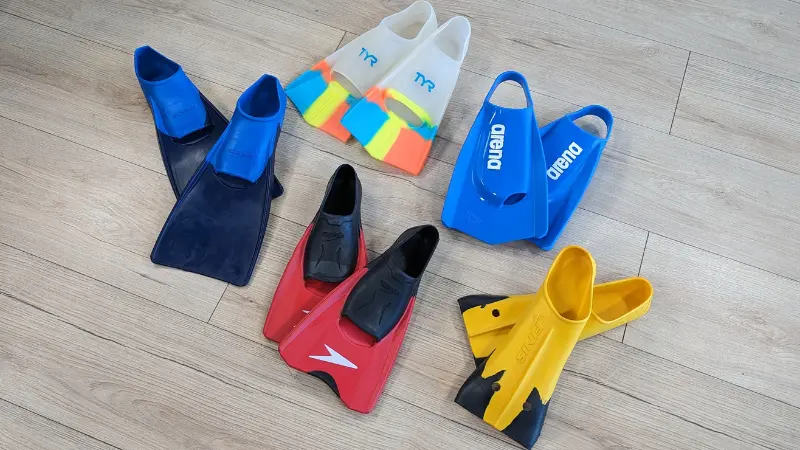 Best Training Swim Fins for Every Swimmer's Needs
1. Arena Powerfin Pro Swimming Fins
The Arena Powerfin Pro is the trademark swimming fin of Arena. 
It's single-handedly one of the best swimming fins currently available– if not the best (but that will depend on your swimming goals). 
The Powerfin Pros are the fins I use during my training sessions. 
Material: The Arena Powerfin Pro features a high-quality construction and is made from 100% long-life silicone, ensuring comfort and durability. 
Since I've consistently used these as my go-to training fins over the past few years, I can attest that they are very durable.
My first pair lasted about 3 swim seasons (6+ workouts a week), which means they easily took on more than 900 workouts before needing to be replaced!
Blade and heel design: The fins feature a short inclined blade ensuring maximum forward thrust and allowing for high-frequency kicking. This is great for improving your kick since it builds leg strength and power.
The blade is also sloped and has hydrodynamic slits at the top, allowing you to swim with a faster, better, and more controlled kick. 
Additional special cuts on the bottom of the fin help increase your kick's power further.
An open heel design allows maximum ankle flexibility, which helps to contribute to a faster upward motion in your kick and a more powerful down kick.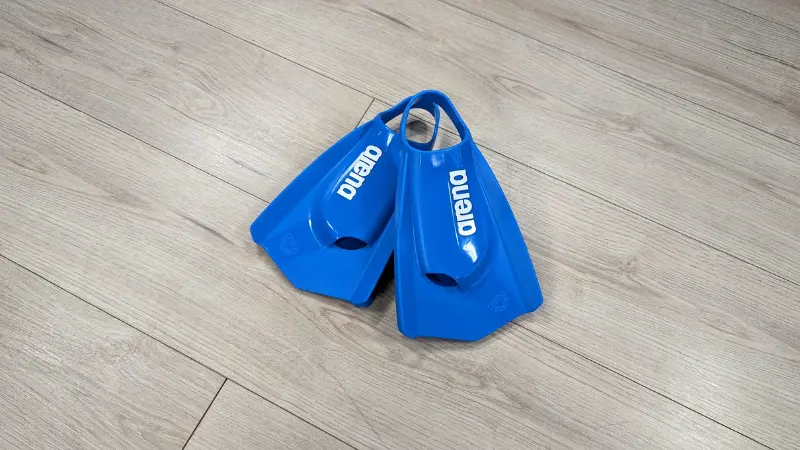 Fit: As mentioned, the Arena Powerfin Pros have a comfortable fit, making them ideal for extended periods of use.
I should mention, if you are in-between sizes and go with a bigger fin, it can cause blisters as the fins will lightly shift around on your feet while you kick. 
A simple solution to this problem is using a pair of fin socks. This prevents the fins from moving around and protects your feet, ensuring you don't get blisters. 
Depending on your foot shape, it could also take a few wears for the fin to conform to your feet, whereafter you'll experience a much better fit. 
Although the fins aren't heavy, you might experience them as heavier than others that you've used in the past. 
This isn't a problem and could just take a bit of getting used to. Most swimmers prefer a heavier feel as it allows for a more powerful kick.
I recommend the Arena Powerfin Pro for all competitive swimmers since it will help you to build a powerful kick. 
Generally speaking, these are an excellent fit for intermediate and advanced-level swimmers. You can also use them for open-water swimming. 
That said, these fins don't float, so I recommend purchasing fin cuffs if you want to use them for open water to ensure you don't lose them, especially since they are on the pricier side.
If you are a beginner, I wouldn't recommend starting with these fins. Choosing a cheaper and lighter fin with longer blades will be a better option. You can upgrade to the Powerfin Pros later.
My recommendations for beginners are the Sporti Essential Floating fins (budget option) and the FINIS Z2 Gold Zoomers– you can find them in positions 3 and 8 on our list if you want to learn more. 
Swimming Fin Specifications-
Material: 100% Long-life silicone
Blade Type: Short
Heel Type: Open
Swimmer Level: Intermediate to advanced
---
2. Speedo Switchblade Swim Fins
Like the Powerfin Pros are Arena's signature swimming fins, so the Switchblade is Speedo's. 
Featuring a solid overall design, these swimming fins will make a great fit for swimmers of all levels.  
Material: Unlike the Powerfin Pro's silicone design, the Speedo Switchblade fins feature a 100% natural rubber design. Even though the material is different, these fins still ensure a comfortable fit and durable construction. 
Both silicone and rubber are good materials for swimming fins. That said, I'll discuss the differences between each material more in-depth later in the article when I walk you through choosing the best swimming fins for you. 
Blade and heel design: The Switchblade swimming fins have a unique blade design with the blade angled at 10˚. 
This has a few functions.
Firstly, it enhances your down kick, allowing for maximized kicking propulsion. 
The angled blade also adds stability and engagement throughout your kick cycle, allowing you to improve your kicking technique and build leg strength and power. 
Additionally, there are built-in side rails on these fins, which will help with hip rotation (a critical part of having a good kick) and further enhance your down kick. 
These fins also have a short blade, allowing for a higher kicking tempo. 
Unlike the Powerfin Pros, the Speedo Switchblade swimming fins feature a closed-heel design. Whether you go with an open- or closed-heel fin will depend on your preferences. Once again, we'll go through the differences later in the article.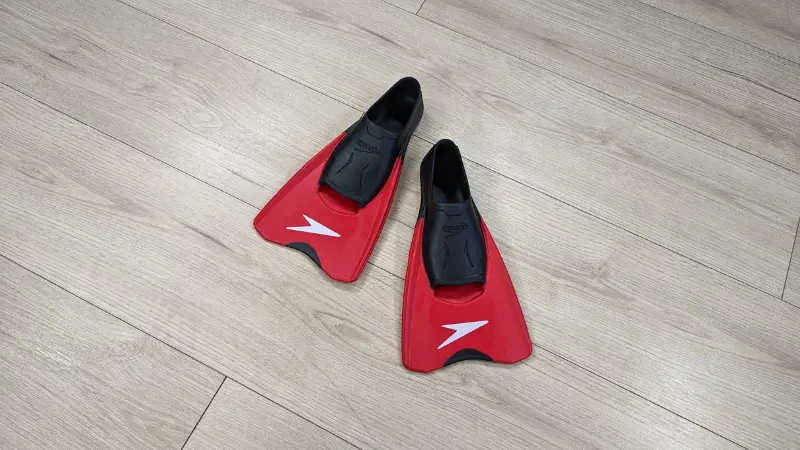 Fit: The Speedo Switchblade swim fins have a secure and comfortable fit. They also have some additional features to increase your comfort while wearing them.
This includes:
An extended toe pocket
Midfoot flex points that help eliminate cramps that can occur when using fins
The Switchblade comes in various sizes, ensuring that swimmers of all levels will find their perfect fit. It also makes it a good option for kids and younger swimmers, granted that they already have some swimming experience. 
Swimming Fin Specifications-
Material: 100% Natural rubber
Blade Type: Short
Heel Type: Closed
Swimmer Level: Beginner to advanced
---
3. Sporti Essential Swim Fins
Featuring a classical design, the Sporti Training fins are a nice pair of swim fins and a great budget option for swimmers who want to save money. 
These fins come in 2 variations, namely a training fin (short blade) and a floating fin (long blade). Apart from the difference in blade size, they are practically the same fin, and I'll go over which one you should pick in just a second.
Material: These fins feature a simple and classical fin design and is made from a 100% rubber composition.
Blade and heel design: As mentioned, we are covering 2 fins here- the Essential Training fins and the Essential Floating fins– the main difference being the blade length.
The Training fins feature a short blade design, ideal for more experienced swimmers. It will allow for a higher tempo kick, emphasizing kicking power and speed. 
On the other hand, the Floating fins have a long blade design. 
This is recommended for beginner or recreational swimmers since it will improve your kicking power, speed, and technique. But at the same time, will make swimming easier since you'll be able to generate more propulsion with each kick while having a slower kicking tempo. 
Both of these fins have a closed-heel design.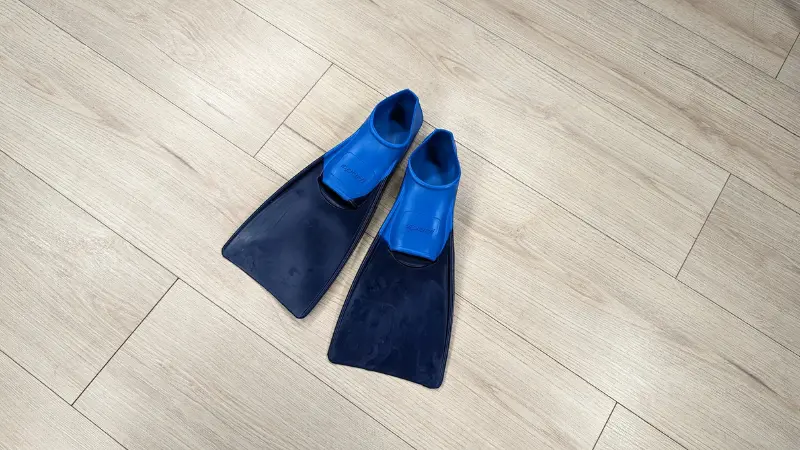 Fit: The Sporti Essential fins are comfortable, featuring a flexible foot pocket and a closed ankle construction for added support. 
The fins come in a variety of sizes, each size featuring its own color, making it easy to recognize your fins if multiple swimmers on pool deck are using the same type of fin. 
These fins are also great for kids since they are cheap, lightweight, and come in kids' variations. 
Similar to the Arena Powerfin Pros, some swimmers may find they are in-between sizes, which can cause chafing if the fins move around. Once again, an easy solution to work around this is to use a pair of fin socks.
A unique feature about the Sporti Essential fins is that they'll float to the surface if they ever come off, making it easy to find them again. Other fins, like the heavier Arena Powerfin Pros, won't float to the surface. 
Swimming Fin Specifications-
Material: 100% Rubber
Blade Type: Short or long
Heel Type: Closed
Swimmer level: Beginner to intermediate
---
4. FINIS Positive Drive Swimming Fins
Have you ever tried kicking breaststroke while wearing swim fins? If so, you'll know it's not a pleasant experience. 
Regardless of how great it is, the traditional swimming fin design isn't ideal for breaststroke kicking– but not to worry, because FINIS has once again delivered us with another piece of technical equipment, namely the Positive Drive swim fins. 
Material: Similar to the Speedo Switchblade, the FINIS Positive Drive swim fins feature a rubber design. The construction is flexible, allowing for comfort while kicking. 
Blade and heel design: Although the FINIS Positive Drive fins can technically be classified as having a short blade, it offers much more than that. 
Instead of a traditional blade design, the Positive Drive fins feature an elliptical blade allowing for effortless kicking propulsion in all strokes. 
The asymmetrical blade ensures you can perform the natural inward supination during the kick, unlike the traditional fin blade, making breaststroke kicking possible.
These fins will also improve ankle flexibility and foot strength since they will allow for a broader range of motion when kicking. 
The fins have an open-heel construction.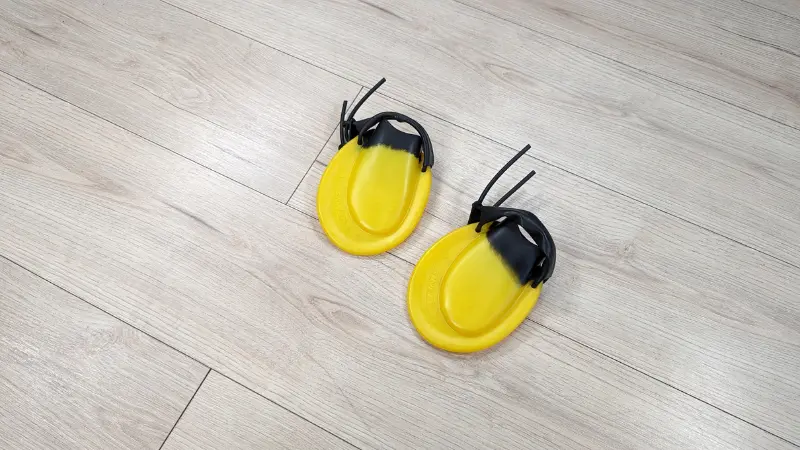 Fit: The Positive Drive fins not only allow effective kicking in all strokes but are also comfortable. 
Featuring an ergonomic foot pocket, they ensure that your feet are in a comfortable position at all times. 
Something unique that I like is the adjustable heel straps. These allow you to further customize your fins for a comfortable and secure fit.
Although these are great swimming fins, I wouldn't recommend them to everyone. Most competitive swimmers will still be better off using a fin with a traditional design, like the Arena Powerfin Pro. 
That said, if your mainstroke is breaststroke or you're an avid IM swimmer, it would be worth investing in these fins.
For everyone else outside of that realm, I recommend a fin with a traditional design.
Swimming Fin Specifications-
Material: Rubber
Blade Type: Elliptical, short
Heel Type: Open, adjustable heel strap available
Swimmer Level: Beginner to advanced
---
5. Finis Zoomers Gold Swimming Fins
The Finis Zoomer Gold swim fins are some of the most popular training fins on the market. 
And for good reason, too– their simple yet highly effective design makes them a popular option among swimmers.
Similar to the Sporti Essential swim fins, this fin also has 2 variations, namely the Zoomers Gold (the fin we are covering now) and the Z2 Gold Zoomers. 
Since they are more different than alike, I'll cover them separately. You can find the Z2 Gold Zoomers in position 8 if you want to learn more about them.
The main difference (according to FINIS) is that the Zoomers Gold is better suited to intermediate-level swimmers, while the Z2 Gold Zoomers are ideal for both beginner and intermediate swimmers.
Material: Like most of the fins we have covered this far, the FINIS Zoomer Gold swim fins feature a 100% natural rubber design. 
Blade and heel design: The Zoomer Gold fins have a duck-foot shape allowing for effective propulsion when swimming. Likewise, the short blade enables high-tempo kicking. Subsequently, this will help improve ankle flexibility and leg endurance.
Furthermore, the blade is designed to align with the natural angle of your feet, ensuring proper kicking technique and mechanics. 
The fins feature a closed-heel design, which FINIS claims to allow for a more secure fit while preventing hyperflexion. 
That said, from personal experience using open-heel fins, such as the Arena Powerfin Pro, this claim is not much of a selling point. Open-heel fins also provide a great fit, and I've never experienced hyperflexion issues from them.
That said, there is nothing wrong with the closed-heel design, either. Whether you pick an open or closed-heel design will primarily come down to your preference.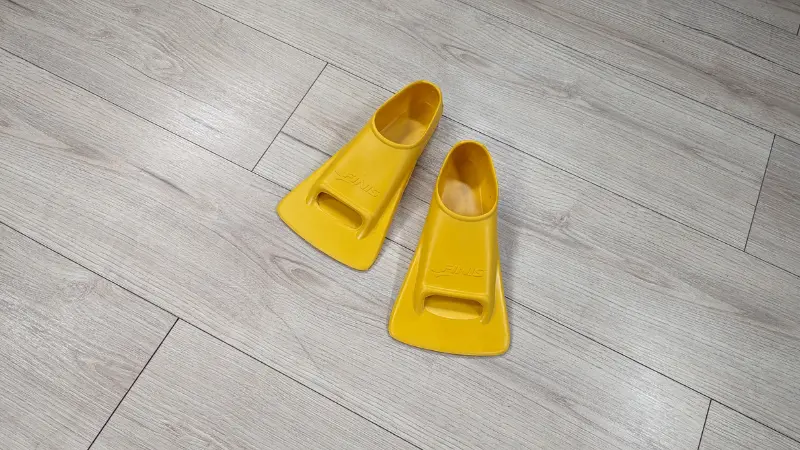 Fit: Featuring a soft, natural rubber foot pocket, the FINIS Zoomer Gold swim fins allow for a comfortable fit while swimming. 
I like the simplistic nature of the Zoomer Gold swim fins. They have everything you need in a good training fin without overcomplicating the design. 
Due to the short blades, these fins are better suited for intermediate-level swimmers rather than beginners. The shorter blade will require more effort when swimming.
These fins are also appropriate for advanced-level swimmers, but if you are at this level, I recommend opting for a fin with more features like the Arena Powerfin Pro (position 1) or the FINIS Edge Fins (position 7) if you can afford it. 
Swimming Fin Specifications-
Material: 100% Natural rubber
Blade Type: Short
Heel Type: Closed
Swimmer Level: Intermediate to advanced
---
6. TYR Stryker Silicone Swimming Fins 
Like the FINIS Zoomers Gold swim fins, the TYR Strykers are a hugely popular swim fin. They feature the same traditional fin design but have a slightly longer blade than the Zoomers Gold. These are also more expensive.
Material: Like the Arena Powerfin Pros, the Stryker fins are made from 100% silicone.
These fins also have a unique textile feature called sun protection, which prevents the colors of your fins from fading if regularly exposed to the sun– super useful for swimmers who train outdoors or in open water.
Blade and heel design: Similar to most fins we've covered, the TYR Strykers have a short-blade design, allowing for high-tempo kicking, ankle flexibility, and power.
The fin's hydrodynamic and ergonomic shape helps create a natural feel while kicking and prevents feelings of restriction, enabling a full range of motion with every kick you take.
Once again, this fin features a closed-heel design.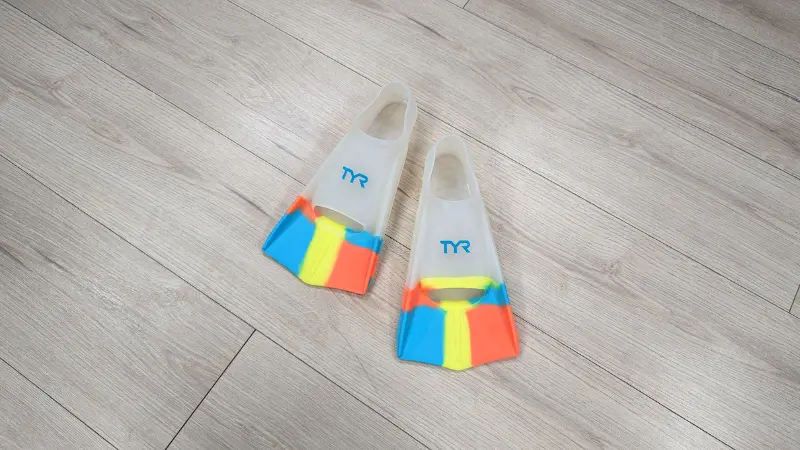 Fit: One of the key features of these fins is their comfort. A state-of-the-art comfort fit allows for a snug and secure fin on your feet.
Another neat feature I like is the non-slip footpad on the bottom of the fins. This prevents you from slipping and falling in wet areas like on pool deck or a dock if you choose to go for an open water swim. 
These are a good pair of fins for swimmers of all levels. The small sizes that are available also make them perfect for kids. 
Swimming Fin Specifications-
Material: 100% Silicone
Blade Type: Short
Heel Type: Closed
Swimmer level: Beginner to advanced
---
7. FINIS Edge Swimming Fins
The FINIS Edge swimming fins are another pair of "advanced" swimming fins, similar to the popular Arena Powerfin Pros that I love so much.
While these fins, unfortunately, have some sizing issues, they present a unique design and have some exciting features, which is why I still chose to include them on the list.
These fins are also a surprisingly popular option among open-water swimmers.
Material: The body of the fin is designed using 100% silicone, allowing for a flexible and durable training fin. 
Blade and heel design: Still featuring a short-blade design, the Edge fins have a slightly longer blade when compared to the Arena Powerfin Pro swim fins. 
The fins have a proprietary blade angle designed to feel like an extension of the foot. Combine this with the hydrodynamic vents of the fins, and you get something that FINIS calls "Smart Fin Technology". In essence, it allows for a very natural kick while providing instant forward propulsion.
Additionally, the hydrodynamic vents redirect water flow to eliminate drag. 
The larger surface area of the fin combined with the side rails further works in unity to allow for a stable and powerful, high-velocity kick. This develops excellent leg strength and endurance since the fins effectively train key muscle groups in your legs.
The side rails further promote proper kicking technique by forcing you to kick from your hips and not your knees. 
Due to their intelligent design, the fins are particularly good at helping you develop a strong up-kick, which many swimmers need to improve. 
Furthermore, they feature an open-heel design, allowing for a full range of motion with each kick and providing extra toe space.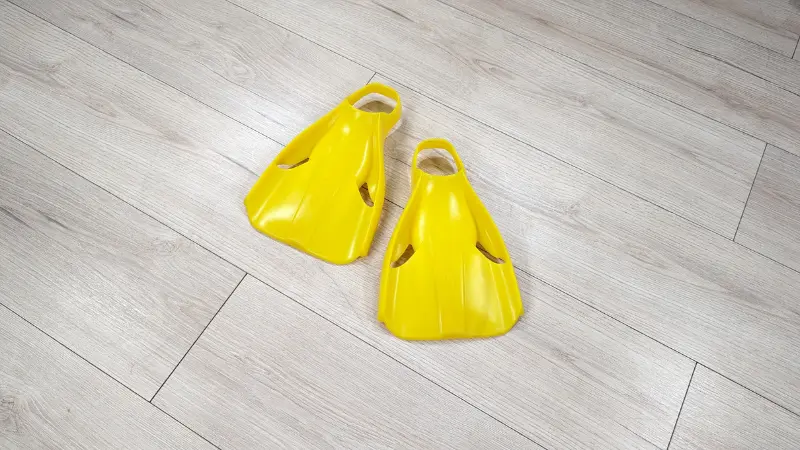 Fit: When it comes to the fit of the FINIS Edge fins, it's, unfortunately, a bit of a hit-and-miss situation. You'll either love the fit or despise it. 
The Edge fins feature ergonomic contours and a narrower foot pocket– the philosophy being to create a tight and comfortable fit that won't cause skin irritation and chafing.
Unfortunately, some swimmers won't like this tight fit. This is particularly the case for swimmers with a wider or long-arched foot as it creates sizing problems. 
If this description matches your foot shape, I recommend you size up.
Alternatively, if you are unsure and want to be safe, go with something like the Arena Powerfin Pros, as you're less likely to experience sizing issues with those fins. 
That said, I will mention that, like the Powerfin Pros, it might just take a bit of time to "break in" the fin. What I mean by this is that the fins start to conform to your feet after a few uses due to the flexible silicone material and become more comfortable. 
Apart from the sizing issues, I really like FINIS Edge fins. Everything, from the shape to the blade angle of the fin, has strategically been designed to help you develop your kick and become a better swimmer.
Once again, if you're considering using these for open water, make sure to pick up a pair of fin ankle cuffs.
Swimming Fin Specifications-
Material: 100% Silicone
Blade Type: Short
Heel Type: Open
Swimmer level: Intermediate to advanced
---
8. Finis Z2 Gold Zoomers Swimming Fins
As discussed earlier, the Z2 Gold Zoomer fins are the second variation of the extremely popular FINIS Zoomer fin lineup. 
Featuring a slightly different design compared to the FINIS Gold Zoomers, the Z2s are better suited for beginner and intermediate swimmers. Whereas the standard Gold Zoomers are preferred for purely intermediate-level swimmers. 
Material: Like their counterpart fins, the Zoomer Gold swimming fins, the Z2s have a 100% natural rubber design.
Blade and heel design: The Z2 Gold Zoomer swimming fins feature a short-blade design to promote a faster-kicking tempo and effectively condition your leg muscles. This is great for developing a powerful and efficient kick in the long run.
Due to the shape of the fin and blade– and something called technique channels, the Z2 Gold Zoomer fins offer more propulsion than other fin models, which is one of the primary reasons why this swimming fin is better for beginners. 
Like the more advanced FINIS Edge fins, these swim fins are also designed to effectively catch water on the up kick and activate the glute and hamstring muscles. This is useful since these muscles are often underdeveloped, resulting in a weak up kick when swimming. 
Another interesting feature is the "fluid separator" which helps you to effortlessly slice through the water when kicking– another aspect that makes these swimming fins ideal for beginners. 
The closed-heel design of the fin allows for a secure fit, increases the range of motion, and inhibits hyperflexion in your ankles for a more efficient kick.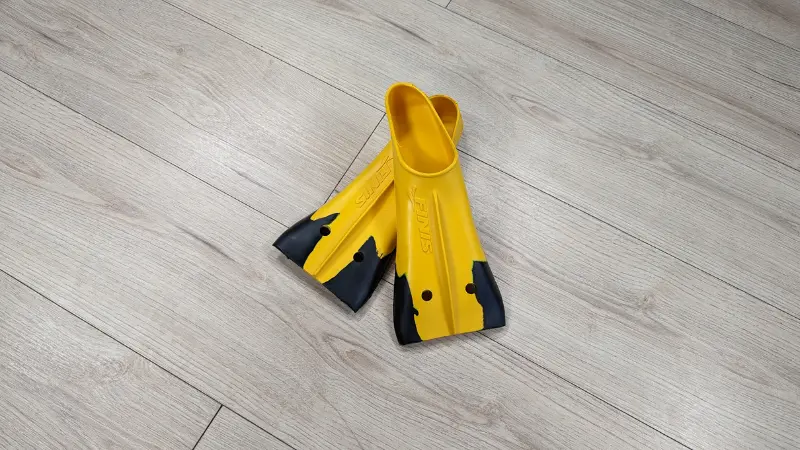 Fit: Featuring a full foot pocket, the Z2 swimming fins allow for a comfortable fit. As mentioned, the closed-heel design also inhibits hyperflexion, further contributing to comfort. 
Overall, I think the FINIS Z2 Gold Zoomers are a great pair of swimming fins– especially for beginners, but also suitable for intermediate and even advanced level swimmers. Like with the other FINIS fins, I appreciate the attention to detail on every aspect of the fin's design. 
Swimming Fin Specifications-
Material: 100% Natural rubber
Blade Type: Short
Heel Type: Closed
Swimmer level: Beginner to intermediate
---
FINIS Foil Monofin Swim Fins
The last fin on our list is something a bit different– a monofin. 
Although not a traditional piece of swim gear, a monofin is a great training aid for competitive swimmers to help develop a strong underwater dolphin kick.
The dolphin kick is, without a doubt, one of the most critical aspects in any modern competitive swimming event– and one that can break your competitors if executed well. 
The monofin is also great for developing strong core and leg muscles.  
So, if you're serious about your swimming and your budget allows for it, I recommend adding a monofin to your arsenal of swim gear. 
Material: Once again, like most swim fins, the Foil monofin features a rubber design. 
Blade and heel design: The monofin is, of course, different from traditional training swim fins and features a large single-blade design. 
This is excellent for training the undulating body motion of the dolphin kick and strengthening your core and leg muscles more effectively than traditional swim fins due to the larger surface area– all factors that will make you a faster and more efficient swimmer.
In case you haven't figured it out yet, I should also mention that due to the design of the fin, you will only be able to perform dolphin kicks with it– that means no freestyle, backstroke, or breaststroke kicking. 
Technique channels control the flex of the fin and encourage proper undulation when kicking.
It's also no surprise to see an open-heel design that will ensure a full range of motion. 
Something I like about the blade is its durable and soft construction. This not only allows for a flexible swimming fin that ensures proper undulation but also allows you to safely swim in a lane with other swimmers. 
Fit: If you take a closer look at the design of the monofin, you may notice a resemblance to the FINIS Zoomer Gold fins. 
That's because the fin uses Zoomers technology.
And just like the Zoomers have a comfortable fit– so does the Foil monofin, featuring an open toe and heel design to provide a secure fit. 
As mentioned, this fin is recommended for advanced-level competitive swimmers looking to further improve their dolphin kick, core and leg strength, and gain a competitive edge in the pool. 
Swimming Fin Specifications-
Material: Rubber
Blade Type: Large single blade
Heel Type: Open
Swimmer level: Advanced
---
How to Choose Swimming Fins: a Step-By-Step Walkthrough
In this section, I walk you step-by-step through the process of choosing the best swimming fins for you. Below is a quick comparison table evaluating the different aspects we will discuss.
←Scroll To View On Mobile→
Blade Length 
There are 2 main blade lengths available, namely short or long blades.
Long-blade swim fins are better for younger, beginner, and recreational swimmers. 
They are ideal for learning to move in the water and for making swimming easier since they provide more thrust per kick, build leg endurance, and allow for a slower kicking tempo. Like short-blade fins, they also improve ankle flexibility. 
Our article only features 1 long blade fin design, namely the Sporti Floating Fins. This is purposefully the case as there is little difference between those fins and the other options, apart from their price. 
That said, if you want to check out some more long-blade options, here are a few of my top recommendations-
Short-blade swim fins create resistance in the water and force swimmers to use a higher kicking tempo. This makes them ideal for developing a strong kick, building leg endurance, and improving kicking technique. These fins are generally recommended for competitive- and more experienced swimmers. 
Blade Shape
There are 4 primary blade shapes to pick from:
Notched (v-cut)
Traditional
Elliptical
And single-blade
Once again, the shape you choose will depend on your swimming level and goals. 
Notch-shaped blades are ideal for advanced-level swimmers since they mimic the natural footpath when kicking. Examples of this fin shape include the Arena Powerfin Pro and the FINIS Edge fins.
Traditional blades have a duck foot shape and are best for beginner and intermediate-level swimmers. They still promote proper kicking mechanics but allow for a larger surface area and more propulsion in some cases.
Elliptical blades are used on breaststroke fins, like the FINIS Positive Drive fins. These fins allow for correct breaststroke kicking technique, which is impossible to achieve with other fin shapes. These fins aren't typically used but are nice to have if you are a serious breaststroke swimmer.
Lastly is the monofin blade shape. Advanced-level swimmers primarily use this large single-blade fin to train the dolphin kick.
Open Heel or Closed Heel Swimming Fins
In terms of heel design, there are 2 styles. Unlike the blade length or shape, the heel design depends more on your preference than the level of your swimming.
Open-heel fins use a simple strap around the back of the ankle to keep your fins secure. This results in slightly better range of motion and less rubbing. While closed-heel fins may be more secure, I've never had any problems with an open-heel fin.
On the other hand, closed-heel fins are designed to encase your foot in a comfortable fin pocket. These fins tend to be more secure but may also result in more rubbing and blisters if they aren't sized correctly. 
If you experience chafing problems while using swim fins, consider using a pair of fin socks. 
Swimming Fin Material
When it comes to the material of swimming fins, it is generally a pick between silicone or rubber.
While silicone tends to be better, both materials have distinct advantages. Silicone fins are also not as widely available, meaning you might have to go with rubber depending on your swimming level and the type of fin you require.
Silicone is a more durable material compared to rubber and causes less rubbing and chafing. 
Rubber, on the other hand, is lighter and cheaper. 
That said, both materials are a good pick, and I wouldn't necessarily be discouraged from a fin just because it has a rubber design. If you are worried about chafing from rubber fins, you can always pick up a pair of fin socks.
One thing to note is that if you have a latex allergy, you'll want to pick a silicone swim fin. Latex is found in natural rubber and can cause an allergic reaction. 
Price
Your budget is also an essential factor to consider when picking your swimming fins. 
If you want to save money, the Sporti Essential fins are a good budget option.
That said, if you are an advanced-level swimmer, I recommend saving up for something more expensive, like the Arena Powerfin Pro or the FINIS Edge fins. 
Why You Should Use Swimming Fins in Training: the Benefits
Now that we have covered the best swimming fins and how to pick one for you, let's look at why you should consider picking up a pair of swimming fins for training.
Improve Your Body Position and Stroke Technique
Body position and technique are, without a doubt, some of the most critical factors in swimming– efficiency is the name of the game.
Incorrect body position and technique can create a lot of drag in the water, causing you to use more energy and slowing you down when swimming. 
Therefore, it should be in your best interest to master these aspects of your swimming.
Swimming fins help you to improve both your body position and technique. 
The added propulsion of the fins helps to lift your body higher in the water for an improved body position.
At the same time, they can take some of the focus off your kick so that you can focus on other aspects of your swimming technique, like your body rotation, hand entry, or arm mechanics.
Improve Your Kicking Technique, Power, and Endurance
Swim fins are an excellent tool for improving your kicking technique while simultaneously developing a more powerful kick. 
Many fins are specifically designed to promote proper kicking mechanics with features like:
Intelligently shaped blades
Angled blades
Technique channels
Side rails
And more
The added surface area on your feet will also help you to develop a better feel for the water when kicking.
Apart from developing a better feel for the water, a larger surface area also adds resistance to the water. This means you'll have to kick harder when wearing fins, resulting in improved leg strength and endurance.
Short-blade fins are better for developing leg strength, power, and endurance than longer-blade fins.
For some perspective, a study published by the BioMed Research Journal found evidence that the kick can generate upwards of 29.7% of speed for male swimmers and 33.4% for female swimmers. That shows how important the kick is in swimming and why you should try to improve it as much as possible.
Frequent Race Pace Training and Simulation 
There is no doubt that swimming with fins can help you train at paces otherwise impossible. When you train with a pair of fins, you can train at race pace (or faster), even if you're fatigued and untapered. 
This can help you to more frequently focus on aspects of your race that need extra attention, like hand entry, head position, or turns.
Swimming fins are also helpful for doing fast blast swims. This is an effective technique for developing strength and power in your stroke when training.
Reduce the Stress on Your Shoulders
Swimming places a lot of stress on your shoulders. 
In fact, a study published in the Clinical Journal of Sports Medicine found that 47% of collegiate and 48% of masters swimmers experienced shoulder pain lasting 3 weeks or longer.
Swimming with fins every once in a while will help to reduce some of that strain by allowing you to derive more power from kicking instead of pulling.
If you are experiencing shoulder pain, it is not a bad idea to throw on a pair of fins to reduce some of the stress on your shoulders and assist with the recovery process before it becomes an injury. 
In that same light, proper recovery and prehabilitation exercises are essential to preventing shoulder injuries in swimmers.
Improve Your Ankle Flexibility
Ankle flexibility is an integral part of kicking technique. 
During the kick, your feet are responsible for grabbing water and creating propulsion. 
Inadequate ankle flexibility will make it hard to kick with proper technique.
Ankle flexibility is something you develop over time, but fins can help speed up the process. 
How to Take Care of Your Swimming Fins
Here are a few quick tips for taking care of your swim fins:
Avoid standing on your fin blades when you are in the water, as this can cause them to break.
Do not walk on your fins outside of the pool. Instead, temporarily take them off and put them on again when you get back in the water. 
Rinse your fins with fresh water after training to remove chemicals that can damage them.
Store your fins in a cool area away from direct sunlight when you aren't using them, as this can cause the material to degrade over time.
If your swim fins are dirty, use mild soap and water to clean them with a soft brush or cloth. Avoid using any strong chemicals when cleaning your fins. 
Improve Your Training with New Swimming Fins
Whether you're a beginner or a seasoned pro, swimming fins are a great training tool that every swimmer should take advantage of.
If you want to improve your technique, speed, endurance, or power, fins can help you achieve your swimming goals.