Would you believe me if I told you that you could improve your performance in the pool simply by wearing a swim parka? It might even be the difference between getting that best time or missing it by a few splits.
And besides, even if there was no performance benefit, wouldn't it be nice to stay warm on pool deck during the cold mornings and frigid winter months?
So whether you are a competitive- or fitness swimmer or perhaps even a triathlete, the parka is your ultimate pool-deck companion. It helps you to maintain an ideal core body temperature and keeps you warm and cozy before and after a hard workout.
In this article, I review the best swim parkas, ranging from premium to budget options. I also walk you step by step through how to pick the perfect swim parka for you.
In a hurry? Here are our top recommendations:
Why Do You Need A Swim Parka?
Quick Summary:
Parkas can improve your swimming performance by optimizing your core body temperature. This is backed by scientific evidence.
They keep you warm, cozy, and comfortable on cold days.
They provide additional room to store smaller items like goggles and caps when you are on pool deck.
You can use your parka as a buffer so you can change your clothes inside.
Besides keeping you warm and cozy on pool deck, swim parkas can significantly enhance your swimming performance at meets and during training by reducing muscle temperature loss after warm-up.
One study published by Loughborough University aimed to determine the effects of passive insulation following a sprint-specific warm-up on muscle temperature and maximal sprint performance.
The study concluded that passive insulation increased both peak and relative power output by 9.6%, and athletes were ultimately able to improve their sprint performance.
Another study published in the Journal of Sports Sciences investigated the effect of additional warm-up methods in the transitioning stages between the pool warm-up and the start of a race on elite swimming performance.
The study concluded that swimmers who did a traditional pool warm-up and then used passive heating (such as parkas) could improve their swimming speed and performance.
After all, if you have ever watched an Olympic swimming race, you would have noticed that most swimmers walk out on pool deck wearing a swim parka or some other form of insulation.
This keeps core body temperature at optimal levels and ensures peak swimming performance, which increases your chances of getting that qualifying time, record, or gold medal.
It also protects you from losing body heat if there is a complication on pool deck or in the call room, which can negatively affect your performance if your muscles cool down and tighten up.
Other benefits include providing a quick way to change (inside of the parka) if needed and serving as a storage compartment to keep items like your goggles, caps, and headphones when you go out on pool deck.
Want more performance-boosting swim gear? Check out my article on the best tech suits for swimmers.
The Best Swim Parkas for Every Type of Swimmer
Best for:

Swimmers looking for a quality mid-range option

Best for:

Specific genders and kids
Arena Unisex Team Swim Parka
When it comes to premium parkas for cold weather, the Arena Unisex Team Parka is my top pick. Naturally, this parka will be more expensive than other options. Still, it comes with the benefits of an extremely cozy and high-quality swim parka. It's also available in various size options and colors.
Best parka for cold weather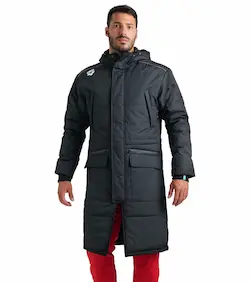 Arena Unisex Team Parka
This premium parka features a puffer-jacket style, multiple layers of fabric, and inner fleece lining for optimal insulation.
The durable, waterproof material protects you from the elements, while adjustable features and plenty of pockets provide convenience and customization. Perfect for cold weather swimming.
Buy Now on SwimOutlet
The Arena Unisex Team swim parka has a warm and cozy look and feel. It has a puffer-jacket style with multiple layers of fabric, inner fleece lining, and padding to insulate you. This will keep your core body temperature optimal and make you feel comfortable by preventing any cold from seeping through.
The parka is constructed from quality materials with a coated waterproof outer fabric. (A unique feature is that the parka includes recycled polyamide).
The polyamide fabric has some advantages over polyester, which is commonly used to manufacture parkas. It's more durable, soft, and abrasion-resistant.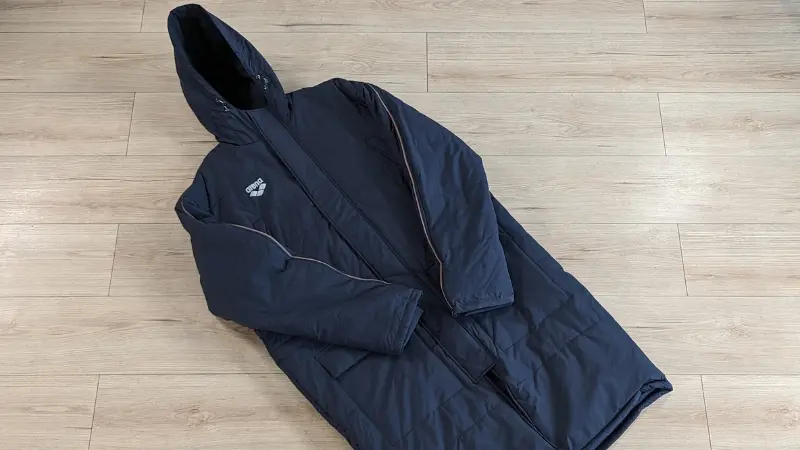 Additional features include a drawcord hood and waistband, which ensures extra warmth and comfort by allowing you to tighten the parka for a snugger fit if needed.
Ribbed cuffs and hand warmer pockets provide extra warmth.
A neat feature I like is the heavy-duty snap buttons with zipper flaps that ensure additional insulation and prevent moisture from coming in.
There is also underarm ventilation for moisture management, so you always stay dry.
Furthermore, the parka has double side pockets and inner pockets where you can keep swim gear like caps, goggles, and headphones.
Keep in mind, if you live in a warmer climate, then the Arena Unisex Team parka might be too warm for you.
Overall, suppose you're looking for a premium parka option for cold weather, suitable for both men and women. In that case, I highly recommend the Arena Unisex Team swim parka.
Summary of Key Features:
High-quality and premium swim parka to keep you warm, cozy, and ready to perform at your best on the coldest of days.
Puffer-jacket style, multiple layers of fabric, padding, inner fleece lining, zipper flaps, ribbed cuffs, and hand warmer pockets provides optimal insulation and warmth so that you are comfortable inside.
Durable, waterproof material protects you from the elements and saves you money in the long run.
An adjustable hood and waistband allow you to customize your parka to fit your needs.
Underarm ventilation allows for moisture management and keeps you dry and comfortable inside.
Lots of pockets enable you to store items like swim gear, caps, headphones, and snacks, so you're never stressed out and have to run back to fetch something.
---
Speedo Unisex Edge Parka
The Edge parka is the latest Speedo parka. It makes an excellent overall option for swimmers looking for quality, practicality, and functionality packed into one. It's also less expensive than other premium options like the Arena Team parka.
Best mid-range swim parka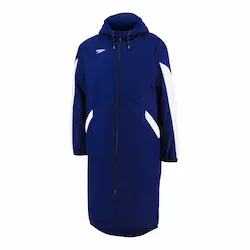 Speedo Unisex Edge Team Swim Parka
Made from durable polyester with a water-resistant shell, this mid-range parka offers quality and practicality at a lower price. The plush fleece lining, oversized hood, and elastic cuffs ensure optimal insulation and comfort.
With large side pockets and a ventilation system, you'll have convenient storage and airflow for a dry and comfortable experience.
Buy Now on SwimOutlet
The Speedo Unisex Edge parka is made from high-quality and durable polyester. It features a water-resistant laminated shell to shield you on rainy and windy days. The parka also has a nice weight, making it neither too heavy nor light.
The interior of the parka features a plush fleece lining, which provides extra warmth and comfort, ensuring you are always cozy and ready to perform, whether in training or competition. The high-quality 2-way front zipper also seals you snugly inside.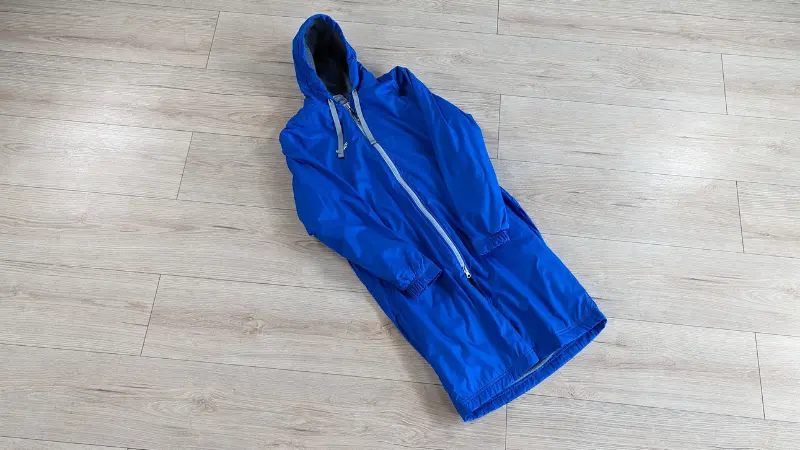 Additional features include an oversized hood for extra warmth and protection from the elements, elastic cuffs for a better fit, large side pockets to keep your phone and swim gear, and a nice venting system for airflow and moisture control.
All in all, the Speedo Unisex Edge is a great high-quality swim parka. I especially appreciate all of the color options and styles this parka is available in.
Summary of Key Features:
Great mid-range parka option for swimmers who want a quality parka at a slightly lower price to save money.
High-quality, durable polyester fabric and water-resistant shell protect you from the cold and elements and provide you with a long-lasting parka.
Interior plush fleece lining, a 2-way zipper, an oversized hood, and elastic cuffs provide extra insulation to keep you warm, comfortable, and cozy.
Large side pockets are great for storing swim gear and other items like your phone, snacks, and headphones, so you'll always have the essentials on you.
The ventilation system allows for airflow and moisture control, so you stay dry inside and don't overheat, which means extra comfort.
---
TYR Alliance Podium Swim Parka
The main advantage of the TYR Alliance swim parka is that it's gender-specific. This means there is specifically an option for men and women, as well as a kids option. This is great since unisex parkas don't always perfectly fit all swimmers.
Best gender-specific parka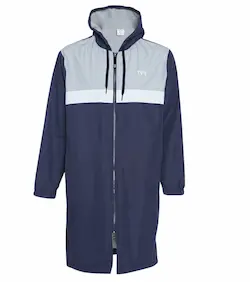 TYR Alliance Podium Swim Parka
Designed specifically for men, women, and kids, this high-quality parka features durable polyester fabric and a honeycomb brushed inner fleece for extra warmth.
With additional features like back vents, a phone pocket, and an adjustable hood, this parka provides protection from the elements while keeping you cozy.
Buy Now on SwimOutlet
The Alliance Podium Parka is designed from high-quality polyester material with a honeycomb brushed inner fleece. According to TYR, this unique fleece allows for 25% extra warmth compared to traditional parkas, making the TYR Alliance parka ideal for cold days.
The parka exterior features a soft, brushed outer shell offering extra protection from elements like wind and rain.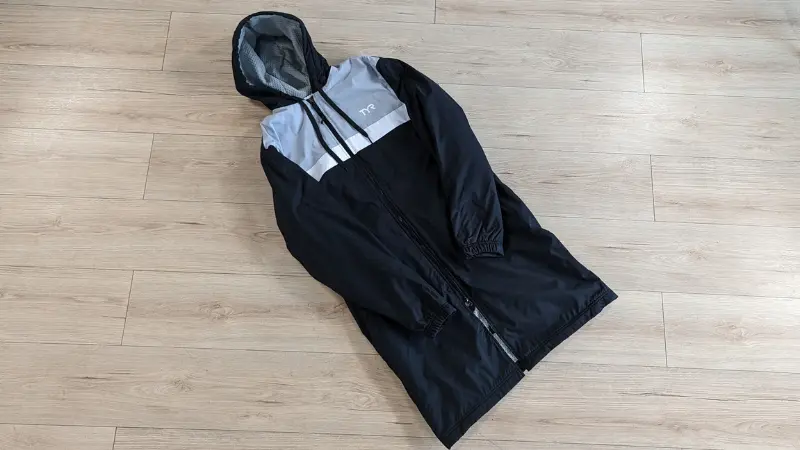 Additional features include an inner phone pocket, back vents for moisture control, and an adjustable hood.
Overall, the TYR Alliance Podium swim parka is an excellent gender-specific parka option. The design is high-quality, provides enough warmth, has some extra features, and comes in a variety of colors so you can pick to your liking.
Summary of Key Features:
Gender-specific parka options allow men, women, and kids to pick a parka that is optimized to fit the frame of their body comfortably.
High-quality, durable polyester fabric will keep you warm and increase your parka lifespan, which saves you money.
Soft, brushed outer shell, innovative honeycomb fleece, and an adjustable hood protect you from the elements and provide up to 25% extra warmth so that you're always comfortable and cozy.
Back vents allow for air circulation, which helps moisture evaporate, keeping you dry inside.
Phone pocket to keep your phone and headphones or your goggles and cap so that you're always stress-free and ready to go.
---
Consider downloading our free cheat sheet to take your swimming to the next level:
Do You Want to Make Every Lap Count?
Stop wasting your time in the pool feeling lost and doing directionless swim workouts, and start training effectively! Our ebook contains 97 structured and goal-orientated swim workouts to help you become a better, faster, and fitter swimmer. Whether you're a complete beginner or a seasoned pro, there are a multitude of workouts for every type of swimmer.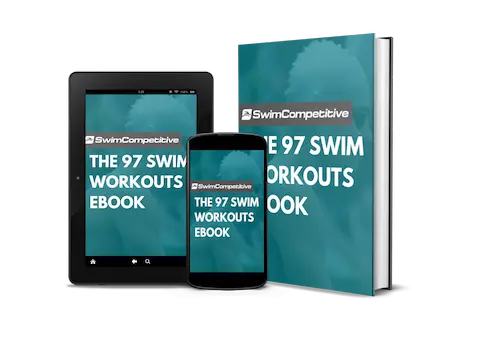 Sporti Comfort Fleece Parka
If you're looking for a great parka at a budget price, look no further than the Sporti Comfort Fleece. With its cozy design, various colors, and features, this parka will keep you in prime shape to perform in the pool. It's also available in a youth option like the TYR Podium parka.
Best budget swim parka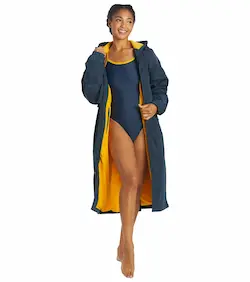 Sporti Comfort Fleece Swim Parka
This budget-friendly swim parka features a water-resistant and fleece-lined design, perfect for protection on rainy or windy days.
With adjustable features, multiple pockets, and front/back ventilation, this parka offers functionality and insulation for swimmers. Enjoy the affordable price without compromising on essential features.
Buy Now on SwimOutlet
The Sporti Comfort Fleece swim parka is water-resistant and fleece-lined for warmth and protection on rainy or windy days.
The fabric is a high-quality and durable polyester. At the same time, large front and back velcro flaps allow you to adjust it for easy customization and a snug, cozy fit.
A neat feature I like is the zipper pocket with a headphone slit for MP3 players or wired headphones. While most of us are used to wireless headphones these days, this is still a neat feature.
Additionally, there is an exterior cell phone pocket with velcro closure and a hidden chest pocket, allowing you to carry your swim goggles and cap or other items.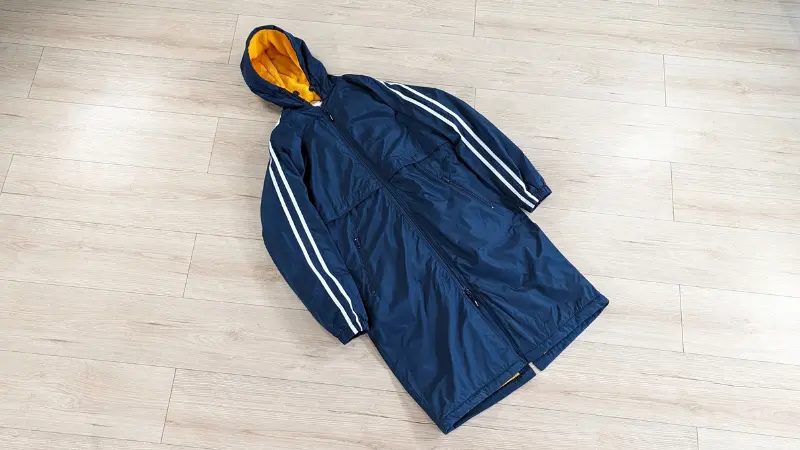 As you would expect, the hood comes with adjustable drawcords, and there's a double zipper at the front of the swim parka to seal you snugly inside. The parka also has front and back ventilation for air circulation and moisture control.
Since this parka is a budget option, it inevitably has some drawbacks, which can be associated with cost reduction. The main problem is that the quality of the zipper seems slightly lacking, so just don't be too rough with it.
Other than that, the Sporti Comfort Fleece-Lined swim parka is an excellent option for swimmers who want an affordable and functional swim parka with all the necessary features.
Summary of Key Features:
Quality, unisex parka option with a budget price so you can save money.
Youth option available for kids so they can have a parka that perfectly fits them.
The high-quality, durable, and waterproof polyester fabric gives you a long-lasting swim parka that saves you money long term.
Inner fleece lining, velcro flaps for customization, adjustable hood, and double front zipper provide extra insulation to keep you warm and comfortable at all times.
Various pockets to store swim gear, as well as a pocket specifically for MP3 players with a slit for wired headphones.
Back ventilation flap for air circulation and moisture control so you're always dry and cozy.
---
How to Choose the Perfect Swim Parka for You (Step-by-Step)
Now that we've covered some of the best swim parkas, I'm going to help you pick your perfect swim parka so that you can perform at your best and look like a champ on pool deck.
To start with here's a table for some easy comparison:
Parka Material and Shell
It is important to remember that the main reason you are investing in a parka is to keep you warm and isolated between races or before and after practices.
Therefore it is essential to choose a parka designed from high-quality isolation and waterproof fabric such as polyester for example.
Another benefit of choosing a swim parka made from quality material is its durability. The higher the quality of the material, the longer your swim parka will last.
Most of the parkas on our list are made from quality-grade polyester, except the Arena Team parka, which is made from a quality polyamide.
Parka Lining and Insulation
Nearly all swim parkas come with some sort of interior fleece lining. This provides extra insulation and warmth and can help you dry off quickly by absorbing moisture.
While all of the parkas on our list have an interior fleece lining, there are some slight differences between each parka. For example, the TYR Alliance parka has a honeycomb lining, while the Speedo Edge parka has a plush fleece lining.
You'll have to decide what you prefer. Keep in mind, the differences won't be that noticeable when wearing, so don't stress it too much.
Other insulation features to consider include zipper flaps, an adjustable hood, and various styles of cuffs.
Parka Pockets and Storage
Depending on how many items you like to carry with you, consider the number of pockets and storage compartments.
Some swimmers prefer to carry more accessories like headphones, snacks, and extra goggles and caps. In contrast, other swimmers prefer to only keep the essentials with them.
It's up to you to decide how much storage you will require in your swim parka and then consider it when making your decision. If you're looking for a parka with many pockets, then the Arena Unisex Team Parka is a good option.
Parka Ventilation
Parka ventilation can be another vital aspect to consider. While we want to stay warm and cozy inside, we also don't want to overheat since that can actually also hinder your swimming performance. Therefore, it's crucial that your parka has ventilation flaps.
Ventilation will also be more important for swimmers who sweat a lot or like to put on their parka directly after getting out of the pool since it will allow moisture to evaporate without you having to take off your swim parka.
Most swim parkas will come with underarm vents or back flaps, ultimately allowing for extra air circulation through your parka. You just have to decide how much ventilation you need.
Parka Sizing
When picking your parka of choice, you need to ensure that it won't only fit you well but that it's also the optimal length. Ideally, it should come down to at least your kneecaps to ensure sound isolation and protection from the elements.
Refer to the parka sizing charts to help you make a decision.
Frequently Asked Questions About Swim Parkas
What Is the Best Swimming Parka?
No single swim parka can be considered the "best" parka. It comes down to your preferences and requirements.
That said, I have narrowed down this list to only feature parkas with all of the necessary features that meet specific quality requirements, so any of these options would make a good fit as long as it adheres to what you need.
For a premium option, consider the Arena Unisex Team parka. The Speedo Unisex Edge parka is an excellent middle-of-the-pack option. At the same time, the Sporti comfort fleece is a good budget option. If you want a gender-specific or youth parka, consider the TYR Alliance Podium parka.
Can You Personalize Your Swim Parka?
Yes, you can. You can take your swim parka to a local embroidery shop and pay for your name to be embroidered on the inside, on the front, at the back, or wherever you prefer. If you know how to, you can also do this yourself.
Alternatively, you can use SwimOutlet's personalization service, and they will do the embroidery for you at a small fee. Then your parka will be delivered with the personalization already completed, and there will be no hassle taking it to a local shop.
Are Swim Parkas Worth It?
Swim parkas are high-quality oversized jackets that can be worn in cold, rainy, and windy weather. Considering how miserable it can be to race or train in this weather, a parka is a must-have for any swimmer. Staying warm is also crucial for optimal swimming performance– there's a reason every Olympic swimmer wears a parka.
Plus, they look cool!
What Are Swim Parkas Used For?
Swim parkas are used to keep your body temperature at an optimal level to perform during training or competition. They are also great for staying warm during winter times and cold, miserable days when you have to go to early morning practice or even just afternoon swim practice.
How Do I Choose a Parka Size?
Each parka has its own size chart. Refer to this and follow the measurement instructions to help pick your optimal size. The size chart can be found directly on the SwimOutlet website.
How Big Should Your Swim Parka Be?
Generally, if you follow the parka size chart that is provided, you'll be able to pick a size that fits comfortably and snugly on your frame. That said, some swimmers prefer to wear an oversized parka and purchase a size bigger. This will allow the parka to come down below your knees and fit a bit looser. It's up to your preference.
Can You Wash a Swim Parka?
Yes, and you should. Not every time, though!
Over time your swim parka will become a bit dirty. Therefore, you need to know how to clean it.
The easiest way to clean your parka would be to wipe it down with a wet cloth. If you really need to, you can also use some mild soap.
If your parka requires a more thorough wash, you can hand wash it with a gentle cleanser in your sink, or you can use a washing machine. If you decide to use a washing machine, I recommend washing the parka in cool water with mild soaps. Avoid using bleach or fabric softeners when washing your parka.
Also, allow it to air dry, and don't iron it.
How Often Do You Wash A Swim Parka?
Only sometimes. It's rarely necessary to wash your parka every time you wear it. As a general guideline, wipe it down once or twice a month and give it a more thorough wash every 3-4 months. That said, if it's not dirty, there is no need to clean it.
Are All Parkas Waterproof?
Most swim parkas are waterproof, but unfortunately, not all of them. You should take a quick glimpse at the specifications of the parka before investing in one. Luckily, all the swimming parkas on our list are waterproof or water-resistant. Hence, you have nothing to worry about.
Look Stylish and Stay Warm with a New Swim Parka
Swim parkas are a great way to keep warm and isolated on those cold racing or training days. As we discussed, this is great for maximizing your performance in the pool and swimming as fast as possible.
Swim parkas also provide additional features that can come in useful, like zipper pockets, wind protection, and water-resistant fabric. So whether you go with a basic swim parka or one with all the luxurious add-ons, you are sure to love your swim parka every time you slip it on.