Would you believe me if I told you that you could improve your swimming performance in the pool just by wearing a swim parka? Well, that is the reality and numerous studies have proven that reducing muscle temperature loss after warm-up can significantly increase sports performance.
One such study published by Loughborough University aimed to determine the effects of passive insulation following a sprint-specific warm-up on muscle temperature and maximal sprint performance. The study was conducted on elite male cyclists. 
There was concluded that passive insulation increased both peak and relative power output by 9.6% and cyclist were ultimately able to improve their sprint cycling performance.
Another study published in the Journal of Sports Sciences investigated the effect of using additional warm-up methods in the transitioning stages between the pool warm-up and the start of a race on elite swimming performance.
The study also concluded that swimmers who did a traditional pool warm-up and then used passive heating (such as parkas) were able to improve their swimming speed and performance.
After all, if you have ever watched an Olympic swimming race (which let's face it everyone has, swimmer or non-swimmer) you would have probably noticed that most of the swimmers walk out onto pool deck wearing swim parkas. 
This is done to keep core body temperature at optimal levels to ensure that swimmers can swim as fast and efficiently as possible. 
On a more personal level, how many times have you been in the call room waiting for your race, only to sense your muscles cooling down and tightening up because of some delay on pool deck? 
And then again on the other spectrum of things, you have probably also been standing on pool deck at morning swim practice wishing you had something a bit warmer to wait in than your pair of speedos or one-piece swimsuit before jumping in the cold pool water for warm-up.
This is where the good old swim parka takes its place. As a swimmer, the parka is your ultimate friend when it comes to maintaining a good core body temperature before a race and staying warm before or after a hard training session.
In a hurry? I recommend the Speedo Color Block Swim Parka, it is a high quality swim parka with good insulation, many features, a waterproof shell, and many color options. You can check it out on SwimOutlet by clicking here.
10 Best Swim Parkas for Swimmers
Here are the best swim parkas for swimmers to stay warm and dry–
Speedo Color Block Swim Parka
Arena Team Line Parka
Speedo Elite Swim Parka
Speedo Team Parka
Dolfin Unisex Swim Parka
TYR Alliance Swim Parka
Surf-fur Water Parka
Sporti Comfort Fleece-Lined Parka
Adidas Swim Parka
Adoretex Swim Parka
←Scroll to view full table on mobile→
1. Speedo Color Block Swimming Parka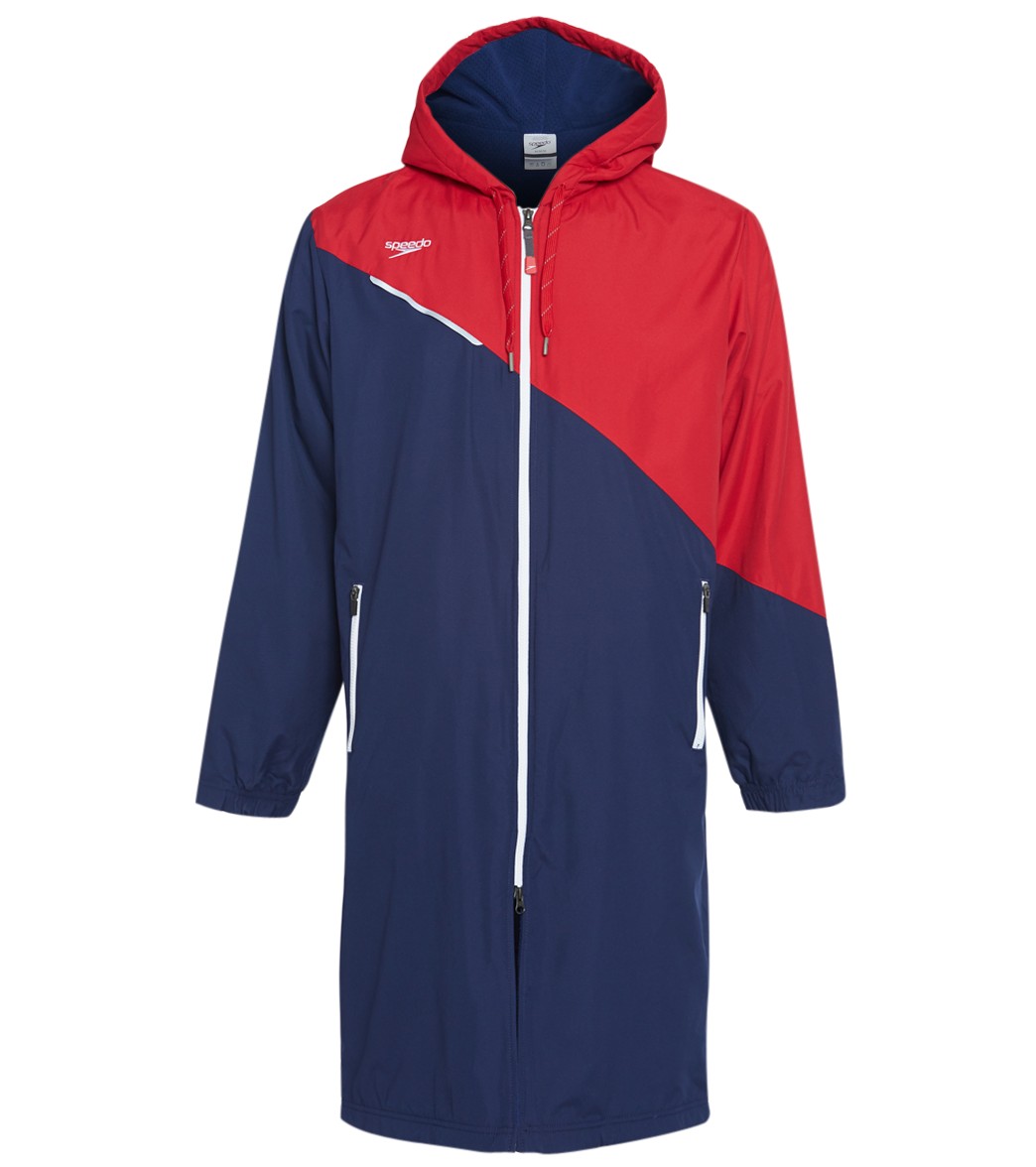 Starting off, we have the Speedo Color Block Parka. As the name suggests, this is a bit more of a fun and less serious looking parka with some color dotted in here and there.
The Speedo Color Block Parka incorporates a water-resistant shell to keep you protected from all the swimmers who came late for warm-up and need to put in some extra time. Then, on the other hand, the fleece lining keeps you warm and cozy while you wait for them to finish up.
The parka fabric is high-quality polyester, just like most of the other Speedo Parkas. The Color Block parka includes its own internal goggle pocket and has a back vent opening for some air circulation. 
There are also two zip pockets included where you can store additional accessories, a 2-way front zip and an adjustable drawstring hood.
All in all, I think the Speedo Color Block swim parka is a really good parka. It has its own unique design, some cool features, and a warm and cozy design.
Pros
Water-resistant shell.
Insulative fleece lining keeps you warm.
Quality polyester fabric.
Internal goggle pocket.
Back vent allows for ventilation.
2 Additional zip pockets.
Quality front zip.
Adjustable hood.
Many Color Options.
---
2. Arena Team Line Swim Parka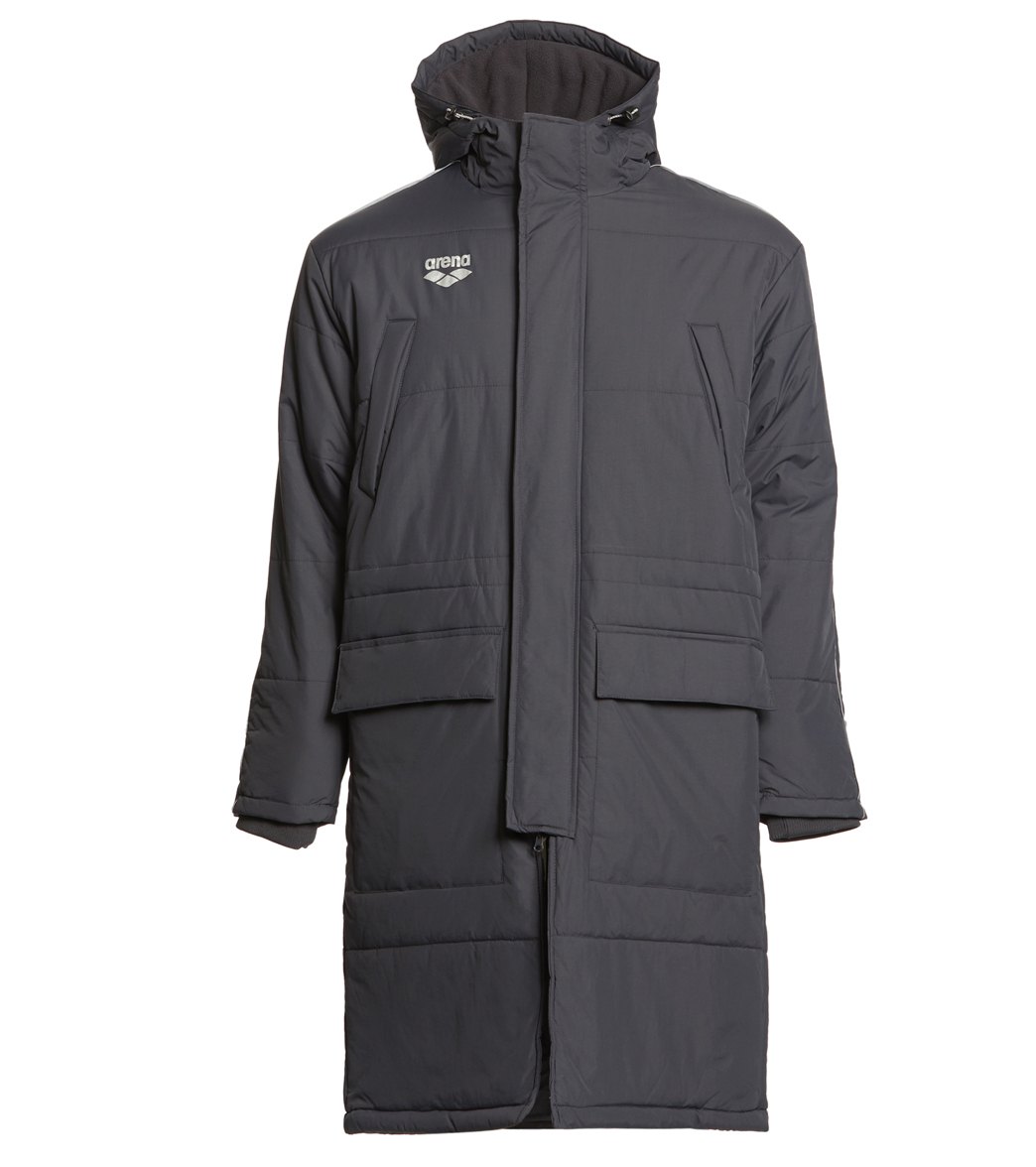 Next on our list, is the Arena Team Line Parka. This is another unique swim parka with some great features built-in. The most notable characteristic of the Arena Team Line swim parka is its comfortable and warm design.
The Team Line parka is manufactured from a durable and high-quality polyamide exterior and a soft polar fleece interior to increase warmth while wearing.
The Arena Team Line parka has a lot of storage zipper pockets included and has an adjustable hood. There is also a flap over the front zipper to maximize the warmth of the parka.
Overall, the Arena Team Line Parka is an awesome swimming parka for any swimmer looking for a simple, neat, and highly comfortable swim parka to rock onto pool deck.
Pros
Comfortable and warm design.
Durable and quality polyamide fabric.
Soft interior polar fleece.
Many zipper pockets.
Flap over zipper maximizes insulation.
Adjustable hood.
Neat construction.
---
3. Speedo Unisex Elite Swimming Parka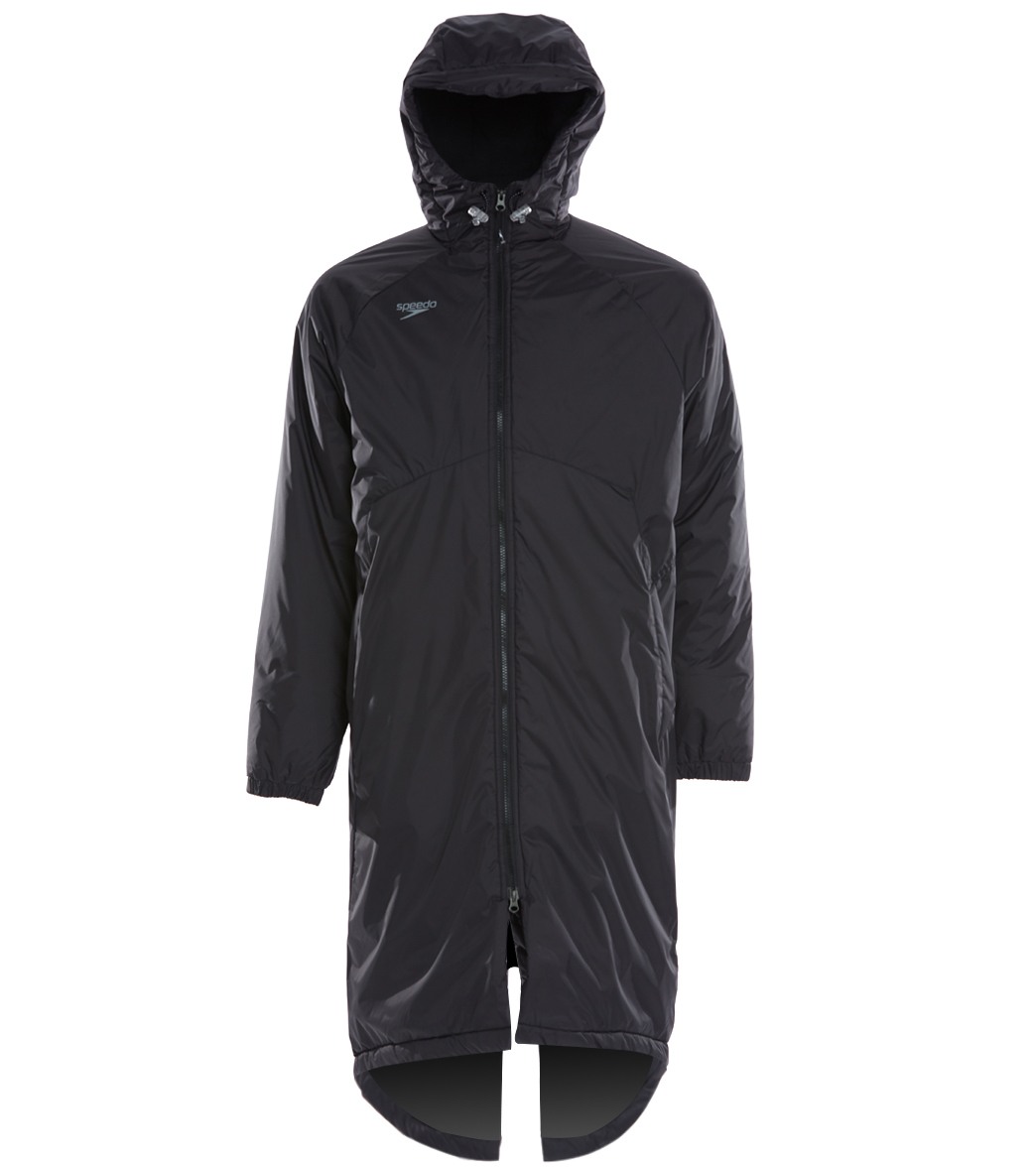 Next on our list, we have the Speedo Elite Swimming Parka. This is another great swim parka for swimmers looking for a clean and functional parka to keep them warm and ready to crush their swim races.
The Speedo Elite Parka is made from high-quality polyester fabric and it includes a water-resistant exterior and a comfortable quilted fleece liner. The parka has a double front zipper and also includes some pull cord bungees to adjust the parka hood to your personal preferences.
Moving onto some of the storage aspects, the Speedo Elite parka features a 12 inch internal zip pocket where you can keep your race day essentials or anything you would like to carry with you to swim practice. There is also a vent at the back of the parka to allow for air circulation.
All in all, I really like the Speedo Elite Swim Parka. It has some cool features designed to keep you warm, focused and ready on pool deck.
Pros
High-quality polyester fabric.
Water-resistant exterior.
Comfortable interior quilted fleece liner keeps you warm.
Adjustable hood.
Double front zipper.
Large 12-inch internal zipper pocket.
Vent for air circulation.
Multiple colors.
---
4. Speedo Unisex Team Swim Parka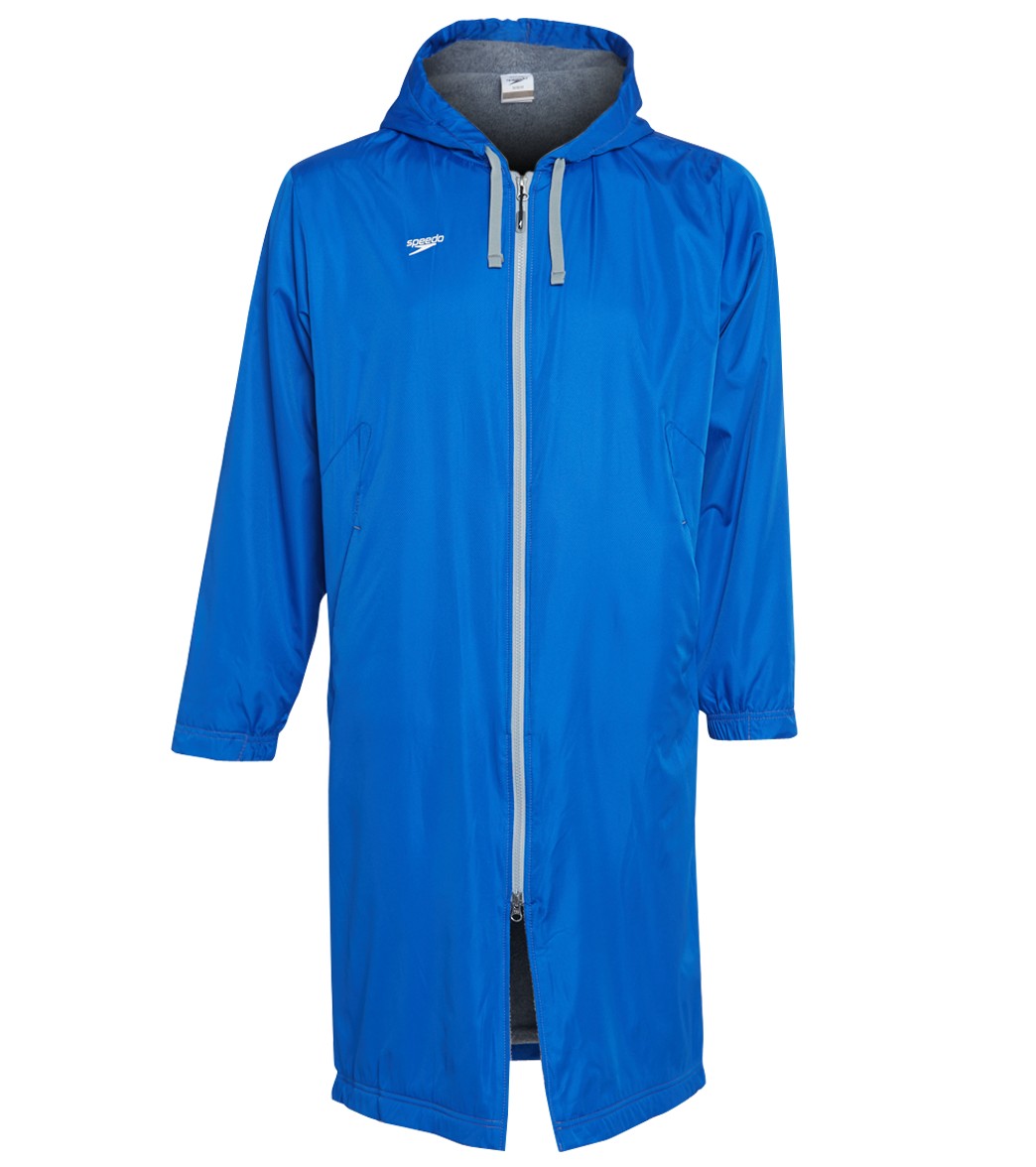 Moving on, we have the Speedo Team Parka. This is another awesome and neat swim parka with all the standard features you would expect. The Speedo Team swimming parka is available in a few color options. My favorite color for this parka would be the traditional black though since I think it looks the toughest.
The Speedo team parka has a water-resistant outer exterior and it is designed using high-quality polyester with a polyester fleece lining for increased warmth. The parka includes fleece-lined zipper pockets on the outside, as well as an internal zipper pocket for additional accessories.
The hood has drawstrings so that you can adjust it to your personal preferences and there is also a 2-way zip on the front of the swim parka.
All in all, the Speedo Team Parka is an awesome and basic swim parka, with a couple of cool color options and a good design guaranteed to provide swimmers with all the warmth and comfort they'll need.
Pros
Water-resistant exterior.
High-qualtiy polyester fabric.
Internal fleece lining for added warmth.
Internal zipper pocket for accessories.
Adjustable hood.
2 Way front zip.
Many colors.
Decent price.
---
5. Dolfin Unisex Swim Parka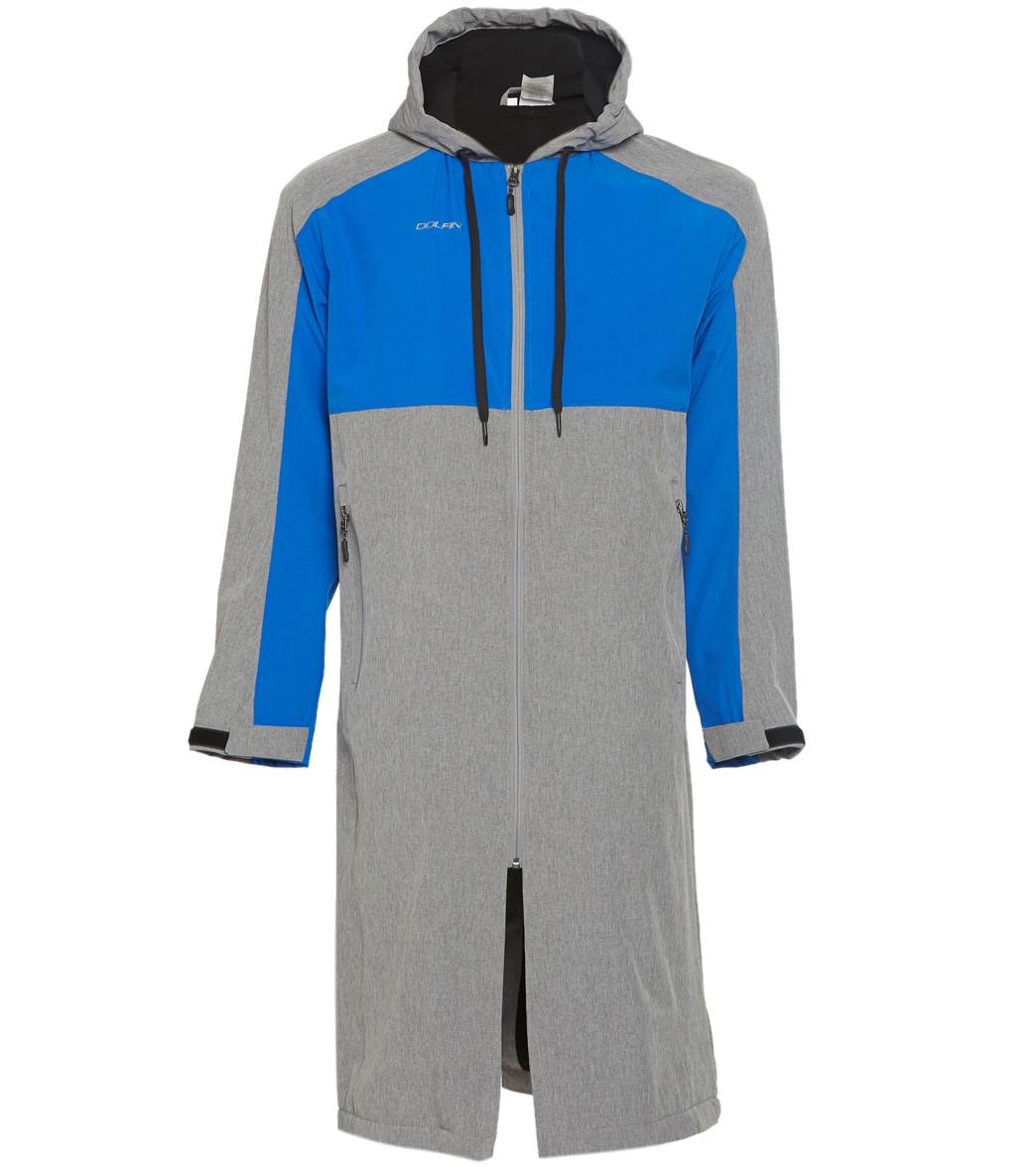 The Dolfin Unisex Swim Parka is a simple looking but high-quality parka with some good features, a bit of color, and a nice overall design.
Firstly, the entire parka is water-resistant to ensure you stay dry on rainy days or when walking on pool deck. Additionally, the Dolfin Swim Parka features an internal fleece-lining which will insulate you and keep you warm and ready to perform in the pool. The fully taped seams add to the insulation of this parka by making sure that no heat escapes from inside.
Further, the parka is made from an 89% polyester and 11% elastane material composition ensuring a quality and durable design. The back of the parka features a fleece backing providing extra comfort and the built-in air circulation vent ensures that temperatures stay just right inside.
The parka uses a zipper closer and also has a fleece lined hood that can be adjusted using the drawstring. Furthermore, you can adjust this parka to your ideal fit by using the velcro cuffs. Overall, a really nice parka with a simplistic and effective design coming in at a good price.
Pros
Water-resistant design.
Internal fleece lining keeps you warm.
Fully taped seams add to insulation.
Quality 89% polyester and 11% elastane fabrics.
Vent ensures air circulation.
Back fleece lining adds to comfort.
Quality zipper closer.
Adjustable hood.
Custom-fit by using adjustable velcro cuffs.
Good price.
Cons
More basic design.
Limited colors.
---
6. TYR Alliance Team Swim Parka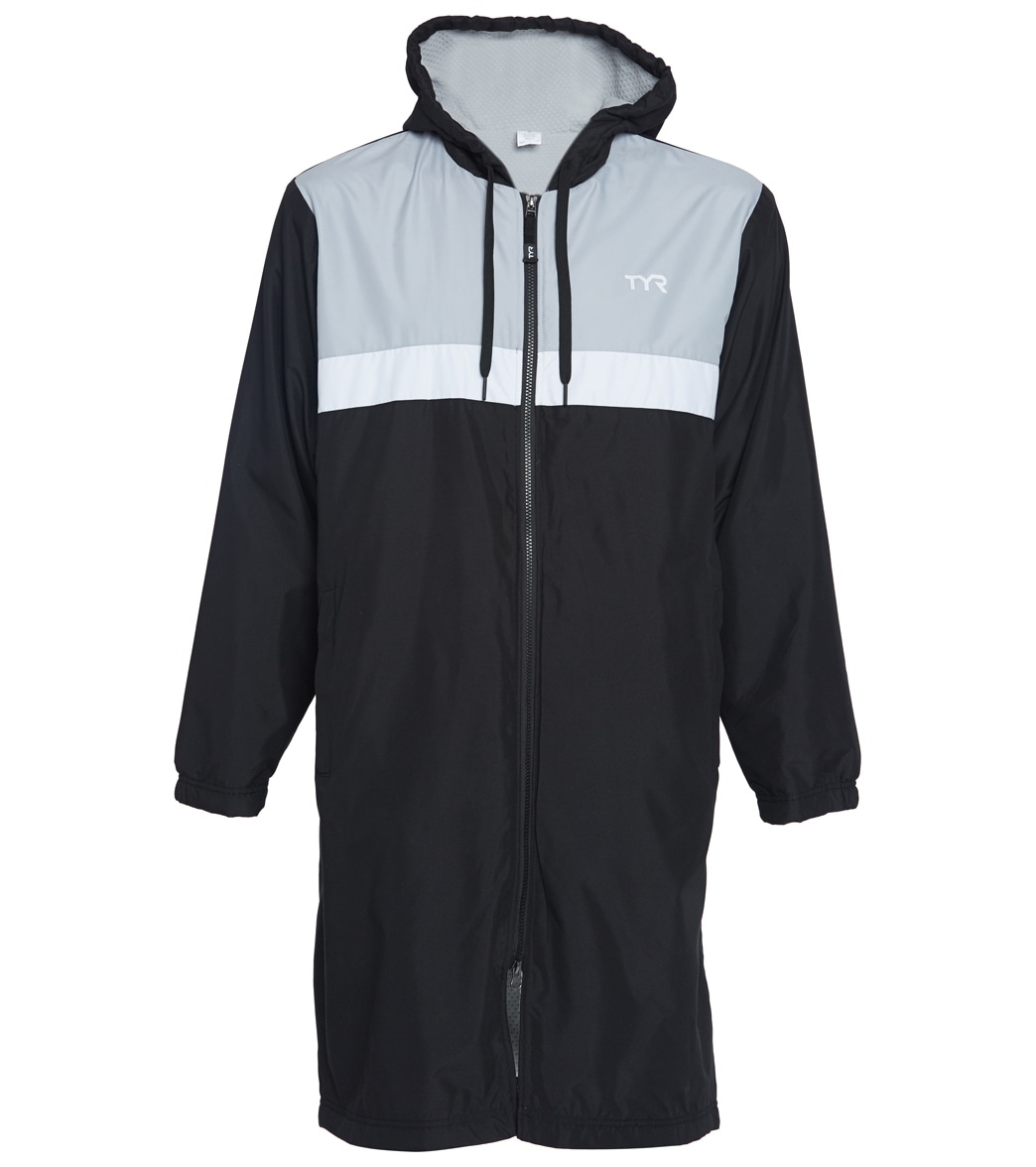 Jumping (or should I say diving) to our next swim parka, we have the TYR Alliance Team Parka. The TYR Alliance Parka is a great looking swim parka with a bit more color and variety than some of the other swim parkas on our list. It also includes a whole bunch of awesome features to satisfy your swimmer needs.
To start, I just want to point out one of the unique features of this parka. It includes an interior zipper pocket with a headphone opening so that you can listen to your favorite pump-up song before that big race. Personally, I thought that was a pretty neat feature to include in there.
The Alliance Team Parka is designed from high-quality polyester material with microfleece lining making it ideal for cold weather and it also prevents wind and moisture from bothering you. 
The Alliance Parka is slightly slimmer fitting than other swim parkas, but I find it adds to the uniqueness of the design.  It incorporates adjustable raglan sleeves to allow for a more comfortable fit around the arms and to increase your freedom of movement.
Back to the pockets, and we will find that the parka has a few exterior zipper pockets lined with microfleece, as well as an exterior cell phone sleeve pocket with velcro closure. It also includes a lined interior zipper pocket for additional accessories like extra swim caps and goggles.
Lastly, the parka also features an adjustable hood, front and back venting for air circulation and large customizable front and back velcro flaps.
Overall, I am really impressed with the TYR Alliance Team swim parka. It has loads of awesome features, a great and comfortable design, and as a bonus some color, style, and uniqueness to it.
Pros
Interior zipper pocket with headphone opening so that you can listen to music before training or racing.
High-quality polyester fabric.
Microfleece lining keeps you warm.
Comfortable and adjustable raglan sleeves.
Exterior cell phone pocket.
Exterior zipper pockets.
Interior zipper pocket.
Adjustable hood.
Venting for air circulation.
Cons
Zippers difficult to use.
---
7. Surf-fur Swimming Parka
Next on our list is a great swimming parka from a less traditional swim brand going by the name of surf-fur.
The surf-fur parka is constructed from high-quality fabric designed to be wind- and waterproof, ultimately ensuring maximum warmth when needed. The parka has a deep moulded hood, along with deep front pockets and an internal pocket for your iPod or other important swim gear.
One of the cool and unique features of this parka is that you can flip it inside out if you ever wanted to or if you somehow managed to get the inside wet after a tiresome swim race. 
The Surf-fur swim parka has high-quality snaps instead of zippers. According to Surf-Fur these snaps are superior to zippers since they maximize warmth, won't bunch and are far more durable.
When we take a closer look at the design of the Surf-Fur swim parka we will quickly notice that this is a really warm and cozy swim parka. This is great for those really cold days at swim practice or when you need to warm up quickly before a race.
Overall, the Surf-Fur Parka is a really great swimming parka for swimmers with its own unique design and all the features you'll ever need. Yes, it may not be a parka from one of the traditional swim brands, like Arena, TYR, or Speedo, but it still guarantees a really high-quality parka.
Pros
High-quality polyester fabric.
Wind and waterproof construction ensure maximum insulation.
Deep and comfortable hood.
Front and internal pockets.
It can be worn both sides round for added versatility.
Snap closures maximize warmth and are more durable than zippers.
Very warm.
---
8. Sporti Comfort Fleece-Lined Swim Parka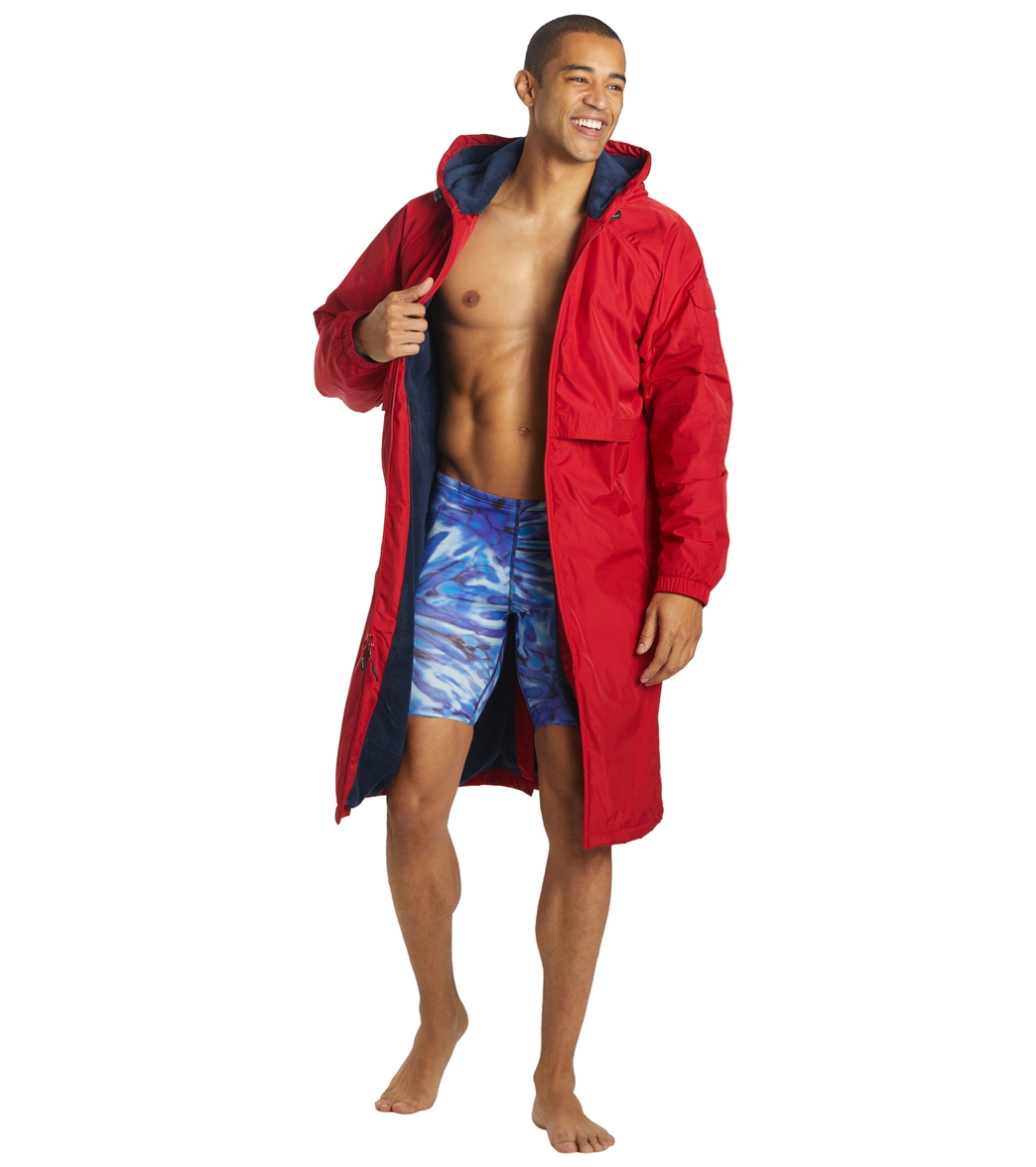 Moving onto the next parka on our list, we have the Sporti Comfort Fleece-Lined Parka.  Once again this is a great swim parka coming from another non-traditional swim brand by the name of Sporti.
Through my experience of competitive swimming and writing a lot of swimming-related articles, I have grown quite fond of some of Sporti's products.
They deliver some really nice gear for the most part. I actually included one of their prescription swim goggles in one of my articles just the other day, you can check it out by clicking here.
Anyway, back to the topic. The Sporti swim parka is a great way to stay warm in between long races and swim practices in the cold parts of the swimming season. Another benefit of the Sporti parka is that it comes in at a slightly lower price than most of the other parkas, making it a good budget option.
The Sporti swimming parka is water-resistant and fleece-lined for increased warmth. It is manufactured from high-quality and long-lasting fabric and it includes large front and back velcro flaps for some customization.
This swim parka also includes a zipper pocket specially designed for MP3 players and other music devices. There is an exterior cell phone sleeve pocket with a velcro closure and a hidden chest pocket at the front.
The hood comes with adjustable drawcords and there is a double zipper at the front of the swim parka.
All in all, the Sporti Comfort Fleece-Lined swimming parka is a great option for swimmers looking for a basic, affordable, and functional swim parka with all the necessary features required on race day.
Pros
Warm design.
Great budget price.
Water-resistant shell.
Fleece-lined for added warmth.
Quality and durable fabric.
Front and back velcro flaps for customization.
MP3 specific zipper pocket.
Exterior cell phone pocket.
Hidden chest pocket.
Adjustable hood.
Durable zipper.
Many color options.
---
9. Adidas Swim Parka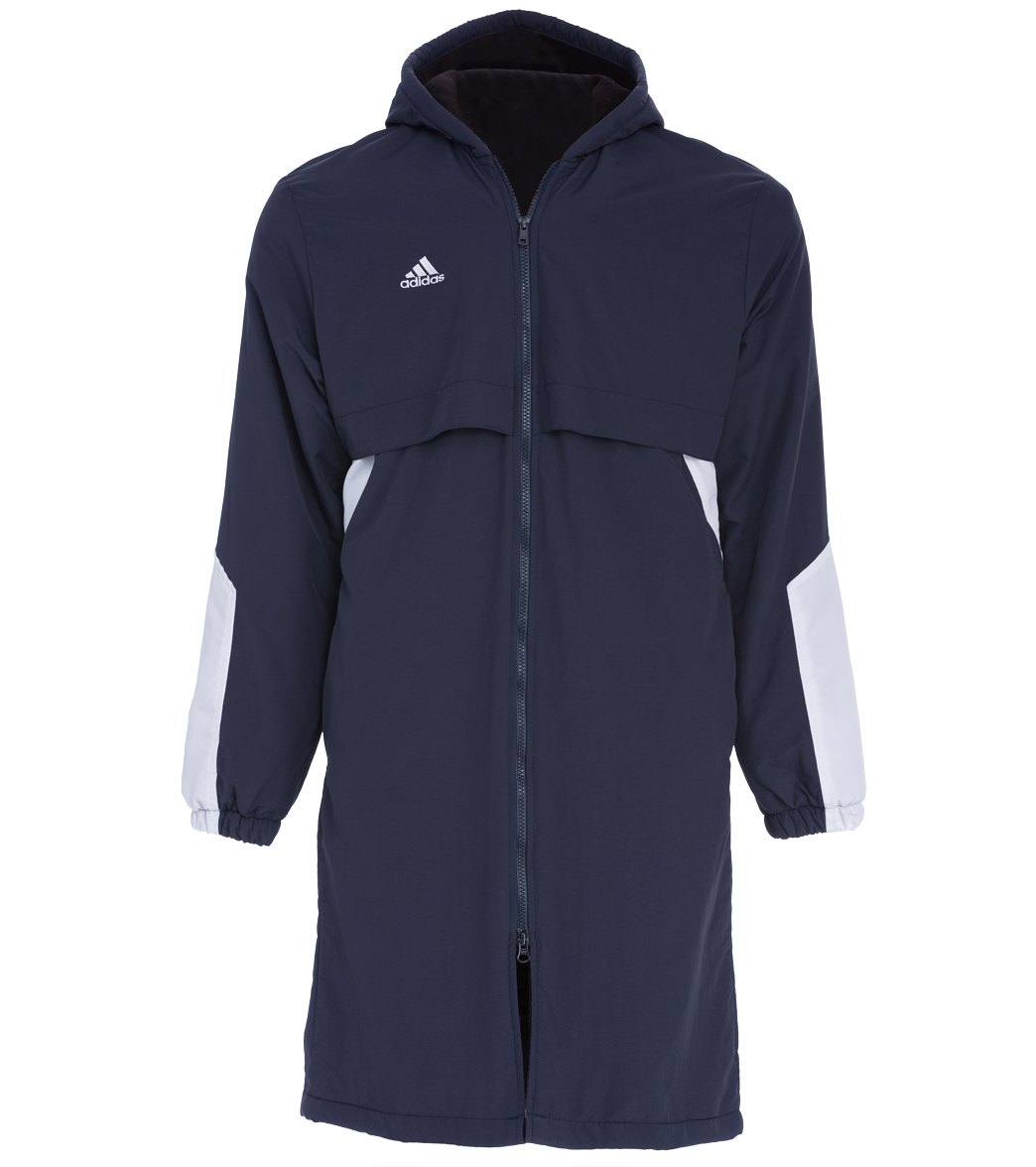 As we near the end of our list of swim parkas, we have the Adidas Swim Parka.  Once again this is a good swim parka with all the standard features, but nothing that really makes it stand out from some of the other parkas on this list.
Whether you choose this parka or not is simply going to depend on personal preference.
The Adidas swim parka is manufactured from quality fabric and it's fully lined for optimal warmth. There are zipper pockets at either side and the hood is adjustable.
All in all, it's a decent swim parka with everything you will require to stay warm and ready on the pool deck.
Pros
Quality fabric.
Warm design.
Adjustable hood.
Exterior zipper pockets.
Waterproof.
---
10. Adoretex Swim Parka
Lastly, we the Adoretex Swim Parka. This is another great swimming parka for anyone looking for something affordable, basic, and functional to rock out onto pool deck.
The Adoretex swim parka is available in a wide range of colors and it also includes all of the standard parka features. First of all, the Adoretex swimming parka is made from high-quality fabric with soft interior fleece lining. 
The fleece lining on the Adoretex swim parka keeps you warm and cozy on cold training days and blocks out the heat in the summer months. The parka is quick to dry if you manage to get it wet and includes a 2-way zipper at the front.
When it comes to storage you won't be disappointed. The Adoretex swim parka has not one, but 2 fleece-lined exterior zipper side pockets and one sleeve pocket with velcro closure to provide additional storage space. 
The hood is adjustable and also lined with fleece to increase warmth. Lastly, the Adoretex swimming parka has a unique feature for personalizing your parka. On the inside, you will locate a pre-sewed name label so that you don't have to pay extra for name embroidery.
Overall, the Adoretex swim parka is great for any swimmer looking for a neat and functional swim parka coming in at a budget price.
Pros
Wide range of colors.
High-quality polyester fabric.
Soft interior fleece lining.
Quick-drying.
Quality 2-way zipper.
Many pockets for storage.
Adjustable hood.
The Interior name label allows for personalization.
Budger price.
---
How to Choose the Right Swim Parka for You
Now that we have covered some of the best swim parkas for swimmers to stay warm in between races or swim practices on those cold days, we are going to take a look at some things to consider before deciding which swimming parka would be best for you.
1. Parka Material
It is important to remember that the main reason why you are investing in a parka is to keep you warm and isolated in between races or training sessions. Therefore it is important to choose a parka designed from high-quality isolation and waterproof fabric such as polyester for example.
Another benefit of choosing a swim parka made from quality material is the durability. The higher the quality of the material, the longer your swim parka will last. Luckily, you can be assured that all of the parkas on our list will meet these standards.
2. Parka Lining
Nearly all swim parkas come with fleece or faux fur lining on the interior. Therefore it's always a good idea to consider when you are going to be wearing your parka since there are differences between the lining fabrics.
For those swimmers who are planning on wearing their parka straight after a race, the fleece lining may be preferred since it is quicker to dry. Faux fur lining would most likely be preferred by swimmers, coaches, and spectators who are planning to wear their parkas only when they are dry.
3. Parka Pockets and Storage
The third factor to consider when choosing a swim parka is the number of pockets and storage spaces available.
Naturally, some swimmers tend to carry more accessories with them like headphones, snacks, and extra goggles and caps. While other swimmers prefer to only keep the essentials with them.
At the end of the day, it's up to you to decide how much storage you will require in your swim parka and then take it into consideration when making your decision.
4. Parka Ventilation
Parka ventilation can be another highly important aspect to consider. Some swimmers may be slightly worried about overheating, which can actually also cause a hindrance in swimming performance. Therefore, you might want to choose a swim parka that allows for air ventilation.
Most swim parkas will come with some form of underarm vents or back flaps, ultimately allowing for extra air circulation through your parka.
5. Parka Sizing
This would seem like a pretty obvious one right? And sure, it is, but you need to ensure that your swim parka doesn't only fit you well, but that it is also the optimal length. Ideally, it should come down to at least below your knees to ensure good isolation and protection from the elements.
Answering Some Additional Swim Parka Questions
What Is the Best Swimming Parka?
The best swimming parka is the Speedo Color Block parka. This is an awesome and neat parka with a lot of great and functional features packed into its design. The Speedo Color Block parka is designed from high-quality polyamide with polar fleece lining on the interior.
Although the Speedo Color Block swim parka would be our first pick, we still highly recommend the Speedo Elite parka and the Arena Team Line parka if you think they would suit you better.
How Do You Wash a Swim Parka?
With time your swim parka will probably become a bit dirty. Therefore, it is important for you to know how to take care of your parka and how to clean it.
If your swim parka needs a wash, you can either wash it with a gentle cleanser in your sink or you could consider using a washing machine. If you do decide to use a washing machine, I recommend washing the parka in cool water with modest soaps. Avoid using bleach or fabric softeners when washing your parka.
Are All Parkas Waterproof?
The larger majority of swim parkas are water-proof, but unfortunately not all of them. I recommend that you take a quick glimpse of the specifications on the parka before investing in one. Luckily for you, all the swimming parkas on our list are waterproof or water-resistant so you really have nothing to fear.
Look Stylish and Stay Warm with a New Swim Parka
All in all, swim parkas are a great way to keep you warm and isolated on those cold racing or training days. As we discussed this is great for maximizing your performance in the pool and swimming as fast as possible.
Swim parkas also provide additional features that can come in useful like zipper pockets, wind protection, and water-resistant fabric. So whether you go with a basic swim parka or one with all the luxurious features, you are certain to love your swim parka every time you slip it on.