Are you sick and tired of struggling to read the send-offs on the pool clock or the set your coach has written out?
Good news: You don't have to be!
A good pair of prescription swimming goggles will eliminate your frustration and help you dominate your swim practices and races. Similarly, if you're just an everyday water enthusiast who wants to see clearly, these goggles can help, too!
Swim goggles are one of the most important pieces of swimming gear. Not only do they protect your eyes from harmful chemicals, but they also allow you to see clearly to swim at your best.
Moreover, now that you have prescription swimming goggles, you no longer have to worry about blurry vision or reading the wrong times on the pool clock.
In this article, I review some of the best prescription swimming goggles to help you crush your swim practices! So, whether you're a competitive, open-water, or recreational swimmer, keep reading to find your perfect pair of optical swim goggles.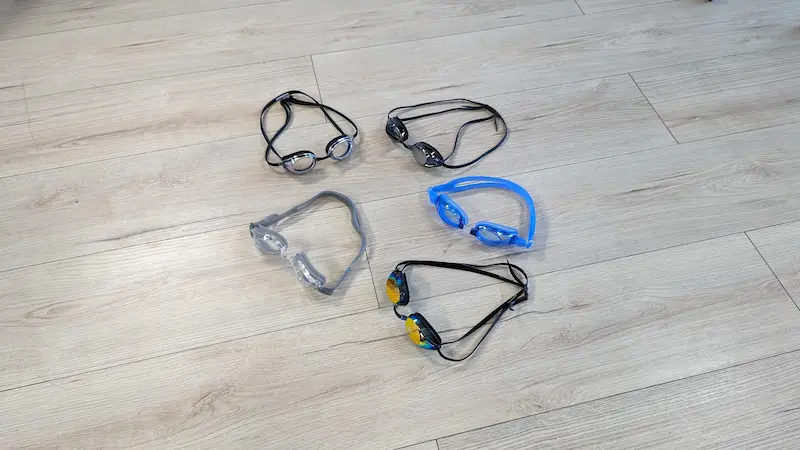 The Best Prescription Swimming Goggles for Swimmers
Best for:

Mirrored goggles and junior swimmers
Did you know? You can buy prescription swimming goggles with plus or minus lenses depending on if you're farsighted (can't see objects nearby) or nearsighted (can't see far away objects).
TYR Corrective Optical Swimming Goggles- Best Overall
The TYR Corrective Optical Goggles are a simple and effective pair of prescription goggles that do the job. They have a comfortable fit, wide field of view, and come in clear and tinted lens options.
The TYR Optical swim goggles provide a wide-angle view, making them ideal for pool and open-water use. Their prescription lenses have diopter measurements ranging from negative 2 to negative 8, ensuring you can find the perfect lens for your eyes.
They have sturdy TPR gaskets built into their design, ultimately allowing for a secure, comfortable, leak-proof fit.
The head strap is also specially designed to distribute pressure evenly while swimming, adding comfort.
Like most swimming goggles, they include adjustable nose bridges, UVA protection, anti-fog coating, and easily adjustable side clips.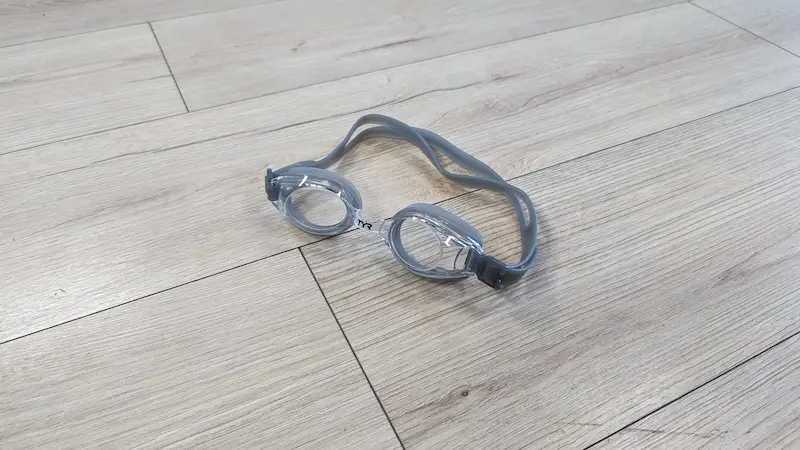 ---
Speedo Vanquisher 2.0 Optical Swim Goggles- Best Mirrored and Junior
Next are the Speedo Vanquisher 2.0 Optical swim goggles. Like their regular counterparts, these are a popular pair of prescription swimming goggles.
They have a well-built hydrodynamic design, come in mirrored variations, and are suited for racing and training. There is also a junior variation for younger swimmers.
The Speedo Vanquisher 2.0 Optical goggles feature the G.O FIT system, allowing for a precise, sleek, and low-profile inner eye fit.
The gaskets rest comfortably and securely in your eye socket. Along with the cushioned silicone seals, they allow for water-tight and leak-free swim goggles.
The lenses are wide panoramic prescription lenses with diopter measurements ranging all the way from negative 1.5 to negative 8. The lenses also contain UV protection for outdoor swimming and an anti-fog coating.
The Speedo Vanquisher 2.0 Optical swim goggles also come with 4 interchangeable nose pieces, allowing you to customize them to your individual fit and preference.
What I like about these is that they are versatile and can be used for training and racing.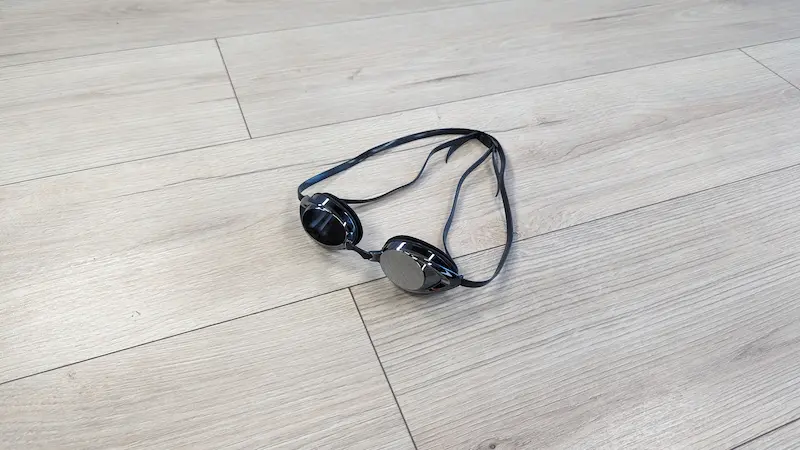 ---
Sporti Antifog S2 Optical Swimming Goggles- Best Budget
The Sporti Antifog S2 Optical swim goggles are a stylish pair of goggles with nice features. Their design is very similar to the Speedo Vanquisher 2.0. However, these goggles are a budget option with a cheaper price.
The Sporti Antifog S2 goggles have shatter-resistant polycarbonate lenses, making them durable.
Their prescription lenses range in diopters from negative 1.5 through to negative 8. The lenses also contain a UV shield for outdoor swimming and an anti-fog interior coating.
They come in various color options featuring clear, tinted, and mirrored lenses. This helps find a pair that fits with what you prefer, where you swim, and the light levels.
The body is designed from 100% silicone, adding to durability.
They also include a double silicone strap for a comfortable and snug fit around your head. The back buckle ensures that pressure is distributed evenly for extra comfort.
The design is low profile, ultimately reducing resistance while swimming, and the goggles also come with 3 different sizes of nose pieces for a custom fit.
Likewise to the Speedo Vanquisher 2.0s, these also come in a junior variation for younger swimmers.
Additionally, if you're farsighted, the previous generation version of the Sporti Antifog goggles has a positive prescription lens available.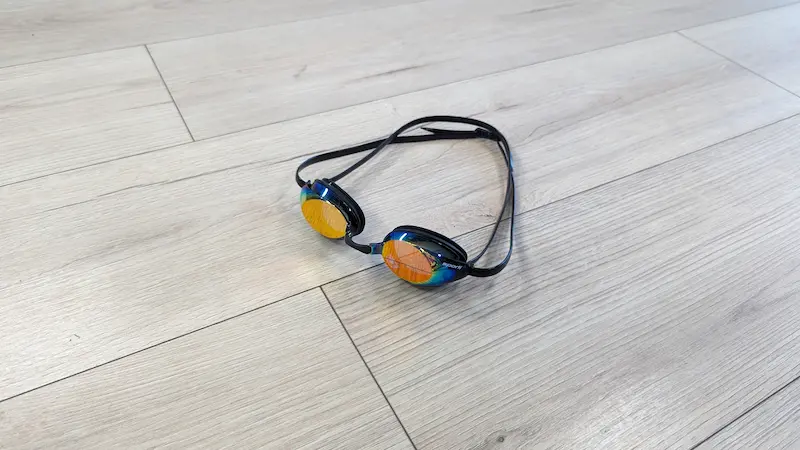 ---
Do You Want to Make Every Lap Count?
Stop wasting your time in the pool feeling lost and doing directionless swim workouts, and start training effectively! Our ebook contains 97 structured and goal-orientated swim workouts to help you become a better, faster, and fitter swimmer. Whether you're a complete beginner or a seasoned pro, there are a multitude of workouts for every type of swimmer.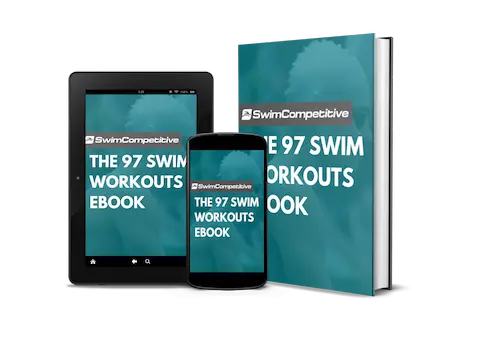 TYR Blackhawk Optical Racing Goggles- Best for Racing
If you're looking for a hydrodynamic and lightweight pair of prescription swimming goggles specifically made for racing, then the TYR Blackhawk Optical Racing goggles will be perfect.
That said, while these goggles are made for racing, you can still use them for training.
The TYR Blackhawk Optical Racing goggles feature low-profile polycarbonate lenses with UVA/UVB protection.
Unfortunately, these goggles are only available in a clear version with no tinted or mirrored options. I find this annoying since the goggles' non-prescription version has a mirrored option.
Regarding the diopter measurements, the TYR Blackhawk goggles are a bit different from previous goggles I've covered.
These feature both positive and negative diopters ranging from 1.5 to 8. So whether you're farsighted or nearsighted, these goggles will make a perfect fit.
The goggles sit close to your face to increase their hydrodynamics and minimize drag for fast swimming. Comfortable durafit silicone gaskets create a watertight fit and secure your goggles, along with the adjustable strap.
Additionally, the goggles come with 5 interchangeable nose bridges so that you can customize the fit.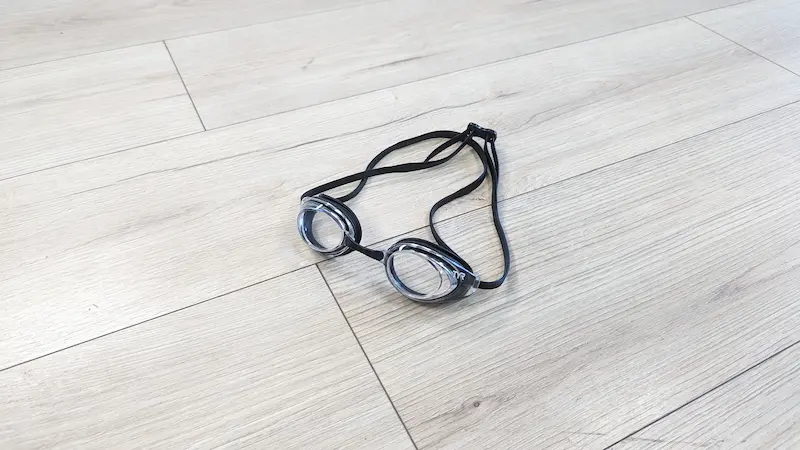 ---
Sporti Antifog Optical Pro 2
Like the Sporti Antifog S2, the Optical Pro 2 is a budget prescription goggle. However, unlike the S2, the Optical Pro 2 prioritizes comfort over design. These goggles are very popular and can be used for pool and open-water swimming.
The Sporti Antifog Optical Pro 2 goggles feature polycarbonate lenses with a wide field of view. The lenses also have an antifog coating, UV protection, and are available in two tinted options.
The diopters range from negative 2 to negative 8, ensuring you have clear vision.
The body of the goggles is made from durable silicone with a universal eye socket design. Soft silicone gaskets guarantee a comfortable and secure fit.
You also get 2 interchangeable nose bridges to customize the fit of your goggles further.
Furthermore, the adjustable strap will ensure that your goggles are secured in place.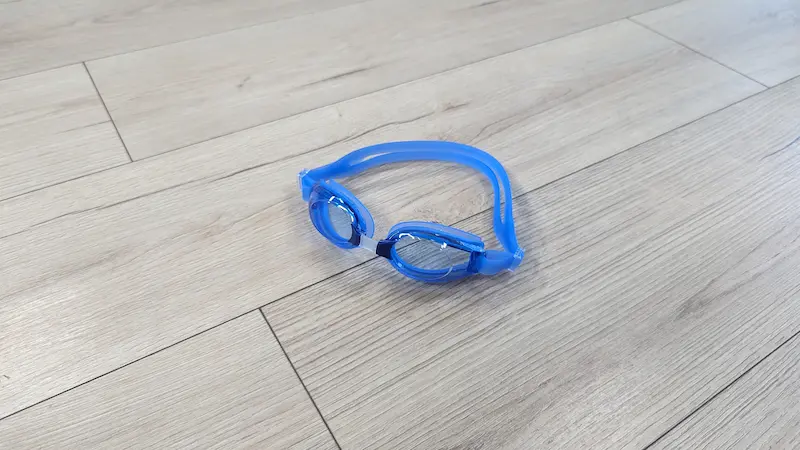 ---
Did you know? Roughly 75% of adults and over 20% of young people use some form of vision correction in everyday life. There is no reason to feel ashamed to wear your prescription goggles next time you're at swimming practice.
How to Choose Prescription Swimming Goggles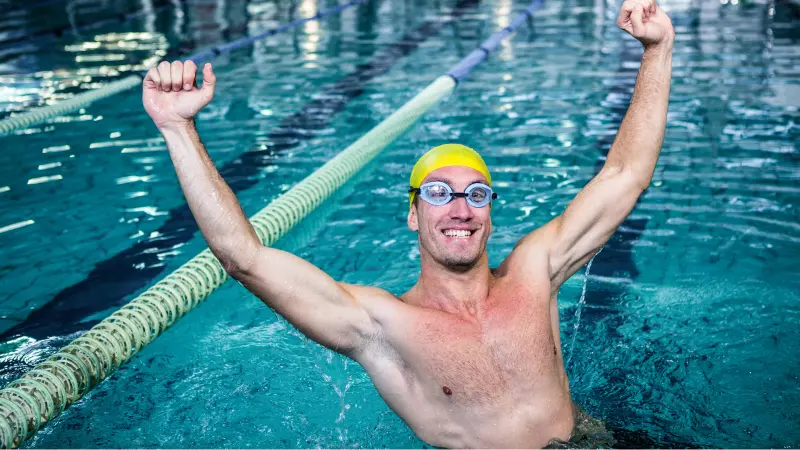 Diopter Measurements
The first and most obviously important factor to consider is the diopter measurements. Does the goggle offer the right type of measurement (positive or negative), and does it have the appropriate diopter strength available?
| | |
| --- | --- |
| Prescription Swimming Goggles | Diopter Measurements |
| TYR Corrective Optical Goggles | -2 to -8 |
| Speedo Vanquisher 2.0 Optical Goggles | -1.5 to -8 |
| Sporti Antifog S2 Optical Mirrored Goggles | -2 to -8 |
| TYR Blackhawk Racing Prescription Goggles | -1.5 to -8 OR +1.5 to +8 |
| Sporti Antifog Optical Pro 2 | -2 to -8 |
Typically, negative diopter lenses for nearsighted vision are more widely available than positive diopter lenses for farsighted vision.
To calculate your diopter strength, follow these steps:
Get your current prescription numbers.
Calculate the strength of your goggle diopter with this formula: 1/2 of the cylinder + sphere = diopter strength.
Sphere (SPH) is the degree of weakness in diopters. This is either a positive or negative number. Cylinder is the degree of astigmatism in your eye.
For example, let's say I have a sphere value of -4 and a cylinder value of -1 in my left eye. The calculation will be as follows: 0.5x(-1) + (-4) = -4.5 diopter strength. Repeat this for both eyes since they can vary.
You can also use this handy calculator by SwimOutlet to determine this.
Pro Tip: If your diopter measurements differ for each eye, you can order two prescription goggles with different diopters and interchangeable nose pieces. This will allow you to take them apart and put them back together with different prescription lenses for each eye.
Goggle Purpose
Once you've calculated the diopter measurements you need, it's time to find a goggle that will suit you.
We can break goggle use into a few categories:
Pool use.
Open water use.
Training.
Racing.
For pool use, you can generally use any type of goggles. For open water, you want to choose something comfortable and with a wide field of vision.
Typically, for training, you want to use a comfortable and relatively hydrodynamic goggle. However, you may opt for more hydrodynamics and less comfort for racing.
Lens Types
Swimming goggle lenses are typically broken down into three categories:
Mirrored.
Tinted.
Clear.
Mirrored goggles are good for outdoor use since they reflect most light and protect your eyes. Their insides are usually also tinted.
Tinted goggles, on the other hand, are purely tinted without a mirrored coating on the outside. These goggles can also help protect your eyes and make the light on your eyes more comfortable by slightly dimming it and giving it a more monotonous color.
Tinted goggles can vary, with some having lighter color shades and others darker ones. Choose a shade that fits the light levels you typically swim in.
Clear goggles are best for indoor use and low-light conditions. Whether you use this type of lens is also largely up to your preference.
See Better with a New Pair of Prescription Swimming Goggles
If you are ready to dominate your future swim practices and races without worrying about your vision, I highly recommend picking up one of these prescription swimming goggles. 
As I mentioned at the beginning of this article- swimming goggles serve many purposes. In our case, they can improve vision while training, but they can also help protect your eyes from harmful chemicals and help you swim better.