Anyone who has been involved in the sport of competitive swimming for at least a little while, has probably wondered- "how many yards is a swimming mile?". This may seem like an absurd question to ask since it is widely known that a real mile is equivalent to 1760 yards, but in swimming, this does not always seem to be the case.
In swimming a mile is 1650 yards, which is 110 yards shorter than a real mile. The reason the mile is 1650 yards is because it's the closest distance to the Olympic swimming event of 1500 meters and was meant to keep swimmers in shape for this event during the short course season.
So, in short, when it comes to swimming a mile, it all really depends on you as a swimmer to define how long a "swim mile" is. If you asked a mathematician, scientist, open water swimmer, or any regular person for that matter, they would all tell you that a mile is a mile. Meaning 1760 yards or, in the case of the metric system- 1609,34 meters, to be exact.
On the other spectrum of things, if you were to ask a pool swimmer they would likely end up telling you that a swimming mile is 1650 yards. And when it comes to training, then things really start to get out of hand. Allow me to explain why-
| | |
| --- | --- |
| Swimming Type | Mile Swim Distance |
| Competitive Swimming (in a pool) | 1650 Yards |
| Open Water Swimming | 1760 Yards |
How Many Yards Is a Mile In a Pool?
The majority of pool swimmers and their coaches accept a mile swim in training as either 1650 yards or 1650 meters, all depending on the type of pool you train in. This is because most pool swimmers train in yards or meter pools, based on whether they are in the short-course or long-course swimming season.
But for the most part, pool-swimmers have adopted the 1650 yard freestyle as a mile swim. (1650 meters is far less common). Either way in both cases pool-swimmers (myself included) have decided that a swimming mile is either 110 yards shorter or 44,47 yards longer than an actual mile.
Ask our friends and family why we have done this and they'd probably end up telling you how all the chlorine had damaged our brain cells over the years, ask us as competitive pool-swimmers and we'd tell you that we are right and you are wrong, without giving much of an explanation as to why.
So if you are a regular everyday swimmer, just wondering how many yards is a swimming mile and want to decide how many laps you should dish out at your local pool to hit a mile in distance before heading off to work or school. Then I suggest you go with the standard mile- defined by 1760 yards or 1609,34 meters.
This will equate to roughly 70 lengths in a 25 yard pool (1750 yards) or 65 to 66 lengths in a 25 meter pool (1625 to 1650 meters). If you train in a 50 meter pool then it will equate to about 33 lengths in total.
If you are an open water swimmer and you train in a lap pool throughout the week, then you can also just follow the guidelines given above to make sure you build up that base of fitness you need to swim that mile race.
For those of us who aren't all that good at counting laps or who simply just want to take the easy way out instead of worrying about all of the complicated arguments behind the "mile swim,". I suggest you check out the Garmin Swim 2 swimming watch
Or consider picking up the FINIS Smart Swim Goggles to help you track in real time how far you have swum.
Our Smart Goggle Pick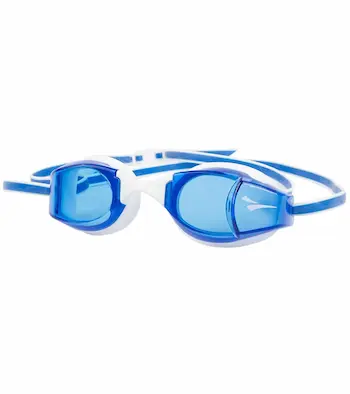 FINIS Smart Goggles
The FINIS Smart Goggle is the most innovative smart swimming goggle available.
Directly display and track your laps, splits, set time, rest time, stroke rate, and more in your goggles with the non-intrusive heads-up display while swimming.
Buy Now On SwimOutlet
Our Review
And then finally for all my fellow competitive swimmers who are looking to train for the 'mile freestyle swim event'. To you, I suggest doing 66 lengths in a 25 yard pool (1650 yards, just like in the actual event) or 60 lengths in a 25 meter pool (1500m).
Quick tip: If you'd like to continually improve your mile swim, then I suggest you do timed interval training, meaning time yourself every time you swim it and continually strive to get faster. This is an easy way to get faster without increasing the amount of distance you swim.
So Why Is a Swimming Mile 1650 yards? The Real Reason
Now that we have finally covered the complicated and highly arguable topic of how many yards is a swimming mile, we are going to move on and actually investigate why a pool mile is not an actual mile, or in other words- why is a swimming mile 1650 yards?
If we were to look at old Olympic records for help we will discover that the 1896 Olympic Games were the first Olympics where swimming was included. Fast forward a few years and we find that only one Olympics was ever swum in yards.
This was the 1904 Olympics in St. Louis. The St. Louis Olympic games did include an actual mile swim, but this isn't of much help since swimming was done in open water back then, not in 50m pools like today.
Do You Want to Make Every Lap Count?
Stop wasting your time in the pool feeling lost and doing directionless swim workouts, and start training effectively! Our ebook contains 97 structured and goal-orientated swim workouts to help you become a better, faster, and fitter swimmer. Whether you're a complete beginner or a seasoned pro, there are a multitude of workouts for every type of swimmer.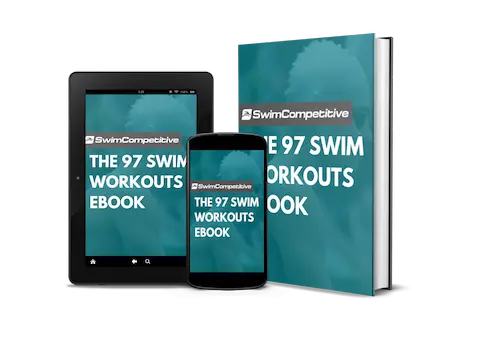 Move on a bit further to the early and middle stages of the 20th century and we discover that swimming pools were often built in 55 yard distances. This was often done in the United States, the United Kingdom, and Australia since they all still used the imperial system back then.
These pools were actually just about a foot longer than the 50m pools we use today for long course swim meets.
Anyway, the point of this was to make swimming races more convenient. Since races could be divided up into equal parts of a mile. For example, an 880 yard half-mile swim would fit into exactly 16 lengths and a 1760 yard mile swim would fit precisely into 32 lengths.
But then in 1965 the Amateur Athletic Union (AAU) decided to scratch long course yard swimming (55 yards) and moved to change their long course meets to 50 meters in order to better prepare professional swimmers of the time for the Olympic Games. (which used 50 meter swimming pools).
The United States finally decided to switch to 50-meter pools for long-course swimming and 25-yard pools for short-course swimming. Today swimming is split into two seasons, with the long course 50-meter season typically in the summer months and the short course yards season in the winter months.
When we dive back into history we will find that the 1908 Olympic Games included a massive 100 meter pool. Thus the 1500 meter freestyle swim would have been an obvious distance event. It was similar to the 1500 meter running event that athletics fans were familiar with and it supported the metric system used by the overwhelming majority of the globe.
So that is were the 1500 meter freestyle swim event was born, which from that day became a typical event in long course swimming. And so after the United States switched to their system of 50 meters pools for long course and 25 yard pools for short course, they had to find a way to keep their athletes from being placed at a disadvantage when traveling to international swim meets during the short course swim season.
And that my fellow swimmers is were the 1650 yard freestyle swim was born. The 1650 yard freestyle is the closest equal distance to the 1500 meter swimming event (which is a standard long course swim event). To be exact- 1500 meters almost perfectly equal 1640 yards.
So what most likely happened was that the Amateur Athletic Union (AAU) decided to replace the actual 1760 yard mile swim with a newer, more convenient one. So as people grew used to calling the 1650 yard freestyle a mile swim, the name most likely stuck and it is still called a mile swim today.
So How Many Yards Is a Mile? You Decide!
In my opinion, this entire topic is very interesting and as a competitive swimmer myself I thoroughly enjoyed researching it and digging my nose deep into the history of swimming in order to find an answer that seemed to make at least somewhat sense.
So to summarize everything in this article-
A swimming mile can either be 1650 yards or 1760 yards depending on whether you are a competitive swimmer or an open water swimmer. If you want to train for an actual mile (1760 yards or 1609,34 meters) you should swim about 70 lengths in a 25 yard pool or 65 to 66 lengths in a 25 meter pool.
The 1650 yard swimming event is also widely known as a mile swim, although it's actually a 110 yards short of a mile. This is because the United States created the event to better prepare its professional swimmers for the 1500 meter freestyle, which is a standard distance event at any international long course swim competition.
Over the years people simply grew used to calling the 1650 yard freestyle a mile and thus it is still called that today.