Are you looking to purchase a new tech suit but unsure how tight it should be? Or have you already bought one but feel uncertain about your decision due to how tight it fits?
Well, you're not alone!
Every swimmer has been there at some point. Myself included!
In this article, I address how tight your tech suit should be and what size you should get. I'll also give you some tips for putting on a tight tech suit.
Why Are Tech Suits So Tight? Should They Be Tight?
Tech suits are notorious for their tight fit, and it's completely normal. In fact, if your tech suit doesn't fit tightly, it probably means you have the wrong size.
Most male swimmers will take 10-20 minutes to put on a tech suit, while female swimmers can take upwards of 30-45 minutes to get it on. (Stay tuned for some tips on how to put your tech suit on easier or check out my article on how to put on a tech suit).
But why are tech suits so tight?
It comes down to how they're designed. Tech suits are made to be compressive since it provides several performance benefits for swimmers.
Compression helps increase muscle activation and efficiency by linking important muscle groups together and increasing blood circulation.
Blood circulation not only helps to provide tissues with oxygen and nutrients but also removes carbon dioxide, lactic acid, and other toxins that can form when racing.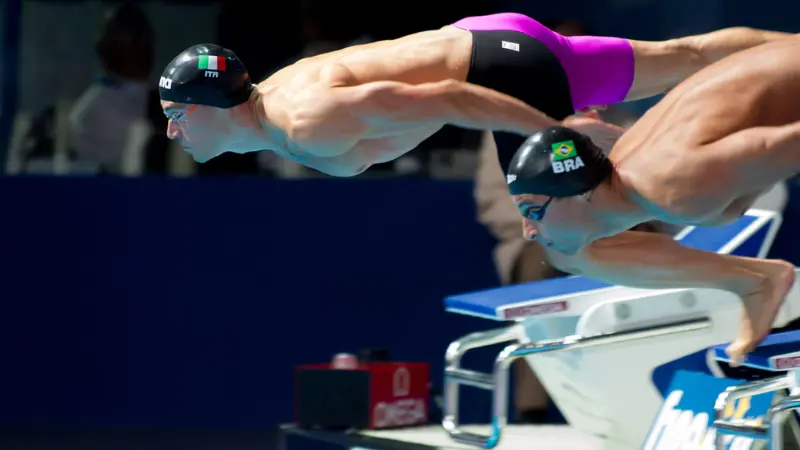 How Tight Should a Tech Suit Be? Finding Your Perfect Tech Suit Fit
How tight your tech suit should be, isn't a one size fits all (no pun intended). So how should a tech suit fit?
The tightness of your tech suit depends on which events you race, your personal preference, and some general recommendations, which I will cover in this section.
As a general rule, your tech suit should have a tight, compressive fit without being too uncomfortable. Blood flow shouldn't be restricted, and you should have full range of motion when swimming. The fabric of your suit shouldn't be able to lift more than half an inch when you pinch it.
First of all, consider the events you swim. Suppose you are more sprint-orientated (50s and 100s). In that case, a more compressive and tight tech suit is generally better since it'll mean more power in the water.
If you are racing mid-distance (200s and 400s) or distance events (800s and 1500s), you still want something compressive. Still, it doesn't have to fit as tightly and compressively as a sprinting-tech suit since your swimming events are more endurance-oriented, and comfort may be something you want to consider. 
For events like IM and breaststroke, it's generally also important to have a tight and compressive suit, but prioritizing range of motion should be crucial as well.
I've found that very compressive tech suits generally work well for all strokes but can create some problems regarding the range of motion during your breaststroke kick.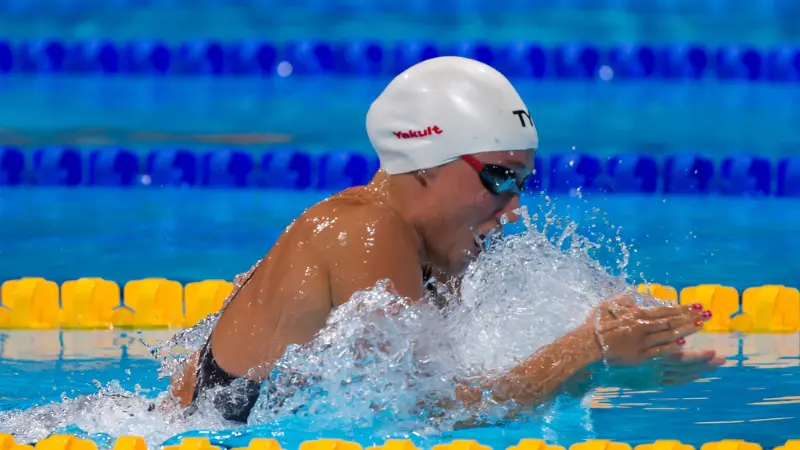 Lastly, you have to experiment and find what you prefer. Maybe you're a distance swimmer, but you like a more compressive tech suit, or perhaps you're a sprinter, but comfort is also important to you.
I recommend you find a tech suit that works well for you and the events you race, both in terms of performance, comfort, and range of motion.
The most important thing is to ensure your tech suit isn't so tight that it feels like it's restricting blood flow or range of motion– this can be detrimental to your swimming performance.
If you need help with picking a tech suit, I have some guides you can check out.
It's important to note that tech suits aren't necessarily made for a specific event, but rather that I've organized these to fit the events that make the most sense for each suit based on my experience. You'll likely notice that some of these guides mention the same suits.
It's also important not to freak out if a tech suit feels "too tight" when wearing it for the first time. This doesn't necessarily mean that your tech suit is too small. It generally takes 2-3 swims to break in the suit so that it fits ideally for you.
If you purchase a bigger tech suit than what's recommended (we'll get to that in a second), you risk losing the performance benefit of compression prematurely since tech suits tend to stretch out a bit during their first few wears.
Tech Suit Sizing: What Size Tech Suit Should I Get?
Some swimmers will recommend choosing your tech suit size based on what size suit you wear in practice.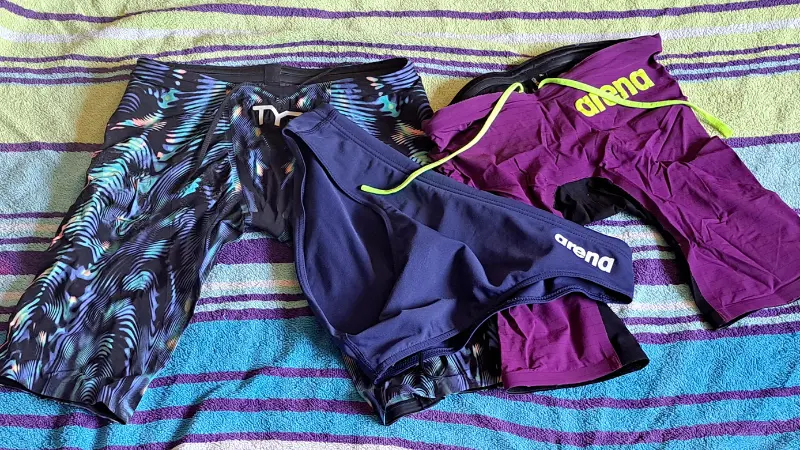 But that's just setting yourself up to buy the wrong size and having to go through all of the hassle to return the suit for a better size (which you might get wrong again if you're winging it).
All swimming brands that sell tech suits provide sizing guides to help you find the perfect size for your suit.
Also, each brand is different, so if you raced in an Arena Carbon Air 2 last season and want to try out the TYR Venzo this season, you'll have to use the TYR tech suit size chart to find the right size.
Don't buy the same size as your Arena! The sizing is completely different.
Similarly, there may be differences between individual suits for each brand. So make sure that you're always referencing the size chart specific to the tech suit you want to purchase. For example, the Speedo LZR Pure Intent and LZR Pure Valor have different sizing charts than the Speedo LZR Racer Pro. 
If you want a quick and easy reference for finding your perfect tech suit size, check out my tech suit size chart guide. I have all the measurements for the most popular tech suits from brands like Speedo, Arena, TYR, Mizuno, and FINIS neatly laid out for you so you can find your perfect fit.
Do You Want to Make Every Lap Count?
Stop wasting your time in the pool feeling lost and doing directionless swim workouts, and start training effectively! Our ebook contains 97 structured and goal-orientated swim workouts to help you become a better, faster, and fitter swimmer. Whether you're a complete beginner or a seasoned pro, there are a multitude of workouts for every type of swimmer.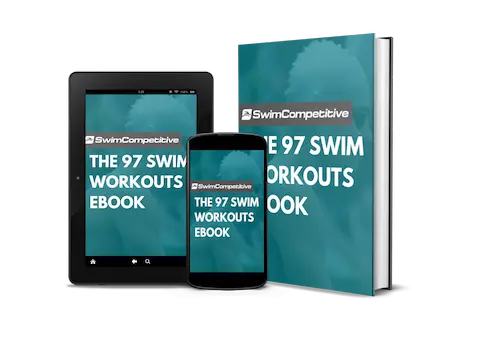 Should You Size Down or Size Up When Choosing Your Tech Suit?
Some swimmers like to size down or up from the recommended sizes provided by the tech suit size chart for their specific suit. Generally, I don't recommend this. You're better off sticking to the size suggested by the size chart.
So why do they do this?
Swimmers who size down generally do this to have a more compressive and tight fit. This is fine if that's what you want, but I'd only recommend doing this if it's your second or third time purchasing a specific suit.
If you size down on your first go with a new suit, you might purchase too small. This could mean that you can't get your tech suit on or, worst-case scenario, you rip it. (Bye, bye $400).
Keep in mind tighter also isn't always better. A tighter suit will be less durable, harder to get on, and more uncomfortable.
In terms of sizing up, this is something I never recommend. It usually happens because swimmers (or parents) mistakingly believe that by purchasing a bigger suit, it'll last longer since the swimmer will be able to fit it in for longer if they're still growing.
However, that's not the case. In fact, tech suits have a limited lifespan in any case.
It's also counterintuitive and defeats the entire point of the tech suit in the first place.
If you size up, you lose the performance benefits from compression. Not only that, but your suit is going to stretch out, whether it's tight or not. The difference is when it's already loose and stretches out, you almost completely lose the performance benefits.
A loose tech suit will likely also lose durability faster than one that fits snugly.
When it comes to finding your perfect tech suit size and style, it'll take some experimenting.
Make sure to try out a few different swimming brands and experiment with sizes once you've found a suit you like (if you aren't already happy with the size you have).
This doesn't have to happen all at once (I mean, tech suits are expensive!), but play around with it across various swimming seasons.
Tips for Putting on a Tight Tech Suit
Now that we've covered all the critical aspects of finding your ideal tech suit fit and size, let's look at some tips for getting it on easier.
Make sure you're completely dry: Putting on a tech suit can be challenging as it is. If you aren't completely dry, the fabric will stick to your skin, making it even harder to put on your tech suit. You also risk stretching your suit by not drying off properly.
Use some baby powder: Baby powder is excellent for helping to get your suit on easier for two reasons. Firstly, it removes any moisture that may still be on your skin (remember our previous point?). Secondly, it makes your skin slick, which makes it easy to pull the tight fabric up.
Have a teammate on standby: This one is mainly for the ladies. I know we guys won't be so comfortable with it in most cases (or we'll find it utterly hilarious). Having a teammate on standby to help you pull the suit over your hips or pull the straps over your shoulders can be very useful for getting a tight suit on.
Find a private area to put on your suit: Usually, when I put on my suit, I do it "towel-changing" style. That said, if you can find a private place to put on your suit without worrying about your towel falling off the entire time, it can make it much faster to get your suit on. Additionally, if you need some time out, you can sit down and take a break before putting your suit on further.
For more help and tips on putting on your tech suit, I recommend reading my guide on how to put on a tech suit.
Tech Suits Are Tight!
Yes, tech suits are tight, but it's for your own benefit. These suits have been specifically designed to enhance your swimming performance and help you swim faster so you can claim gold, make a final, or qualify for that big swim meet.
Find a suit that fits your preferences and is ideal for the events you race. Also, reference the sizing guides for your specific tech suit to find your perfect fit and adjust from there based on your experience and needs.