The Arena Carbon Air has been around for a while now. Although there are many new tech suits to choose from, it still remains one of the top tech suits out there.
Many elite athletes still wear it today and it hasn't decreased in popularity one bit. The Arena Carbon Air is a part of the Arena Carbon line, a tech suit range featuring some really solid Arena tech suits, these tech suits all contain carbon fiber and have some great performance-enhancing benefits.
This tech suit has been gaining a lot of attention now for a long time. It has been described as one of the best 'overall' tech suits out there.
In some of my other articles, I also describe it as one of the best 'overall' tech suits myself and for good reason too. We will dive into more detail why this is a great tech suit a bit later. But first, let's get started with the review-
My First Impressions.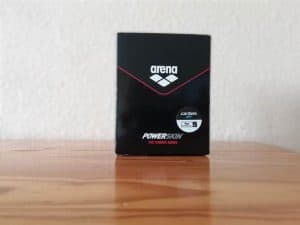 The Arena Carbon Air came in a very neat little black box. When I opened it for the first time I could smell the all so familiar smell of tech suit.
I went with the plum fluo/ yellow carbon air, otherwise, known as the purple carbon air jammer.
I was really excited to try it on, although I knew it might take a while as all tech suits do.
The tech suit comes neatly packed in a plastic bag and underneath it, you will find a protective storage pouch that you can keep it in at swim meets, (more about this later though).
You also receive some instructions on how to get it on. Overall it was a really awesome first experience opening the box containing my Arena Carbon Air.
Interested in the Arena Carbon Air tech suit? Consider checking it out on SwimOutlet by clicking here.
a Quick Introduction.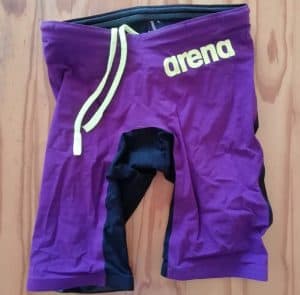 So a few weeks ago, it was one of the biggest meets of the year. My previous tech suit was getting worn out and I decided it was time for a change.
a couple of my buddies were rocking the Arena Carbon Air and I thought I'd give it a try.
I've heard great things about it before and from some research also discovered it was a pretty awesome tech suit.
So I went and picked myself up a brand new Arena Carbon Air to test it out for myself and decide whether it was such a great tech suit after all.
Needless to say, my experience with it was great, although it wasn't my best meet, I still swum some good times and took a few medals.
Some quick thoughts and opinions on the Arena Carbon Air tech suit.
I really like how it looks.
The Arena Carbon Air has a really nice look to it, it isn't bombarded with different types of seams and patterns running all over the suit.
Although this works on some tech suits, it can also look a bit messy sometimes. I really like how my tech suit looks, I especially like the purple color, I don't know why, but there is just something about a purple tech suit that makes it cool in my opinion.
For those of you who might not be so keen on the purple, the Arena Carbon Air comes in many different colors and options. Consider checking out the color combinations on SwimOutlet by clicking here.
Pretty Comfortable.
I'm not going to lie, getting the tech suit on can be a bit of a struggle. However, that is standard and you are going to experience that with any high-end tech suit.
The suit has a slightly higher nylon content, which makes it quite comfortable. Overall I feel like the Arena Carbon Air is a pretty comfortable tech suit, compared to some other high-end tech suits.
Good Compression.
I remember the first time I jumped in with the Arena Carbon Air, it was on a 50 freestyle. I could instantly feel the compression kicking in on my legs as I hit the water.
The Arena Carbon Air has some really good compression and you can definitely feel a difference. Overall the 50 went well, I didn't make a final, but swum a good PB.
Interested in the Arena Carbon Air tech suit? Consider checking it out on SwimOutlet by clicking here.
What is Included with the Arena Carbon Air?
Okay, so what do you actually receive in the neat, little black box? Well, first of all, you obviously will find your Arena Carbon Air tech suit inside.
Once you open the box it will be neatly sealed in a plastic bag on top of everything else. You will also find a really high-quality little mesh bag inside the box.
This is great for meets, you can just slap your tech suit in there after the race and you are good to go. It will also help to keep your box in good shape since you won't have to take the box to your swim meets.
This might not be important for most people, but I like to conserve the box of my tech suit. You will also receive some instructions on how to put the suit on nside the box.
Arena Carbon Air- Pros and Cons.
Okay, this tech suit has a lot of pros, with only really 2 cons, in my opinion, this might vary from person to person though. Let's start with some of the Pros-
Pros
The Arena Carbon Air is made from 65% Nylon, 34% Lycra and 1% Carbon Fiber. This is a pretty good mix of materials in my opinion. However the coolest and most remarkable thing perhaps is the Carbon Fiber, most tech suits don't have this and personally, I think it's pretty neat. The purpose of the carbon fiber is to make the suit lighter and more durable.
It's 30% Lighter than other tech suits. Arena claims that the Arena Carbon Air is 30% lighter than other tech suits, compared to some newer tech suits it probably isn't 30% anymore, but I still think it's definitely lighter than most tech suits.
Compression, Arena stated that the tech suit contains 'Intelligent muscle compression' and I can say that the tech suit did have really good compression. I also feel like it compressed my major muscle groups more than others, so that is pretty cool.
The Arena Carbon Air contains carbon bands. This allows for intelligent compression (as mentioned earlier), reduced drag and maximum power in the water.
The Arena Carbon Air comes with a carry pouch so that you can store your tech suit after you're done racing.
Cons
Some swimmers have complained about the suit not having the greatest durability, and I can definitely see this being true if you don't take care of your suit. I, however, haven't experienced any durability issues with the suit. I've had my Carbon Air for 2 years now and it's still in great condition, the only thing that has deteriorated a bit is the water-repellency.
The second con is the price, this suit is definitely not the cheapest but at the same time, it's not the most expensive.
Interested in the Arena Carbon Air tech suit? Consider checking it out on SwimOutlet by clicking here.
My Experience.
Overall I had a really awesome experience with the Arena Carbon Air. Honestly, I can't wait until my next meet where I'll be using it.
I won't be using the suit for small meets, this will help in preserving its lifetime. I swam some good PBs in the tech suit, obviously, that wasn't just, because of the suit, but rather hard training and the taper. However, tech suits definitely help to some extent.
(Heads up! Make sure to read my article where I talk about how tech suits can make a difference in your swimming performances and help you to swim faster. I dive into a lot of detail in that article.)
5 Tips to make your Arena Carbon Air last longer.
1. Save it for your big meets.
Only wear your precious tech suit, when gold, a really important record or a PB is on the line. Don't wear your tech suit unnecessarily. These suits wear out every race, so save them for the big ones!
2. Take it off and put it on slowly.
Yes, I know these tech suits are tight (really tight) but don't try to get them off or on as fast as possible. They were never designed with the idea that you should get them on or off in 3 minutes.
When putting or taking them on or off as fast as you can, you make yourself vulnerable to a tear. I've been in the changing rooms and the guy next to me simply pulls down his suit and has it down within 2 seconds, only to cry about his newly made tear for hours… worth it right?
3. Don't hang it up.
When drying your tech suit, it's better to roll it up in a towel and wait it out or to simply lay it down on a towel. If you hang it up it can result in stretching your tech suit. Stretching will make your suit looser and have you lose some of those nice, valuable compression benefits.
4. Rinse it out with cold water.
The high concentration of chlorine in the pool (some more than others) can damage your suit if you don't rinse it out. When your done racing for the day it's always a smart idea to just rinse your suit out with some cold water. It doesn't take much effort and it certainly is going to make your suit last much longer.
5. Wear pants and shorts over them between races.
Unless you are planning on taking your tech suit off and putting it back on in-between every race, it's probably a good idea to wear pants or shorts over them. This will prevent your tech suit from damage or getting caught on something and tearing.
For more tips check out my article on how to make your tech suit last here.
Conclusion.
I would highly recommend the Arena Carbon Air, it is a great tech suit and it has some awesome features.
For all of you breaststroke swimmers out there I would rather go with something like the Arena Carbon Flex VX, you could definitely swim breaststroke with the Carbon Air if you wanted to, but why would you if the Carbon Flex VX is a more optimized suit for breaststroke swimming.
More related articles-