Speedo vs TYR- Are you wondering which swimming brand is the best? Well, in that case, you've come to the right place because today we will be doing a full breakdown and comparison of TYR and Speedo to assist you in making the best decision for your swimming gear needs.
In the modern age of competitive swimming, tech suits, competition swimming goggles, and other various pieces of high-tech swimming equipment play a critical role in helping us to swim faster and more efficiently.
Swimmers are always buying the newest and most innovative tech suits and swimming goggles available in the hopes of gaining a slight competitive advantage. This may cause swimmers to wonder which swimming brand is truly the best for their needs and requirements?
In this article, we will analyze two of the biggest competitive swimming brands, namely TYR and Speedo. I will be taking a look at some of their top products to assist you in gaining a better understanding of which swimming brand would be best for you.
Speedo is without a doubt the more popular brand, but it isn't just about popularity- let's have an in-depth look at what each brand has to offer in terms of their product quality and brand history.
TYR vs Speedo- The Ultimate Swimming Brand Showdown
TYR History and Mission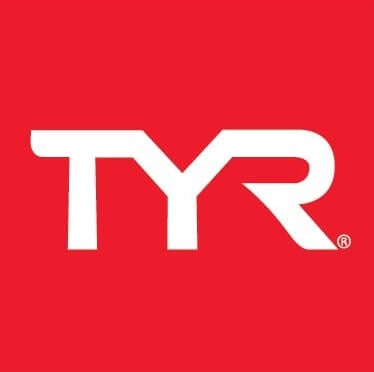 TYR is a popular swimming brand and a world leader in designing and producing new cutting-edge swimming technology directed at improving swimming performance. TYR was founded in 1985 by Joseph DiLorenzo and 1972 Olympic Bronze Medalist Steve Furniss. 
The brand specializes in manufacturing some of the highest-quality swimming and triathlon gear currently available and it is represented by a large number of professional and world-class swimmers. Some names include- Katie Ledecky, Cody Miller, Lilly King, Ryan Lochte, Matt Graver, Tom Shields as well as many others.
TYR has made it their mission to develop some of the most durable and high-tech swimming technology available and it's safe to say that Team TYR is on an unstoppable path in pushing the limits of swimwear to assist athletes in enhancing performance and reaching their maximum potential.
>View all TYR swimming gear on SwimOutlet.
Speedo History and Mission
Speedo is also a very popular swimming brand, if not the most popular. They have a huge range of swimming gear containing any piece of swimming equipment or any type of training or racing suit that you can imagine.
Speedo was founded roughly 71 years before TYR came to foot- that is to say back in 1914. Alexander Macrae was the original founder and the brand went by the name of "Fortitude" until 1928 when it was finally changed to the famous and iconic name today known as Speedo.
The brand is a world leader in performance equipment like tech suits and racing goggles. They were even the proud sponsor of the legendary Michael Phelps at a time and together they broke a large number of world-records and brought home a lot of Olympic golds.
Speedo specializes mainly in manufacturing swimming equipment and has been represented by many other great swimmers throughout its years, some of the current big names include- Ryan Murphy, Nathan Adrian, Missy Franklin, and recently welcomed- Caeleb Dressel.
>View all Speedo swimming gear on SwimOutlet.
P.S.- If you are looking for a list of the best swimming brands for all of your swimming gear and equipment, you can check out my article on the best swimming brands.
TYR Vs Speedo Tech Suits
The TYR Venzo Tech Suit
The TYR Venzo is the latest tech suit released by TYR. It's also one of the newest tech suits on the swimming market.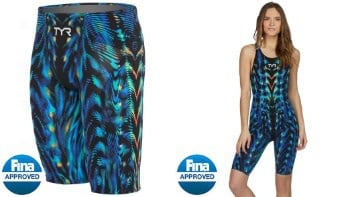 TYR Venzo Tech Suit
Quick Summary: The TYR Venzo is one of the best and most compressive sprinting tech suits available, although still perfectly suited to mid-range events as well.
The suit works well with all strokes, especially breaststroke. Features include a durable, water-resistant fabric combined with a frictionless fiber construction and seamless exo-shell to reduce drag. Built-in surface lift technology and an innovative endo-compression cage further enhance your swimming performance.
My only complaint is comfort- this suit isn't the most comfortable and can be hard to get on.
View On SwimOutlet
The Venzo was designed in collaboration with some of the best and most recognized coaches and swimmers on the planet, making in a very authoritative and solid tech suit.
Currently, it is the first and only tech suit available to analyze drag from a microscopic perspective allowing for reduced resistance while swimming. The suit features surface lift technology for an improved body position and it also comes with an endo compression cage for enhanced blood circulation.
Overall, the TYR Venzo is a really solid, feature-packed tech suit with a great design. The suit has some impressive new tech built-in and is available in some of the coolest colors and patterns I've ever seen.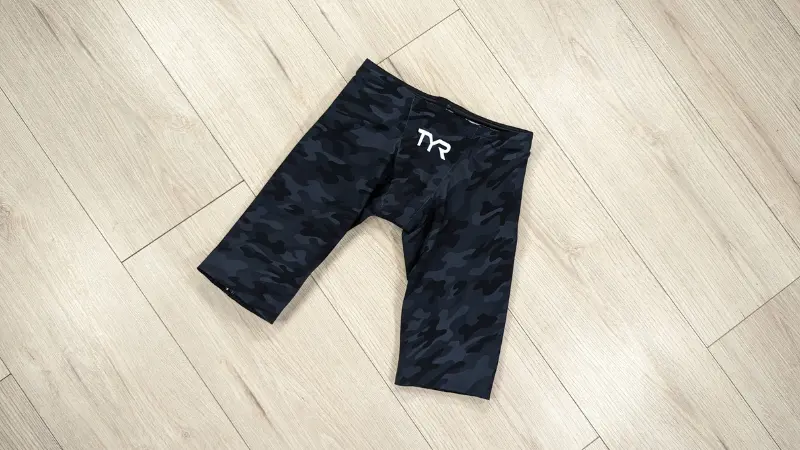 Here are some features of the TYR Venzo tech suit-
Frictionless fiber construction- with the analysis of drag on a microscopic level, the TYR team has designed the tech suit to utilize ultra-smooth fiber to allow for a frictionless and durable fabric.
Surface lift technology- This is something I am quite interested in regarding this tech suit. The idea behind it is that water can't permeate the fabric of the tech suit, ultimately resulting in a higher body position in the water. This can reduce resistance and make you faster.
Endo compression cage- compression is probably one of the most important and noticeable aspects when it comes to a tech suit. If you didn't know, compression helps to flush out acids from your muscles and supply them with new oxygen and nutrients, allowing for more endurance in the water.
The TYR Venzo's endo compression cage forms a flexible and compressive cage of support for the abdominals, obliques, and quadriceps. This creates a snapback effect and increases distance per stroke.
Seamless Exo shell- this seamless outer design is something we are starting to see more and more with new tech suits. Arena also recently used it on their new Carbon Air 2 design. The design is aimed at streamlining body position while decreasing drag.
---
The Speedo LZR Pure Intent Tech Suit
Speedo also recently released their new tech suit- the LZR Pure Intent. It's important to note that Speedo also released another suit at the same time called the LZR Pure Valor, the Pure Valor is designed more as a multi-racer tech suit aimed at middle- and long-distance events as well as IM and breaststroke events.
Top Pick for Sprinters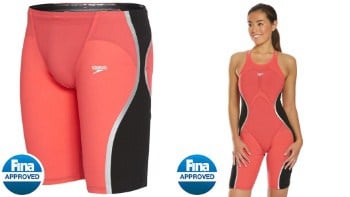 Speedo LZR Pure Intent Tech Suit
Quick Summary: The Speedo LZR Pure Intent is ideal for all swimming strokes and best suited to sprinting events.
The tech suit's triple fabric construction offers exceptional range of motion while dual compression layers and special taping increases your power output. Drag is reduced using textured fabric zones, premium grips, and bonded seams. All of these features work in unity to provide you with peak-level swimming performance.
The only downside is a bit of leakage on the men's jammer if not properly fitted.
View On SwimOutlet
But for the sake of this article, we'll just be focusing on the LZR Pure Intent since that seems to be the more popular model between the two.
The Speedo LZR Pure Intent has dual-compression layers built-in allowing for optimal blood circulation and increased power output. The suit allows for unrestricted range of motion in the water and contains premium water-repellent technology.
All in all, this is a really good tech suit, absolutely loaded with awesome features and benefits. It will definitely be hard to decide whether the TYR Venzo or the Speedo Pure Intent is better. In my opinion, they are both ridiculously good tech suits, but personally I think it's going to come down to the events you swim.
Consider checking out my article on the best tech suits for every swimming event to find out which of these suits is better for you.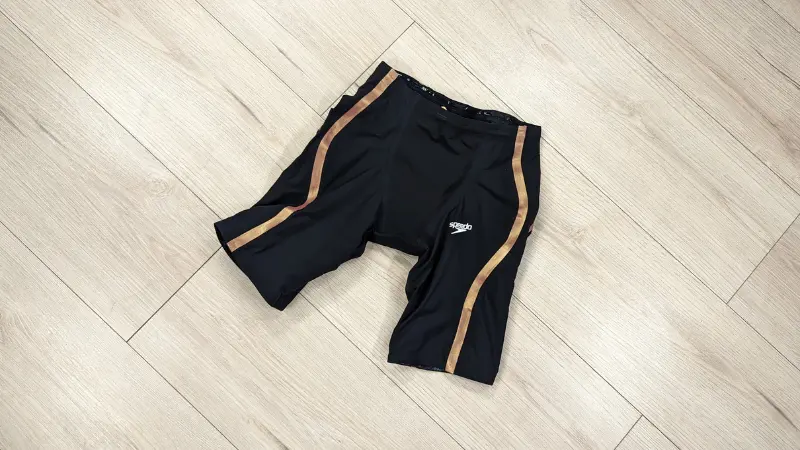 Here are some features of the Speedo LZR Pure Intent tech suit-
The Speedo Pure Intent is designed with dual compression layers and an ergonomic seam construction. This will help to connect large and important muscle groups for greater power output and energy return while swimming. 
Like I mentioned earlier compression is also important for helping to flush out acids from your muscles and increasing the oxygen levels. Ultimately, this will increase your optimal power output and make you faster for longer during a race.
The Pure Intent has a triple fabric construction with bonded seams. The design aspect allows the suit to have a greater range of motion in the water. Ultimately this makes the tech suit a good option for all strokes.
The suit has textured fabric zones targeting drag reduction for optimal performance and speed in the pool. The design also includes new band technology designed to support a powerful leg kick.
Lastly, the Pure Intent has a premium waistband engineered to reduce water ingress. This way water will never enter your tech suit, ultimately reducing drag even further.
---
A Cheat Sheet for Creating the Perfect Swimming Workout and Routine
Download this FREE cheat sheet to create the perfect swimming workout and routine. Learn how to structure your swim workout and enjoy 9 example workouts, ranging from beginner to advanced.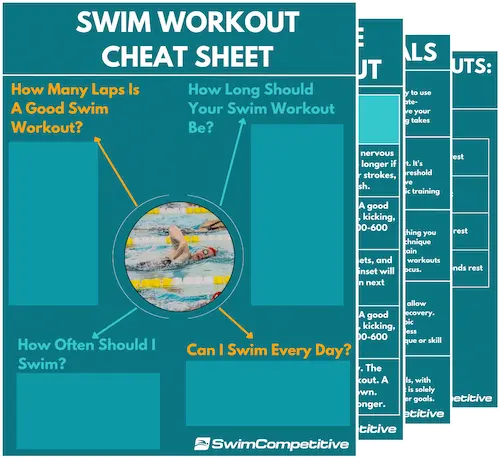 TYR Vs Speedo Swimming Goggles
TYR Tracer X RZR Swimming Goggles
The TYR Tracer X RZR racing goggles are TYR's latest competition swimming goggles. Similar to the TYR Venzo tech suit, this is a feature-packed goggle designed to give you the maximum competitive advantage in the water.
The TYR Tracer X RZR racing goggles offer a wide 180-degree field of view, which makes it one of the best goggles when it comes to peripheral vision in the pool.
Like most competition swim goggles, the TYR Tracer X RZRs have a low profile design to reduce drag as much as possible while swimming.
They offer liquid silicone gaskets to provide maximum comfort and a secure fit while wearing. Good comfort is something both myself and many other swimmers respect in a goggle.
The goggles also come with high-definition lenses allowing for very clear vision in the water. 
Further, they have all of the other standard swimming goggle features like removable nose bridges, anti-fog coating, and adjustable straps.
Overall a really great pair of swimming goggles with some nice features and a top-notch design. The TYR Tracer X RZR swimming goggles are branded as racing goggles, but in my opinion, they would be just fine for training as well.
Here are some features of the TYR Tracer X swimming goggles-
15% wider field of vision allows for a 180-degree wide peripheral vision while swimming.
Low-profile and unibody design engineered to reduce drag in the water.
Liquid silicone gaskets provide maximum comfort and a secure fit while wearing.
High definition lenses provide clear sight in the water.
Silicone design allows for high-quality and durable swimming goggles.
---
The Speedo Fastskin LZR Pure Focus Swimming Goggles
The Speedo LZR Fastskin Pure Focus goggles were released at about the same time as the LZR Pure Intent tech suit. They are essentially an upgrade from Speedo's previous pair of racing goggles, namely the Speedo Fastskin 3 Elite Goggles.
The Speedo Fastskin 3 Elite goggles were some of the best and most popular racing goggles available (and they still are), but now we have a newer and even better version- the Speedo Fastskin LZR Pure Focus swimming goggles.
Speedo claims that the Pure Focus goggles have a 5% reduction in drag when compared to the Fastskin 3 Elite Goggles making it Speedo's fastest and most advanced pair of swimming goggles.
All in all, they are a very solid pair of racing goggles. Similar to the TYR Tracer X swim goggles these can also be used in training if you'd like to since they are very comfortable. 
That being said, I do think the Speedo LZR Pure Focus goggles are better than the TYR Tracer X goggles when looking at them from a pure feature perspective, but it is also important to note that the LZR Pure Focus goggles are currently about 4 times more expensive than the Tracer X swimming goggles.
Here are some features of the Speedo Pure Focus goggles-
The Speedo Pure Intents goggles have a 5% reduction in drag when compared to the Speedo Fastskin 3 Elite Goggles. This makes them Speedo's lowest profile and fastest goggles currently available.
The Pure Focus goggles have a new hybrid nose bridge design for enhanced comfort and durability. This is an awesome feature since I am sure all swimmers appreciate a comfortable and durable swim goggle.
The IQfit 3D goggle seal allows for a leak-free and secure fit. This is an important part of a good racing goggle since nobody wants their goggles falling off during a race. Another cool feature of the seals is they reduce marks around the eyes.
Lastly, the Pure Focus goggles feature the IQfit goggle strap, this strap was also used on the Speedo Fastskin 3 Elite goggles for reduced drag. The strap has a patented tensioning scale allowing for a unique and personal fit.
Looking for some more awesome swimming goggles? Check out my post on the best racing goggles.
---
TYR Vs Speedo Swimming Bags
TYR Alliance Swimming Backpack
The TYR Alliance swimming backpack is one of TYR's most popular backpacks. I see it being carried around by competitive swimmers all the time- at meets, training, and even airports.
The Alliance backpack has a large main compartment with a bunch of exterior pockets ensuring you always have enough space. It also has comfortable and high-quality shoulder straps and even includes ventilation to speed up the drying process of wet items.
Overall, a great swimming backpack with some nice features and a good design. It isn't hard to see why it's so popular. The bag also looks pretty neat and is available in a wide range of colors.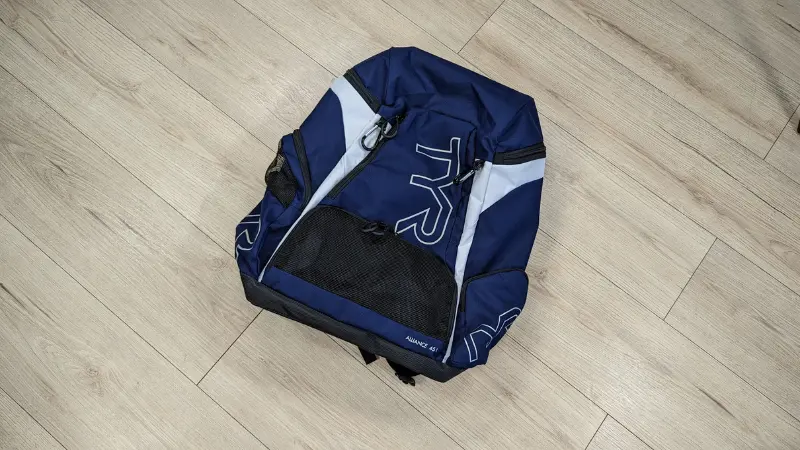 Here are some awesome features of the TYR Alliance swim backpack-
The Alliance has a lot of space- it includes a large main compartment, two side exterior zipper pockets, a front pocket, and an interior multi-function pocket as well as an exterior multi-function pocket on the strap. Pretty neat.
The backpack includes ventilation, to speed up the drying process of wet items. This is a must-have for all swimmers because let's face it- we all leave our wet towels and swimsuits in our swimming bag from time to time.
The bag is reinforced to protect your belongings. There isn't much more to say here, having a reinforced bag is a pretty standard, yet critical feature for most swimmers.
The TYR Alliance is available in a wide range of colors, this is good- now we can brighten up our pool decks even more!
The Alliance has comfortable 36.5″ straps. This is a good feature to have for those long, frustrating meets where you are constantly moving around or where you have to walk back to your hotel after swimming.
---
The Speedo Large Teamster 2.0 Swimming Backpack
The Speedo Teamster 2.0 backpack is another really popular swimming backpack. Like the TYR Alliance swim bag, I also see this backpack being carried around by swimmers all the time.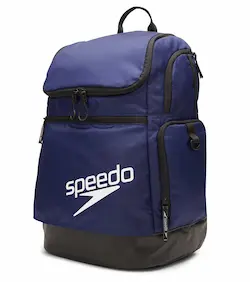 Speedo Teamster 2.0 Swim Backpack
Quick Summary: The Speedo Teamster 2.0 35L Swimming Backpack is a sturdy and sleek option for swimmers looking for ample storage space without the bulk of larger backpacks.
The abrasion-resistant, waterproof exterior shell and raised waterproof base provides durability and stability, while the padded back and adjustable shoulder straps ensure a comfortable fit.
The backpack features a large main compartment, a hidden front ventilated pocket for wet swim gear, and various side pockets for easy organization. Its compact design and multiple color options make it a stylish choice for swimmers of all levels.
Buy Now on SwimOutlet
The Teamster has a large main compartment for storing swim gear and it also comes with a bunch of additional side pockets for extra accessories.
Further, the backpack presents nice features like a hidden ventilator bag for wet swim gear.
Overall this is a great swimming backpack with many features and a lot of space for your swim gear and accessories. It looks great and has everything a swimmer desires and requires in a swim backpack.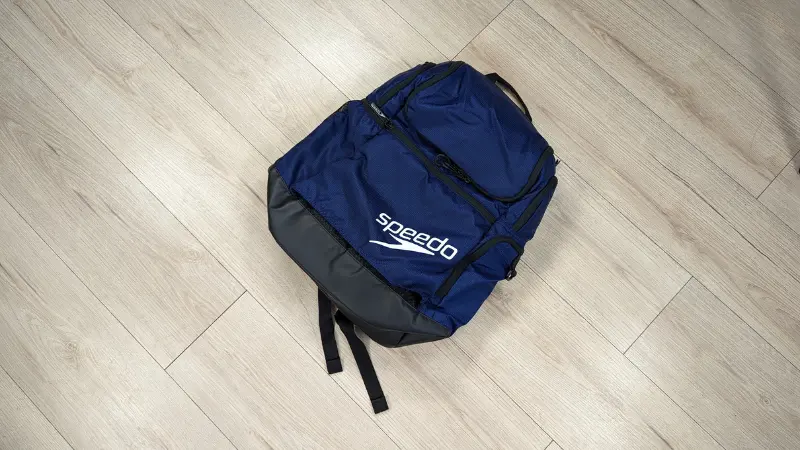 Here are some neat features of the Speedo Teamster 2.0 swimming backpack-
It has a built-in laptop sleeve with a water-resistant bottom to protect all of your belongings inside. The exterior is durable and abrasion-resistant.
Hidden ventilator pocket, the backpack includes a hidden pocket to keep all of your wet swim gear in, allowing it to dry while keeping everything else dry inside.
The bag features many additional pockets to keep things in and has plenty of space for all of your equipment and towels.
The backpack comes in many different colors and patterns to choose from.
If you are looking for some more awesome swimming bags and backpacks, then I recommend you check out my article on the best swimming bags.
TYR Vs Speedo- the Choice Is Yours!
So there you have it- TYR vs Speedo. I won't be saying one brand is better than the other because, in reality, they are both excellent brands and it is purely up to personal preference and opinion.
TYR and Speedo both manufacture very high-quality tech suits, goggles, backpacks, and other swimming gear. It is going to be up to you to decide for yourself which brand is better. At the end of the day, you really can't go wrong with either one since they both deliver excellent products.