Looking for a new TYR tech suit to crush it in the pool this season? Not sure which one would be best for you? Well, in that case, you've come to the right place because in today's article we'll be taking a look at the 5 best TYR tech suits currently available.
TYR is one of the best and most popular swimming brands. They have a wide range of high-quality products designed for competitive swimmers to train and race with, guaranteeing only great results in the water, no matter what your goals are.
TYR also sponsors many elite level and professional swimmers from around the globe who are more than happy to use their high-quality racing and training gear. Some of the big names include- Katie Ledecky, Ryan Lochte, Matt Grevers, Lilly King, Kelsi Dahlia, Cody Miller, as well as many others.
Getting back to the tech suit side of things, TYR currently has a pretty solid set of suits to help you swim faster than ever before. Their top 2 suits, namely the Venzo and Avictor are also included in my article on the best tech suits currently available.
The performance-enhancing effects of a good tech suit could be the difference between winning and losing, making that important team or missing out, qualifying or not qualifying. That's why it is important to make sure that you have a good suit that you can rely on when it's time to step onto the block and race.
5 Best TYR Tech Suits for Swimming
Here are the best TYR tech suits for swimmers-
TYR Venzo tech suit
TYR Avictor tech suit
TYR Tracer B-Series tech suit
TYR Thresher Baja tech suit
TYR Fusion tech suit
←Scroll to view full table on mobile→
| | | | | |
| --- | --- | --- | --- | --- |
| TYR Tech suit | Recommended events | Material composition | Our rating | View on SwimOutlet |
| TYR Venzo | 50, 100, and 200 events, and also 200 IM | 70% nylon, 30% lycra | 10/10 | >View price |
| TYR Avictor | Long distance events, also 200 IM and 400 IM | 70% nylon, 30% lycra | 10/10 | >View price |
| TYR Tracer B-Series | All events | 70% nylon, 30% lycra | 8/10 | >View price |
| TYR Thresher Baja | All events | 71 nylon, 29% lycra | 7/10 | >View price |
| TYR Fusion 2 | All events | 79% polyester, 21% lycra | 6/10 | >View price |
For help with finding the right size for your tech suit, consider reading my tech suit sizing guide, where I cover all of the most popular swimming brands and their tech suits.
1. TYR Venzo Tech Suit
The Venzo is TYR's latest and most innovative tech suit packed with some solid features and engineered to specifically enhance your swimming performance, allowing you to swim faster and destroy your previous best times while acing a gold medal or two in the process.
Top Pick for Sprinters and IM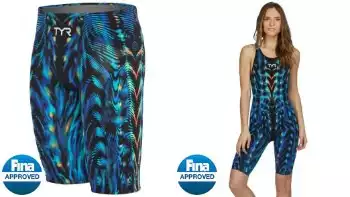 TYR Venzo Tech Suit
Quick summary: the TYR Venzo is one of the best sprinting tech suits, although still perfectly suited to mid-range events. The suit works well with all strokes.
Features include a durable, water-resistant fabric combined with a frictionless fiber construction and seamless exo-shell to reduce drag. Built-in surface lift technology, dual layering, and an endo-compression cage further enhance your performance.
Downsides include lacking comfort and being hard to put on.
Buy Now on SwimOutlet
The Venzo is a great tech suit for pretty much any swimming event whether you are a sprinter or a distance swimmer. I, however, do recommend this suit more for sprint swimmers while recommending the TYR Avictor below for distance swimmers due to slightly lower compression levels.
Both the TYR Venzo and Avictor are premium tech suits designed to work in contrast with each other like just mentioned.
The Venzo packs some great performance-enhancing features like a frictionless fiber construction to lower your drag while swimming, surface lift technology to optimize your body-position, as well as an endo-compression cage allowing for some awesome targeted compression.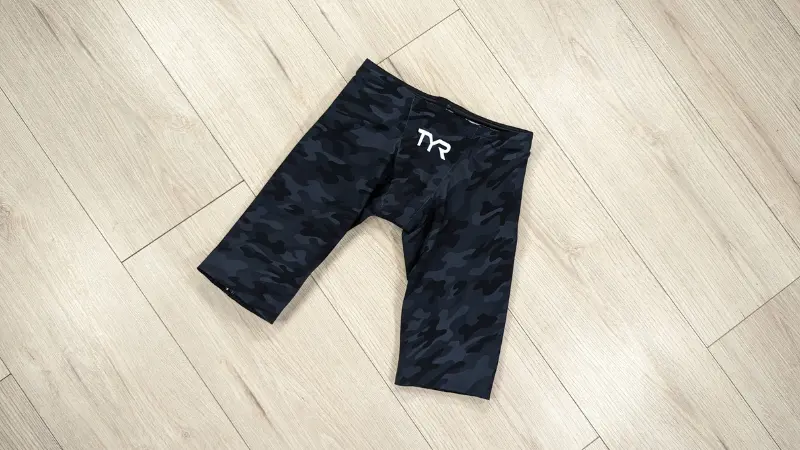 Features and benefits of the TYR Venzo tech suit-
Frictionless fiber construction- with the analysis of drag on a microscopic level, the TYR team has designed the tech suit to utilize ultra-smooth fiber to allow for a frictionless and durable fabric that will reduce your drag in the water.
Surface lift technology- water can't permeate the fabric of the tech suit, ultimately resulting in a higher body position in the water. This significantly reduces resistance and helps you to swim faster.
Endo compression cage- The TYR Venzo's endo compression cage forms a flexible and compressive cage of support for the abdominals, obliques, and quadriceps. This creates a snapback effect and increases distance per stroke without limiting your range of motion in the water.
Seamless Exo Shell- The design is aimed at streamlining body position while decreasing drag, ultimately enhancing your swimming performances.
Lightweight construction- the suit will keep you light and agile in the water with a material composition of 70% nylon and 30% lycra.
The durable fabric of the suit helps it to retain critical features for longer, keeping your tech suit in prime condition all season long.
Men's jammer is available in a standard- and high-waist variation while women's suits are available in open- and closed-back variations for maximized preference.
Cons-
---
2. TYR Avictor Tech Suit
The Avictor is TYR's second flagship tech suit. It's a really solid and popular tech suit loaded with awesome features to enhance your swimming performances in the water.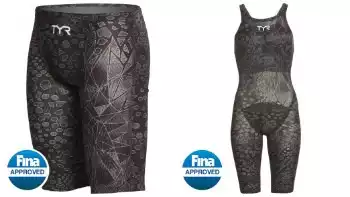 TYR Avictor 2 Tech Suit
Quick summary: the TYR Avictor 2 is an excellent all-around tech suit ideal for all strokes and events. It's most optimal for middle- and long-distance events and is popular among breaststroke and IM swimmers.
The suit reduces drag using a lightweight, hydrodynamic construction and water-repellent surface lift technology. Additionally, supersonic flex bonding seams and targeted compression panels further optimize your performance.
Downsides include less durability due to the thinner fabric.
Buy Now on SwimOutlet
I recommend using the TYR Avictor mainly for distance and IM events due to its highly comfortable design, targeted compression technology, and supersonic flex bonding seams which allow for 100% natural movement and a stretch of up to 360°.
The suit has some solid features and technologies built into its construction like hydrosphere technology that stops water from permeating the fabric and reducing your drag in the water as a result. As mentioned, the range of motion while wearing this suit is excellent and the compression is also really solid.
Something I really like about this suit is the fact that the men's suit has a slightly higher waisted design allowing for more core support. This will keep you nice and stable in the water and will help to power you to the end of your race.
Overall, the TYR Avictor is a great high-end racing suit designed for fast performances in the pool.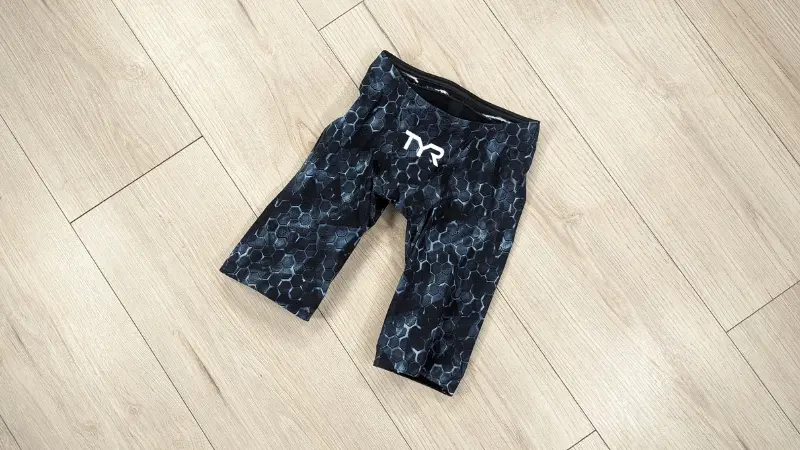 Features and benefits of the TYR Avictor tech suit-
Hydrosphere technology forces water to surround the suit, creating a visible hydrospheric effect in the process. This reduces your drag and increases your swimming speed.
Supersonic flex bonding seams allow for maximized comfort and freedom of movement, allowing for a stretch up to 360° and 100% natural movement and a full range of motion while swimming, resulting in maximized power generated with each pull and kick.
The suit features a lightweight design with a fabric composition of 70% nylon and 30% lycra allowing you to stay agile in the water.
Proprietary fabric effectively repels water keeping the suit dry while keeping you light, compressed, and fast.
Targeted compression allows for comfortable muscle compression for added muscle support and activation, helping you to reach peak swim speed as fast as possible.
The higher waist design adds increased core and lower back support helping you to power to the wall at the end of that long race.
Cons-
The water-repellent coating wears off quite quickly.
---
3. TYR Tracer B-Series Tech Suit
The TYR Tracer B-Series tech suit is a slightly older tech suit but it still packs some good features that will enhance your performance in the water. Another great thing about this suit is the price point. The suit comes in at nearly half the price of the 2 flagship suits mentioned above.
Generally, this tech suit is going to be a good suit for any swimming event since it packs flexible muscle compression and allows for good freedom of movement in the water. If you are a female distance swimmer, however, then you might not find the straps the most comfortable, but other than that it's a great suit for any swimming event.
The suit packs some good features that will allow for enhanced and optimized swimming performance, but unfortunately, it also lacks a couple of the premium features that the flagship TYR suits have.
All in all, the TYR Tracer B-Series tech suit is a solid racing suit coming in at an affordable price with some premium-grade features and a nice design.
Features and benefits of the TYR Tracer B-Series tech suit-
Zone compression in the suit allows you to gain an equal balance of flexibility and compression while swimming. This allows for increased drag reduction when you need it the most while making sure that your muscles are activated and primed for fast swimming.
Bonded seams in the tech suit allow it to conform and stretch with your body to create higher levels of compression and a tight and secure fit while racing.
The TYR Tracer B-series tech suit has a lightweight design with a material composition of 79% nylon and 21% lycra, allowing you to stay agile and fast.
Hydrophobic fiber allows for an enhanced body position, speed, and reduced drag while racing by forcing water to surround the suit, instead of saturating it and slowing you down.
The suit provides enhanced stabilization while swimming. This targets critical muscle groups to ensure an optimal body position in the water and preservation of core strength allowing you to power to the end and take first place.
Micro-taped seams reduce the surface area allowing for lower drag.
Affordable price point for a tech suit with some good features.
Cons-
Compression not as good as the flagship tech suits.
---
4. TYR Thresher Tech Suit
The TYR Thresher is a good tech suit with a couple of premium features while still packing a budget price point. The suit features an interesting pattern and a nice overall construction for enhanced swimming performances.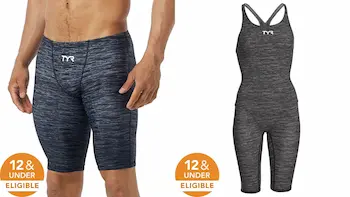 TYR Thresher Tech Suit
Quick summary: the TYR Thresher is approved for swimmers aged 12 and under and is ideal for all swimming events. Various colors are available.
The tech suit has a unique design with hydrophobic fibers creating water-repellency and buoyancy in the water. Other features include advanced muscle compression, flatlock sewn seams, and a flexible and comfortable fit.
The main downside is lacking durability and uncomfortable shoulder straps on the women's kneeskin if not sized correctly.
Buy Now on SwimOutlet
I would recommend the TYR Thresher for any swimming event. The compression isn't too high or too low making it ideal for a wide range of events. The only downside of this is that you can't really use the suit to zone in on specific events like you would when purchasing one of the flagship TYR tech suits, but considering the price of the suit, that's completely fine with me.
The TYR Thresher features advanced muscle compression and is designed using hydrophobic fiber for lower drag. This is great since the water-repellency will last longer than a suit which only has a water-repellent coating. That siad, unfortunately, the water-repellency on this suit isn't the best, but it'll get the job done.
Overall a pretty decent suit coming in at a nice price for some good features loaded into the design.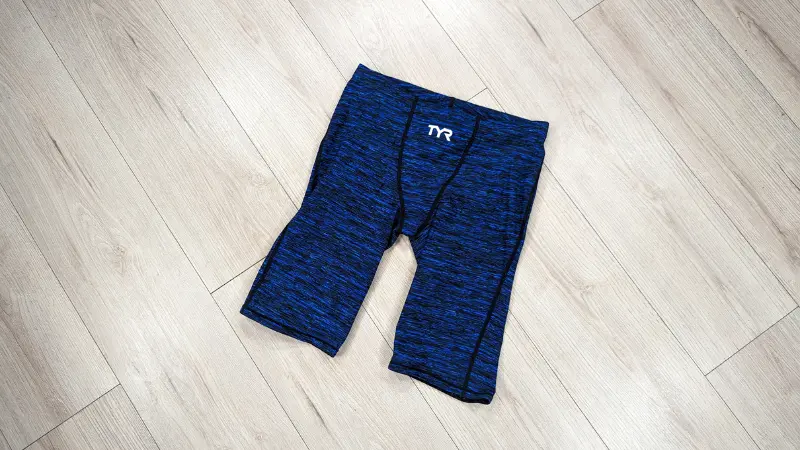 Features and benefits of the TYR Thresher tech suit-
Advanced muscular compression helps to maximize muscle stabilization and support allowing you to maintain speed when you start to tire out while keeping muscles activated and ready for fast swimming.
Hydrophobic fiber reduces water absorption allowing for lower drag in the water while ensuring that you stay light and agile.
Lightweight design with a material composition of 71% nylon and 29% lycra spandex.
The suit is fully lined to ensure powerful kicks and pulls for maximized speed in the water when you're racing.
Affordable budget price makes the suit great for swimmers who want to save some money while still packing a decent tech suit.
Cons-
---
5. TYR Fusion 2 Tech Suit
The final TYR tech suit we are looking at today is the TYR Fusion 2. The Fusion 2 comes in at a significantly lower price and serves as a great budget tech suit. The features on the suit are quite solid and will definitely allow for some good performances in the water, but the suit definitely lacks some of the high-end features.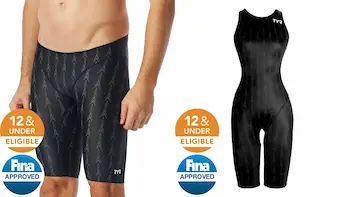 TYR Fusion 2 Tech Suit
Quick Summary: The TYR Fusion 2 is a versatile tech suit suited to all swimming events. Additionally it's approved for swimmers aged 12 and under.
The suit's lightweight construction and water-repellent coating reduces drag, while isolated compression technology improves muscle compression for energy-efficiency, power, and faster times. Flatlock stitching ensures a tight, secure fit for optimal performance.
At an affordable price point, this suit offers excellent features, with the only con being a lack of durability.
Buy Now on SwimOutlet
The construction of the suit makes the TYR Fusion 2 great for any swimming event. It has good muscle compression and a flexible design that will allow for unrestricted range of motion while swimming.
Overall, the TYR Fusion 2 is a decent tech suit. It definitely lacks some of the higher-end features found in the more expensive suits, but on the plus side it comes in at a much lower price while still packing a good punch.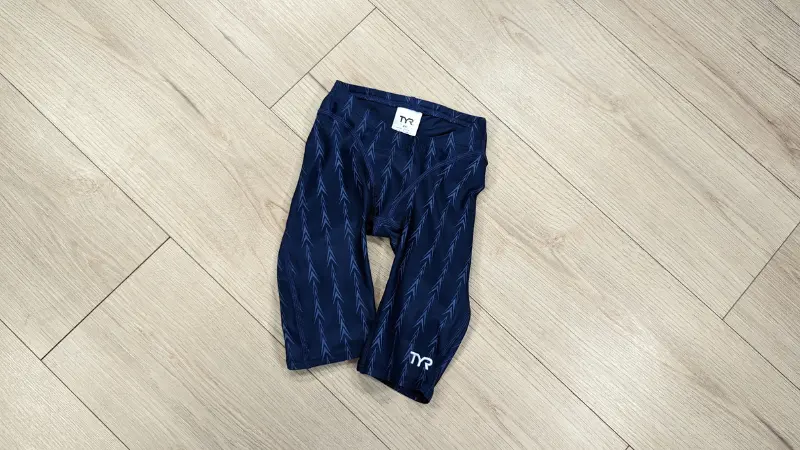 Features and benefits of the TYR Fusion 2 tech suit-
The TYR Fusion 2 suit has a lightweight construction with a material composition of 79% Nylon and 21% Lycra.
Water repellent coating on the suit reduces water absorption allowing you to swim with lower drag and reduced resistance.
Isolated compression technology in the design allows for good muscle compression. The compression also allows for reduced drag, improved glide, and enhanced oxygen renewal and lactate removal when you are racing.
Flatlock stitching allows for a tight and secure fit while racing.
The suit has a compressive fit to ensure that you're muscles are activated and ready to swim fast.
Low budget price point allows for a highly affordable tech suit with some good features.
Cons-
The durability of the suit lacks.
---
Do You Want to Make Every Lap Count?
Stop wasting your time in the pool feeling lost and doing directionless swim workouts, and start training effectively! Our ebook contains 97 structured and goal-orientated swim workouts to help you become a better, faster, and fitter swimmer. Whether you're a complete beginner or a seasoned pro, there are a multitude of workouts for every type of swimmer.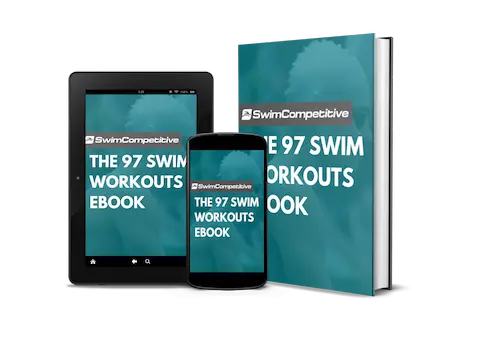 Not sure if one of these tech suits are right for you? Consider checking out some of my other tech suit articles then-
Benefits of Wearing a Tech Suit
Physical Benefits
1. Compression
All tech suits have some form of compression, whether it may be built-in compression panels, carbon bands, or simple compression fabric technology.
Compression in tech suits is responsible for optimized muscle activation and it can also increase blood flow through the muscles.
This makes compression an important feature when it comes to selecting a good tech suit. Better muscle activation will mean faster swimming and increased blood flow will help your muscles to replenish oxygen and nutrients at a faster rate as well as removing toxins like carbon dioxide and lactic acid which can have a negative effect on your performance in the water.
2. Improved Stroke Rate and Stroke Length
Studies have found tech suits to increase stroke rate and stroke length. An increased stroke rate will mean that you are able to pull more water over the course of your race and an increased stroke length will mean that you are able to swim and glide more efficiently through that water. Ultimately, it'll come down to you swimming faster.
A study was done on this exact topic with elite French swimmers. The study found that tech suits were able to effectively create conditions for lower resistance in the water, while swimmers also experienced longer gliding phases and increased efficiency which resulted in higher stroke rate and stroke length.
3. Decreased Drag in the Water
Tech suits can also help you to swim faster by decreasing drag in the water. These suits reduce drag in a number of different ways. They can do it by featuring an ultra-lightweight construction that will stop the suit from weighing you down in any way possible.
They can also decrease drag by using water-repelling fabric. This fabric will only absorb very small amounts of water, ultimately keeping the suit light and decreasing drag while you are racing.
And another way these suits reduce drag by almost completely removing the outer seams. This turns the suit into a type of robotic second skin, instead of a swimsuit. The removal of seams will allow the suit to be completely smooth and will ultimately decrease your drag in the water, allowing you to swim faster and win more gold medals.
If you're interested in learning a bit more about these suits and how they enhance your performance in the water, then I suggest checking out my article- do tech suits really make a difference? for more insight.
Psychological Benefits
Tech suits are also capable of providing you with mental benefits to help you swim faster. If you ask any swimmer who has worn a tech suit about how it made them feel in the water, they are probably going to tell you how it made them feel faster and more confident. (even if it didn't).
Mental confidence before racing is very important. Why? Because if you aren't 100 percent sure that you are ready to swim faster than you ever have, then you most likely won't. Tech suits will help you to feel more confident and ready before a big race.
Secondly, tech suits can also be seen as a mental trigger that puts your body into race mode. Every time you put on a tech suit your mind will subconsciously go into race mode just because you put on a tech suit, ultimately preparing your body to swim fast and crush it in the pool.
5 Tips to Make Your Tech Suit Last Longer
1. Save It for Your Big Meets
My first tip for making your tech suit last as long as possible is to only wear it for your big races.
Using your tech suit for unnecessary races can cause the fibers to get worn out faster in the long run, making the tech suit lose some of its compression and performance-enhancing features.
Once you have a few tech suits you can cycle through the older ones at less important meets and use the newer suits for the important swim meets.
2. Avoid Hanging Your Tech Suit Up to Dry
After racing you don't want to hang your tech suit up to dry. This can result in stretching of your suit, which will ultimately reduce its lifespan and reduce its performance. Rather lay your suit down on a flat surface, preferably on a towel and wait until it has air-dried.
3. Always Rinse Out Your Tech Suit with Cold Water
Most swimming pools use chlorine. Unfortunately, high contents of chlorine can damage your tech suit if it isn't removed from the fabric. To avoid chlorine damage, simply rinse your suit out with cold water after you are done racing for the day.
4. Wear Pants or Shorts Over Your Tyr Tech Suit
It is a good idea to wear some clothing over your tech suit in between races. This will avoid your tech suit getting damaged or possibly torn on a rough surface.
If you just got out of the pool you can also just throw on a swimming parka or wrap a towel around you until you're ready to put on some dry clothes over your tech suit.
5. Do Not Crouch Until Your Suit Is Fully Fitted and Correctly Positioned
Avoid crouching down at all costs until your racing suit is 100% on and fitted correctly. Although, unlikely this could cause an unnecessary tear in your tech suit. If you've been trying to get your suit on for the past 30 minutes and you need a break just slowly sit down on a nearby bench until you are ready to make some more progress.
Heads up! If you want another 11 tips on how to make your tech suit last longer, I highly recommend that you check out my article on "16 tips to make your tech suit last longer". We all know that these suits are expensive and this article will help you to take good care of your suit, allowing it to last longer, saving you some money in the process.
Swim Faster with a New TYR Tech Suit
So there you have it- the best TYR tech suits for some seriously fast swimming. I think you can see how important a tech suit can be for helping you to swim faster, even if it's just one of the budget models.
It is, however, also important to remember that tech suits only enhance performance, they don't create performance. Meaning, buying a tech suit isn't going to magically make up for you skipping practice or not doing your dryland training when your coach told you to.