Your One Stop Destination for Everything Aquatic-
SwimOutlet is the premier online destination for aquatics apparel and the web's most popular swim shop. Since its inception, SwimOutlet has expanded into virtually every activity that takes place in and around water, becoming the largest online specialty store for aquatics in North America (and the world).
In this article we'll be going over an in-depth SwimOutlet review, covering everything you want to know and answering all of your questions so that you can feel confident and relaxed shopping for your next piece of swimming equipment- completely online.
Shopping with SwimOutlet Is Super Easy
One of the biggest benefits of shopping with SwimOutlet is how easy it is. No need to spend hours driving to multiple different swim stores to find what you're looking for.
Simply visit SwimOutlet.Com, and search for what you're looking for or use their easily accessible navigation menu to browse thousands of products- I guarantee that 99% of the time, they'll have exactly what you need, and the experience and curation of products is better than what you would experience through other similar online stores.
Their website is fast, responsive, and well designed, ensuring you have a great and hassle-free experience- whether you are browsing from your computer, tablet, or mobile phone.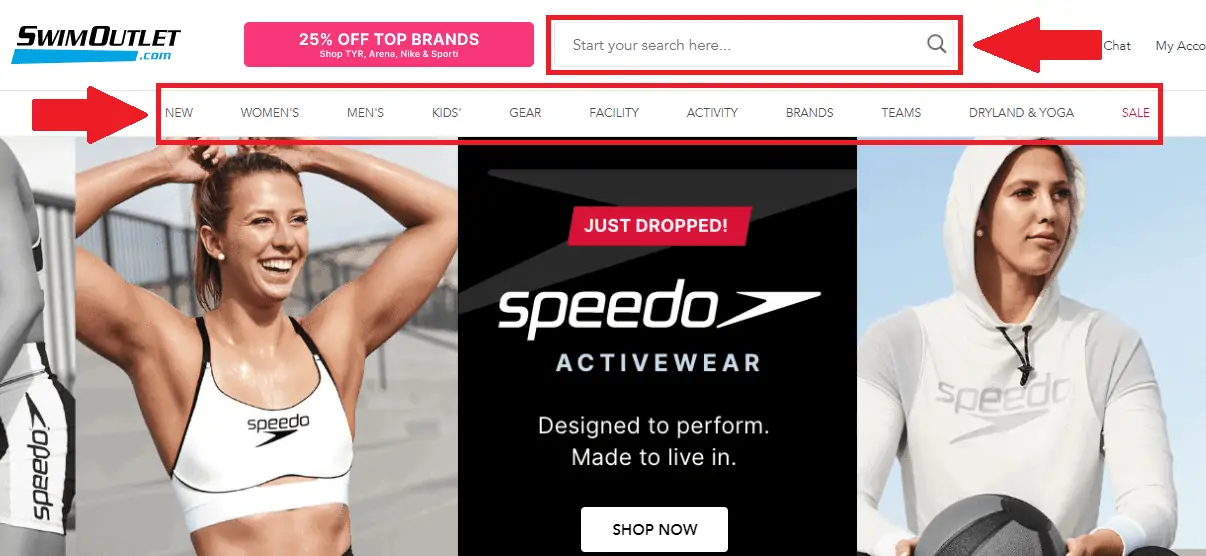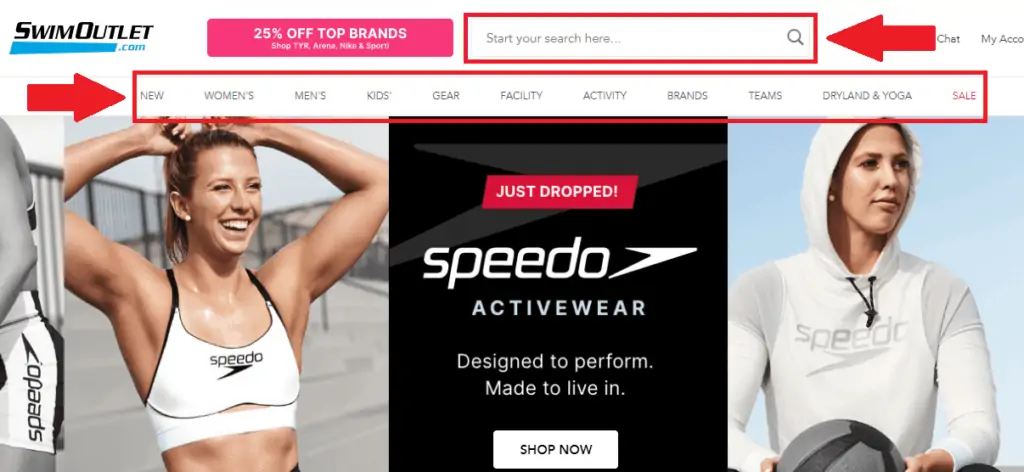 For those of you looking for swimsuits or tech suits, you might be a little worried about sizing. That said, there is no need to worry, SwimOutlet offers online sizing guides and charts which will make your life super easy- allowing you to order the perfect fit. You can also consider checking out our tech suit size guide if needed.
Additionally, SwimOutlet products usually feature multiple customer reviews, allowing you to learn a bit more about the quality and function of a product from people who have already used it, which will ensure that you can make an informed buyer's decision.
SwimOutlet supports all popular credit cards, Paypal, as well as an Afterpay option, allowing you to pay off your products over time (great for expensive items like tech suits or wetsuits). The great thing is that Afterpay charges a 0% interest rate on the purchase, allowing you to enjoy it right now- without having to worry about paying a cent extra.
Sound good to you? Shop on SwimOutlet now.
SwimOutlet Guarantees the Lowest Prices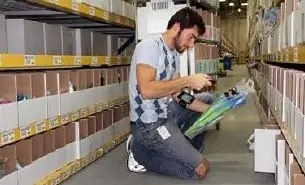 What's the first thing you look for when going to purchase a specific product? For most people, it's going to be the price. Why would you want to pay extra for the same product when another store is offering it for a lower price?
This is another one of SwimOutlet's many benefits- they are the leading swim store, not only when it comes to their range of swimming products, but also when it comes to their pricing, offering some of the most competitive pricing in the market. This ensures that you always get the best value for money no matter what swimming product you're looking for.
Additionally, SwimOutlet carries some of its own in-house swimming brands such as Sporti, iSwim, and Clubswim just to name a few. These brands offer great swimming products and gear at some of the lowest prices available- both online and offline.
SwimOutlet Provides Super Fast (And Free) Shipping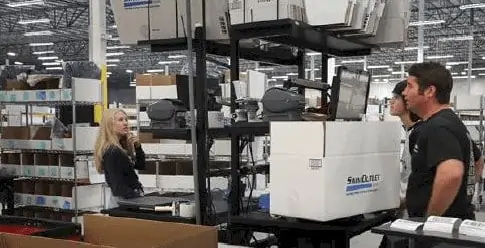 When it comes to the shipping of your swim products, SwimOutlet offers fast- and in a lot of cases- even free delivery ensuring that your swimming products always arrive in time for whatever swimming adventure you're planning- whether it is a big swimming meet, trip to the beach, or if you just need some new training equipment.
SwimOutlet has a few delivery options available. Most people, however, are probably going to want to go with the standard or 1-2 day delivery options.
To qualify for free standard delivery, which typically takes between 2-6 days your order value has to be over $49, else there is a $5.99 fee. To guarantee 1-2 day shipping you can choose to pay a small additional fee of $9.99, which in my opinion, is completely worth it.
Additionally, if you are part of the SwimOutlet+ Membership (I highly recommend it), 1-2 day shipping is free on orders over $99. (We will discuss the SwimOutlet+ membership in more detail a bit later in this review).
Below is a table highlighting the most popular shipping options you can pick from when shopping on SwimOutlet.Com-
*Applies to customers in the United States*
| | | |
| --- | --- | --- |
| Shipping Option. | Orders Under $49. | Orders Over $49. |
| Standard (2-6 business days). | $5.99 | FREE |
| 1-2 Business Days. | $9.99 | $9.99 (Free for SwimOutlet+ Members when orders are $99+) |
| 1 Business Day. | $24.99 | $24.99 |
Sound good to you? Shop on SwimOutlet now.
SwimOutlet Carries the Largest Selection of Swim Gear (In the World)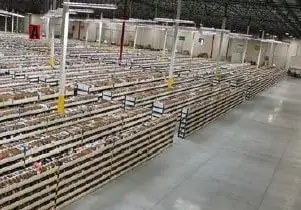 There is nothing more frustrating than driving to multiple shops in search of a specific product. Whether it be for swimming or anything else. With SwimOutlet you never have to worry about not being able to find the right swimming product for your needs.
SwimOutlet delivers top-quality swimming products in a wide array of categories. A few examples include training and racing gear for competitive, open-water, and recreational swimmers.
That said, they don't just supply gear to athletes, but also to your everyday water enthusiast with categories such as fashion swimwear, pool floaties, water shoes, active and casual wear clothing as well as many others to choose from.
Additionally, they carry almost all products from some of the most popular swimming brands such as Speedo, TYR, Arena, FINIS, Mizuno, MP, Blueseventy, Jaked, as well as many other brands. In total, you can shop from over 500 brands directly on SwimOutlet ensuring that you'll find exactly what you need.
Do You Want to Make Every Lap Count?
Stop wasting your time in the pool feeling lost and doing directionless swim workouts, and start training effectively! Our ebook contains 97 structured and goal-orientated swim workouts to help you become a better, faster, and fitter swimmer. Whether you're a complete beginner or a seasoned pro, there are a multitude of workouts for every type of swimmer.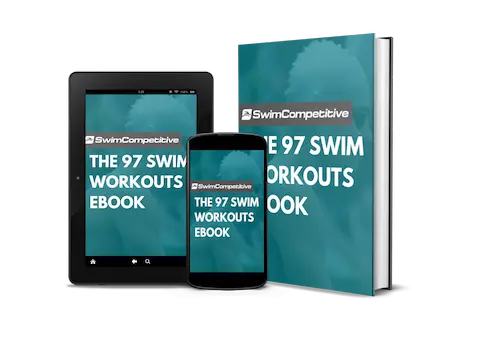 HUGE DEAL- the SwimOutlet+ Membership Program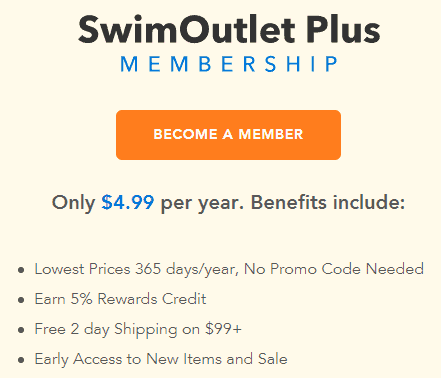 As if all of that isn't enough- SwimOutlet has recently launched its own membership program, which by the way is a total game-changer, both for swimmers and your everyday water-enthusiast.
The membership program costs only $4.99 per year and offers some amazing benefits, especially if you're someone who regularly purchases swim products, or in the case of triathletes, competitive- or open water swimmers- need to purchase some really expensive products like tech suits or wetsuits.
The main benefits of the SwimOutlet+ membership include-
Lowest prices 365/days per year. No promo code needed.
Earn 5% rewards credit on all of your purchases.
Free 2-day shipping on orders of $99 or more.
Early access to new items and sales.
In my opinion, there is no better deal out there than the SwimOutlet+ Membership Program as it ensures that you're always guaranteed the lowest prices on the best and latest products.
One of the big benefits of the membership program is the 5% rewards credit. This allows you to earn 5% back on your order value which can then later be used for purchasing other items on SwimOutlet.
And lastly- you'll be able to get exclusive early access to new products. This is going to come in super useful when purchasing the latest racing gear or swimming technology- which can sometimes be a bit of a pain to initially get your hands on due to the high demand for these popular products.
Sound good to you? Shop on SwimOutlet now.
SwimOutlet Can Help Give Money Back Directly to Your Swim Team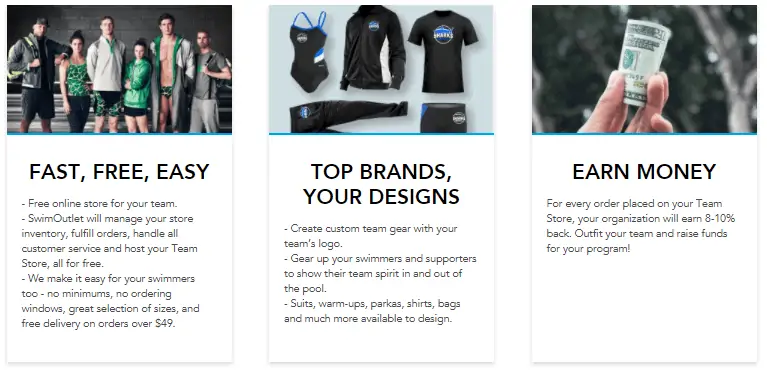 From a customer standpoint- SwimOutlet is amazing. They offer all of the swimming gear and equipment you could ever need at the best prices you could ever find- and on top of that they then quickly deliver it directly to your doorstep.
But what about if you are part of a swim team or club like many of us swimmers are? Well, the good news is that not only is SwimOutlet great from a customer perspective, but they can also help your swim team by giving an 8-10% kickback on orders made through your team's custom store (which by the way- is super easy and free to set up- and if you ever need help, their team store department will be more than happy to give you a hand).
I think it's safe to say that most competitive swimmers are going to spend around $500-$750 if not more per season on swim gear and tech suits alone. If your team has 30 swimmers that would mean that you can earn around $1500-$2250 per season for your team to invest back into the swimmers. (Not to mention that most clubs have far more than 30 swimmers).
Here are some quick ideas of what your team could do with the money they earn from SwimOutlet-
Print custom gear for your team such as t-shirts or caps without having team members need to spend extra.
Order swimsuits, goggles, or caps for the entire team.
Use it as a fundraiser for team/ club events.
Possibly help to lower club fees.
Pay for swim meets.
Help to offer extra financial support for the coaches.
Use it to pay for swim clinics for the team or other professional services such as a team physiotherapist or personal trainer.
If this is something you are interested in, you can click here to set up your own team store. It's recommended that it's done by your coach or team manager to make things easier for everyone.
SwimOutlet also offers free vinyl banners and business cards to teams who make use of the team store, making it easy to promote your custom store around the pool.
Sound good to you? Shop on SwimOutlet now.
SwimOutlet Makes It Easy for Swimmers and Teams to Create Their Own Custom Swim Gear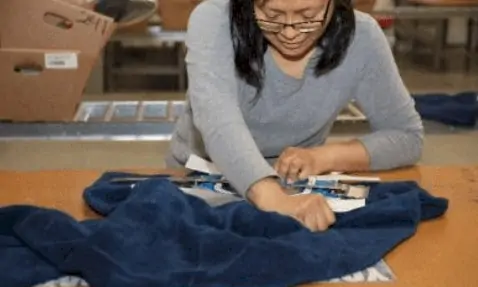 You may have noticed that in the previous section, I mentioned printing custom team gear such as t-shirts or caps. Well, the great thing is that you won't have to look elsewhere if this is something that you are interested in- this is an in-house service offered directly by SwimOutlet as well.
Some of the customization services offered by SwimOutlet include-
Screenprint. (Swim caps, t-shirts, and more).
Embroidery. (T-Shirts, swim bags, parkas, and more).
Heat Transfer. (For swimsuits).
Custom Parkas.
Blank Team Apparel & Gear (allows you to design your own fully custom team gear).
Custom Sublimation (allows you to create fully customized swimsuits).
Custom backstroke flags.
Custom lane lines.
If you are interested in SwimOutlet's customization services, click here.
SwimOutlet Is a Proud Supporter of Non-Profit Aquatic Organizations
Additionally, when you shop with SwimOutlet you will also be supporting a variety of non-profit organizations in the aqautics space.
Some of the organizations sponsored by SwimOutlet include-
USA Swimming.
U.S. Masters Swimming.
Swim Across America.
National Interscholastic Swim Coaches Association.
College Swimming & Diving Coaches Association of America.
and US Swim School Association.
Shop with SwimOutlet
With so many great deals and benefits as well as over 80,000 other positive reviews online-, it is a no-brainer to choose SwimOutlet next time you need some new swimming gear, whether it be for you or your team.
So what are you waiting for? Check out SwimOutlet.Com now!