Note- I may earn commissions from affiliate links on certain pages at no extra cost to you. Thank you if you use my links, I really aprecciate it. Read Disclosure.
Swimming goggles have come to play a major part in the world of competitive swimming. Over the last few decades, we have seen massive improvements in swimming technology such as at the 2009 World Aquatic Championships where 43 world records were smashed in a single week due to the release of the new super suits.
Since then swimming technology has just been improving, with new tech suits and competition swimming goggles being released every year. Sure, strict regulations have been set but hundreds of engineers and scientists still work to create the most innovative swim technology to date, such as the competition swimming goggles we will be discussing in this article.
Swimming goggles deserve more credit than they get and they play a far more important role in a race than you think they do. Imagine having to race at high speeds practically blind- or at least with very blurry vision and burning eyes…
Swimming goggles help us to time out turns perfectly, keep an eye on our rivals, as well as protecting our eyes from pool chemicals. And in terms of competition- they help to cut down on drag as well as further boosting vision by utilizing innovative designs, ultimately helping us to swim as fast as possible to crush our competition and smash some new PBs.
8 Best swimming goggles for competition.
Here are the best swimming goggles for competition-
Speedo Fastskin Pure Focus Swim Goggles
Arena Cobra Ultra Swimming Goggles
MP Michael Phelps Xceed Goggles
Speedo Fastskin3 Elite Goggles
Speedo Speed Socket 2.0 Swim Goggles
TYR Blackhawk Swimming Goggles
TYR Socket Rocket Goggles
Arena Cobra Swimming Goggles
←Scroll to view full table on mobile→
1. Speedo Fastskin Pure Focus Competition Goggles
The Speedo Fastskin Pure Focus Goggles are by far the most innovative pair of competition goggles currently available. They feature a super lower profile and hydrodynamic design engineered to cut down on drag and give you an advantage over your competitors.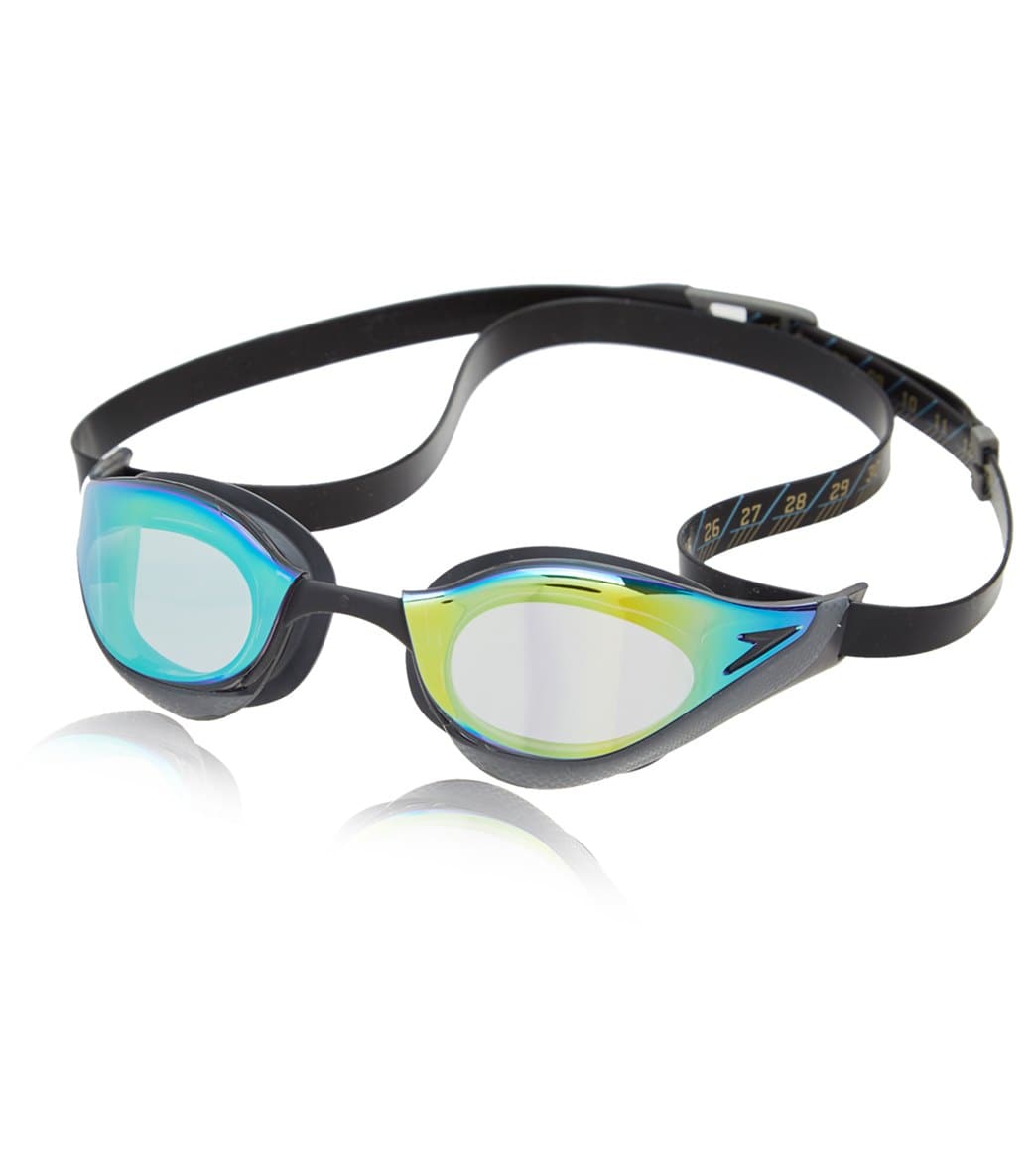 The goggle frame is designed from high-quality polycarbonate and features a hydroscopic lens which is comfortably and securely suctioned to your face using anti-microbial seals while ensuring a wide field of vision in the water.
Additionally, the lens has 2X anti-fog technology which ensures that you always have crystal clear vision in the water.
In terms of the fit, these goggles also present a high-quality silicone strap designed to cut down on drag in the water while the IQ fit markers and customizable nose bridge help you to find a very secure and comfortable fit personalized to your preference.
Overall, these are my go to pick if you are looking for a super high-quality and advanced competition swimming goggles. That said, they are quite pricey so you have to decide whether or not you want the ultimate racing package which is exactly what these goggles are.
2. Arena Cobra Ultra Swimming Goggles
The Arena Cobra Ultra swimming goggles are some of the most popular and best competition swimming goggles out there. Personally, I've had my own share of experience with these goggles and can confirm that I downright love them! Heck, I even own 3 pairs of these goggles as I am writing this article.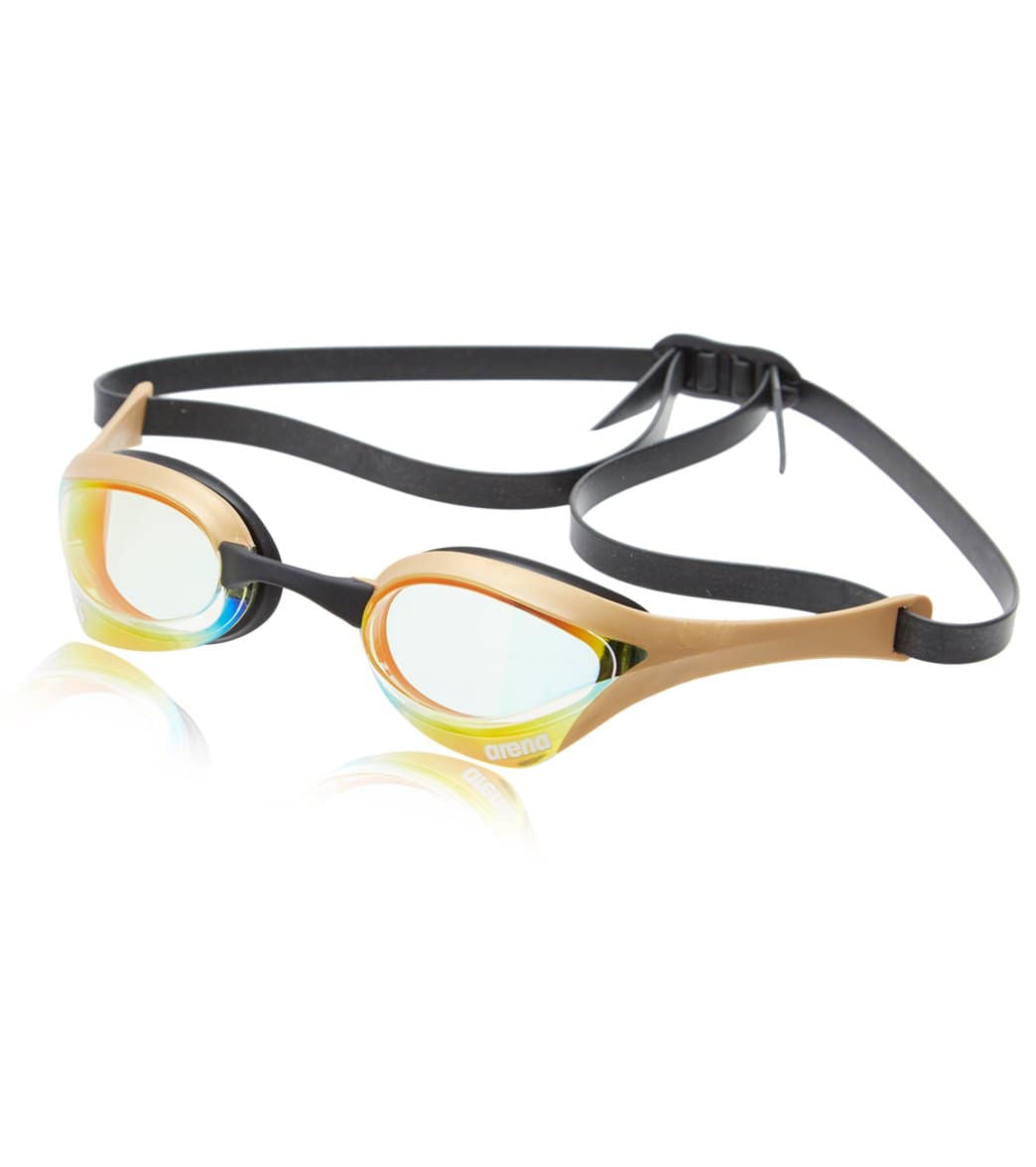 If you'd like to know a little bit more about my experience with these goggles you can check out my full review on them by clicking here.
Anyway, enough about my opinion about these competition goggles, let's get down to the facts. The Arena Cobra Ultras are designed for racing- they have one of the lowest profile and hydrodynamic designs out there and offer excellent peripheral vision in the water allowing you to see all have a 180-degree view without even turning your head and compromising your streamline.
Further, the Arena Cobra Ultra competition goggles feature hard mirrored polycarbonate lenses to provide you with crystal clear vision, they also have a high-quality adjustable TPE silicone strap and come with 3 sizes of interchangeable nose bridges.
On top of all of that, these competition swimming goggles are also super durable. My oldest pair lasted about 3 years before I had to finally replace them. Sure, by the time they were that old they had taken quite a beating, but nonetheless still functioned as they should.
Recently, Arena released a new version of these goggles, namely the Arena Cobra Ultra Swipe goggles which is essentially a super anti-fog variation of these already awesome goggles.
Personally, I really like the Arena Cobra Ultra's, they are a great swimming goggle and are great for racing and competition. Not to mention that they work pretty well in training too!
3. MP Michael Phelps Xceed Swimming Goggles
The MP Michael Phelps Xceed swimming goggles is the work of the famous Olympic swimmer- Michael Phelps (obviously), his coach- Bob Bowman, and an entire team of engineers and scientists that helped design one of the best overall swimming goggles out there- both for competition and training.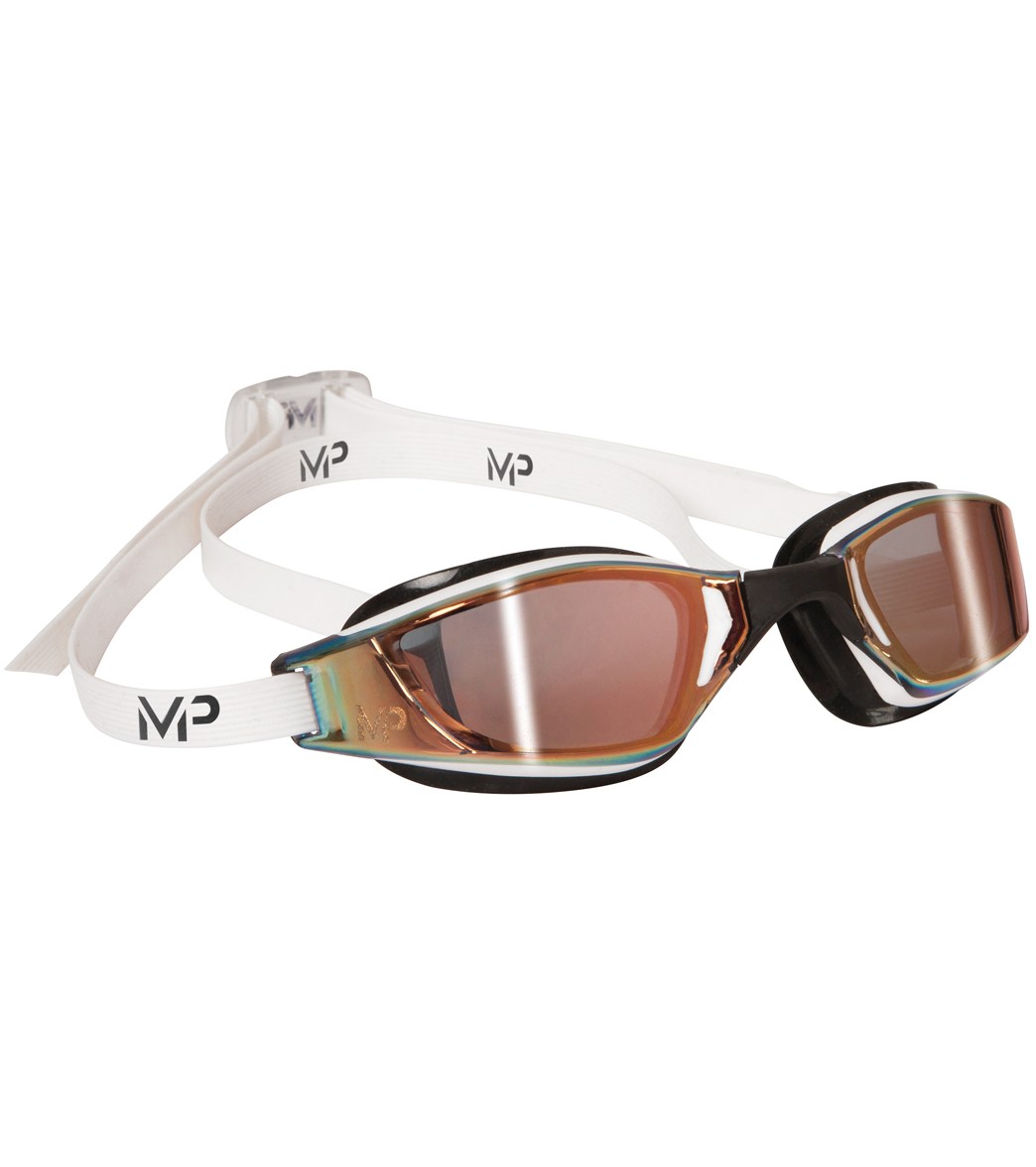 The MP Xceed swimming goggles are incredibly comfortable thanks to their luxurious ultra-soft softeril gaskets and anatomical gaskets. They also offer excellent peripheral vision in the water allowing for a wide 180-degree view.
In terms of the frame, the MP Xceed swimming goggles are designed with a semi-rigid exoskeleton maximizing the structure, strength, and stability of the goggle while the low profile silicone strap keeps everything fitted securely while you swim.
Overall, the MP Michael Phelps Xceed goggles are a really nice pair of swimming goggles both for competition and training. They aren't as low profile as the Arena Cobra Ultras but are still a very solid choice.
4. Speedo Fastskin3 Elite Swimming Goggles
The Speedo Fastskin3 Elite swimming goggles are some of the most popular Speedo competition goggles out there and were the previous flagship competition goggle before the new and innovative Fastskin Pure Focus goggles were released.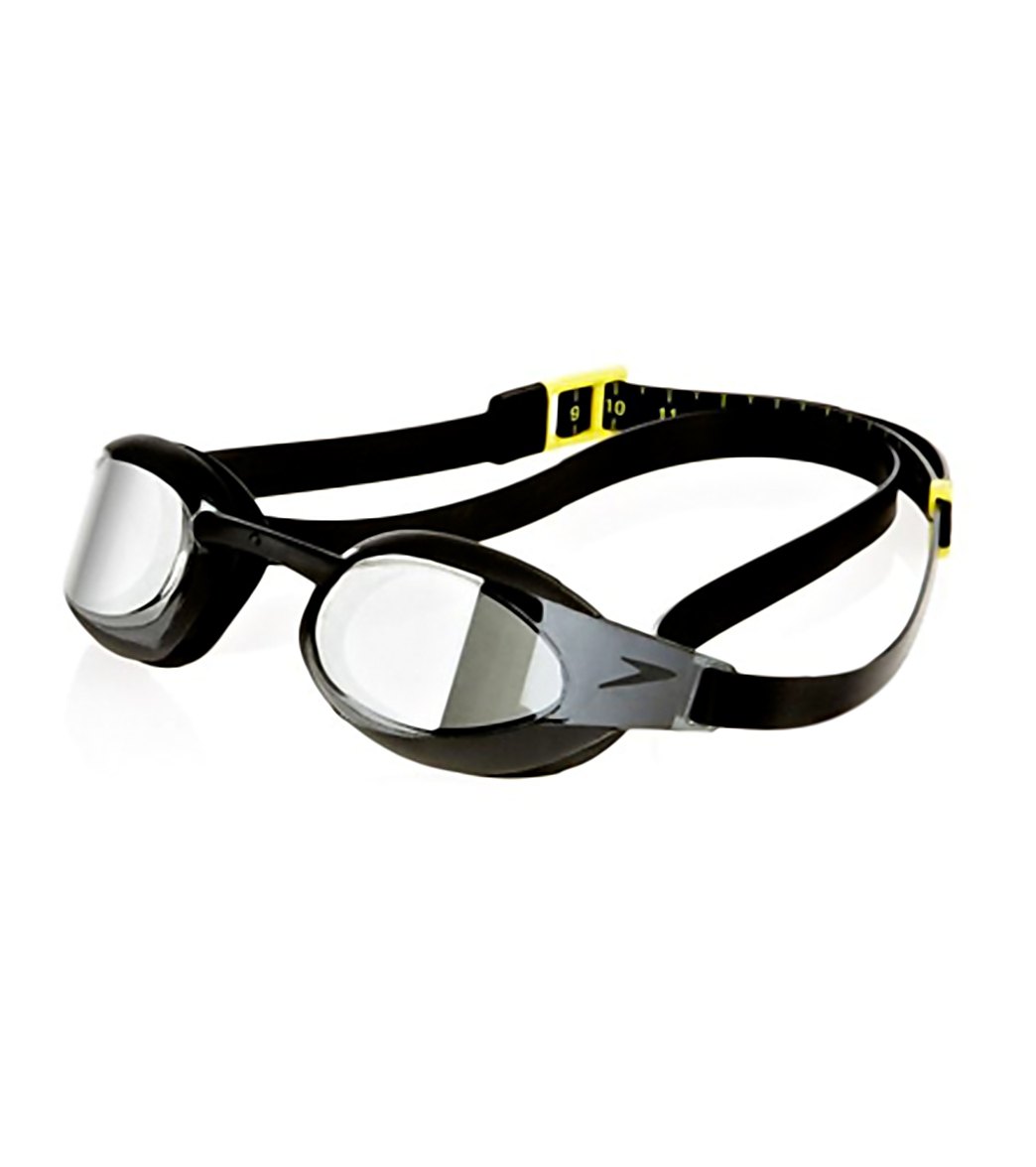 These goggles feature a very similar looking design to the MP Michael Phelps Xceed swimming goggles and certainly also pack a ton of high-quality features.
Something cool to note about these goggles is that they were designed as part of the world's first racing system. A specifically engineered swimming cap, goggle (the fastskin 3's), and tech suit, designed to work in harmony- pretty neat.
In terms of the actual build, these goggles are very hydrodynamic, they have a low profile frame, and also feature a hydroscopic lens allowing for a clear and wide field of vision in the water.
A Really neat part about these swimming goggles is the IQ fit goggle strap which is essentially a fully integrated one piece strap, allowing for dangling strap ends to be eliminated, ultimately reducing resistance in the water.
Overall, the Speedo Fastskin 3 swimming goggles are a great pair of swimming goggles, they are premium grade racing goggles, ensuring premium comfort, vision, and durability in the pool.
5. Speedo Speed Socket 2.0 swimming goggles
Next, we have yet again another Speedo goggle, namely the Speedo Speed Socket swimming goggles. These are once again another really solid pair of swimming goggles both for competition and training.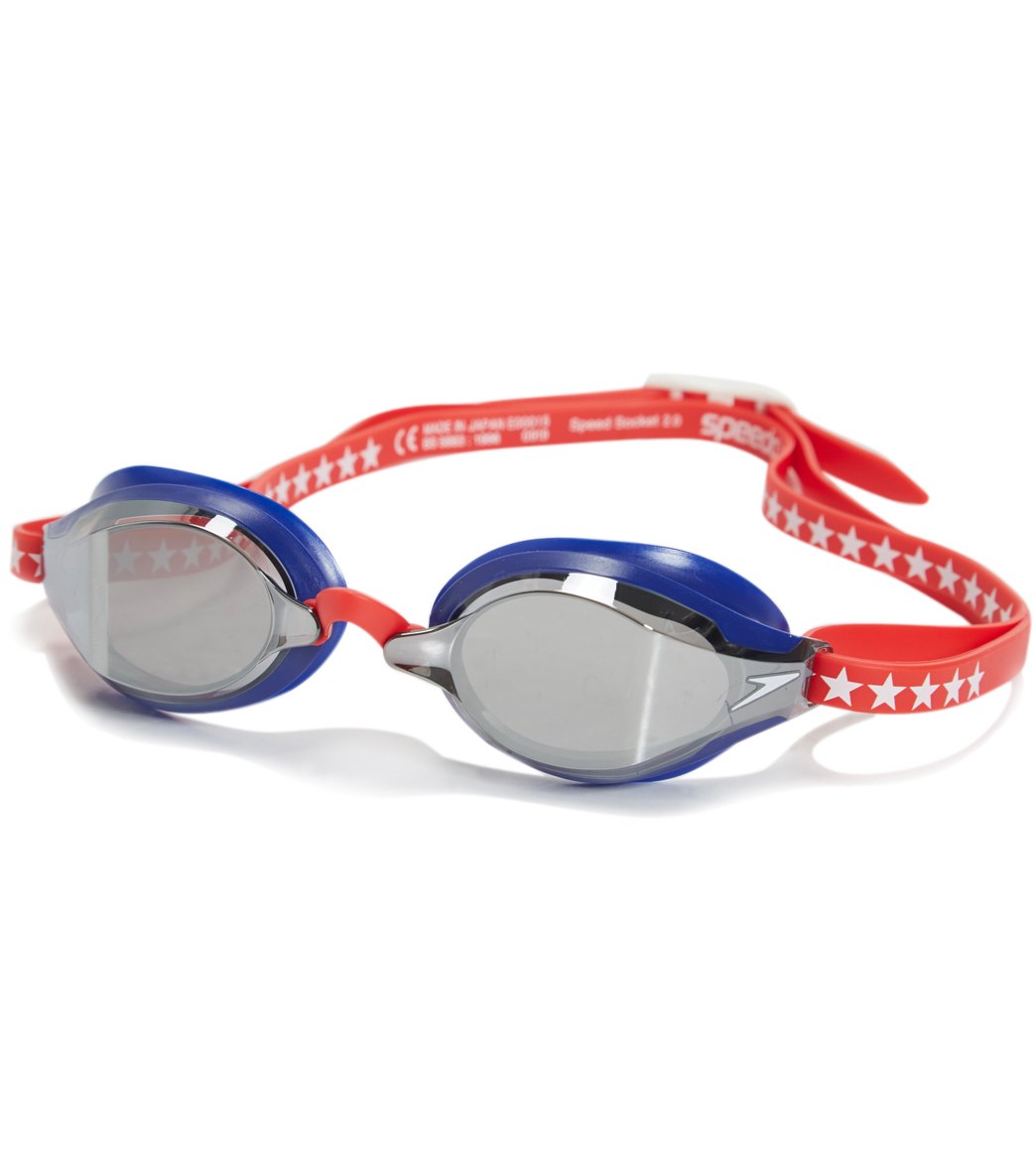 Something cool to note about these goggles is that they were worn by the legendary Caeleb Dressel, at the 2017 FINA World Champions, where he had won 7 gold medals and created a lot of excitement in the swimming community with his fast times.
In terms of specs, these goggles feature a very hydrodynamic and low-profile design to cut down on drag in the water, they are also comfortable and fit securely due to their sleek inner eye fit, hypo-allergenic comfort seals, and adjustable double silicone strap.
The lens on these goggles allows for a wide panoramic field of vision and also has some good anti-fog technology to ensure you have a clear vision while racing.
Overall, a really solid pair of swimming goggles for competition with some nice features and specifications packed into their design.
6. TYR Blackhawk swimming goggles
The TYR Blackhawk racing goggles are a great and popular pair of competition swimming goggles and Olympic gold and bronze medalist breaststroke swimmer, Cody Miller once even stated that these are his preferred competition swimming goggles.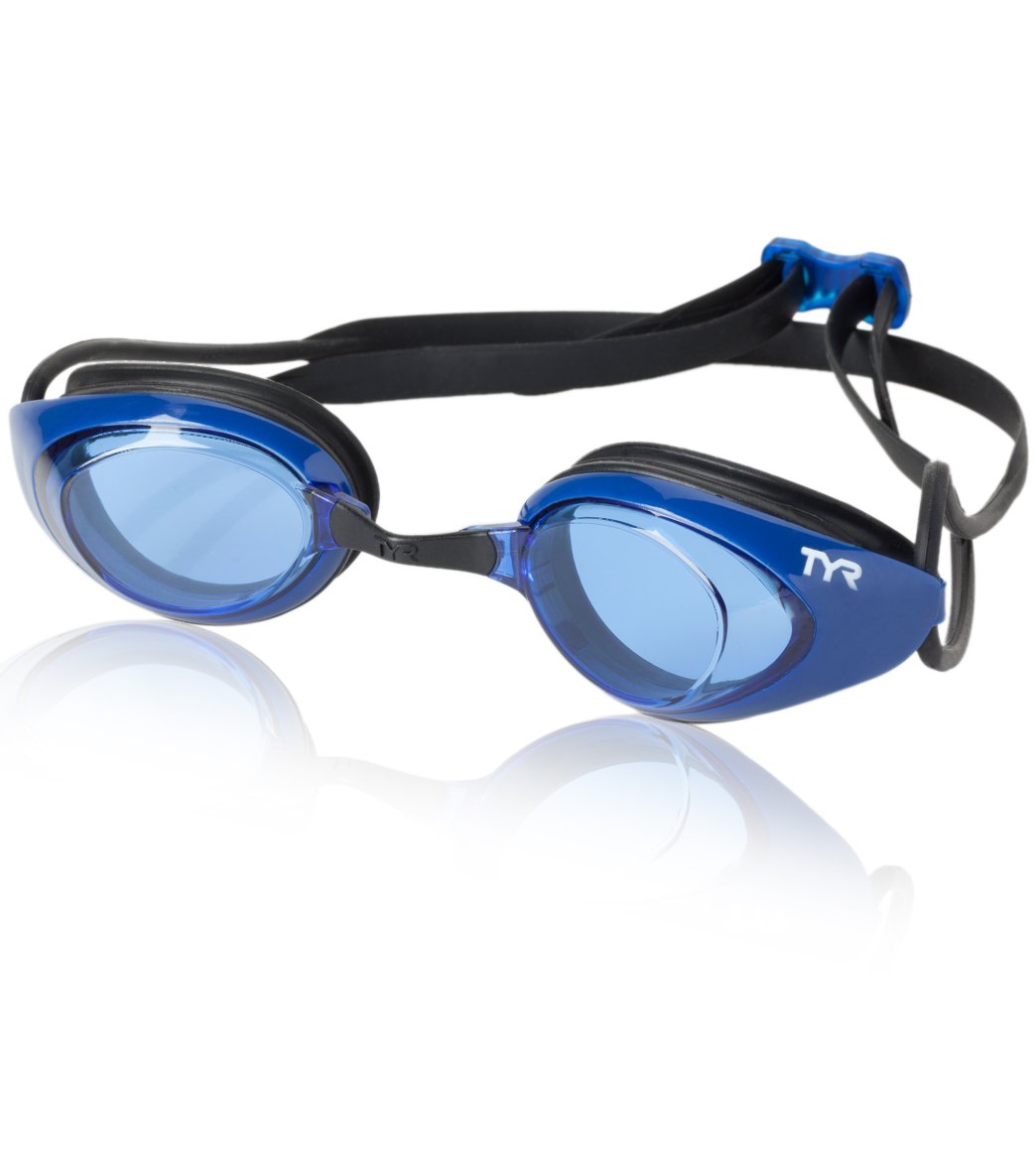 The TYR Blackhawk swimming goggles are manufactured using quality grade materials allowing for a premium-grade and durable racing goggle. They feature a very low-profile and hydrodynamic design, ensuring for reduced drag and optimal performance while you swim.
The peripheral vision on these swimming goggles is also really good and they also include dura-fast silicone gaskets allowing for a comfortable and secure fit.
Overall, the TYR Blackhawk swimming goggles are an awesome pair of swimming goggles for competition and will get the job done, just perfectly. They also work great for training, making them quite versatile.
7. TYR Socket Rocket Goggles
If you are a fan of those classic super low profile Swedish-style swimming goggles, then the TYR Socket Rocket racing goggles are definitely the way to go. They offer a really sleek and hydrodynamic design and will greatly reduce your resistance in the water.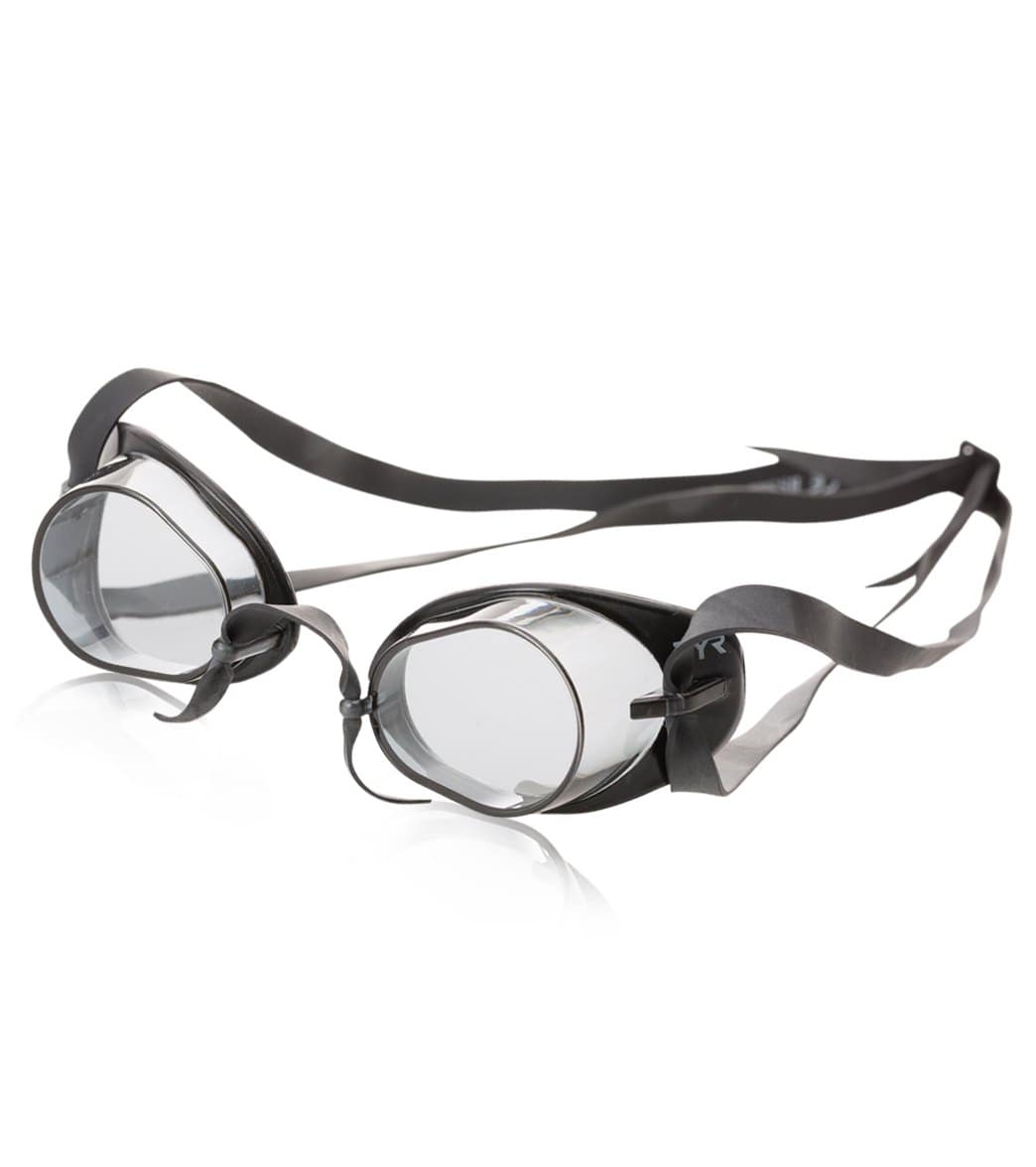 Something to note about these, is that they don't actually have any soft rubber eye sockets like most goggles do. This is done to cut down on their weight as much as possible, but will unfortunately make them a little more uncomfortable, keep in mind, you will get used to this feel after a while.
The Socket Rockets are designed from high-quality TPR, which is known as thermoplastic rubber. This contains properties of both plastic and rubber and explains why there is no need for additional eye sockets.
Furthermore, the lenses allow for nice peripheral vision up to 180-degrees and feature both anti-fog and UV-protection while the split head strap distributes pressure evenly across your face.
Overall, the TYR Socket Rocket swimming goggles are a really solid pair of swimming goggles, loaded with cool features designed to optimize your competition performance. These are certainly worth a try.
8. Arena Cobra Goggles
The Arena Cobra Goggle is like the little brother of the Arena Cobra Ultra swimming goggles. These goggles are slightly less advanced but still, make for a solid competition goggle as well as a good training option.
They offer a low profile, hydrodynamic design allowing for reduced resistance in the water, ultimately making you faster. They also have awesome peripheral vision, allowing you to spot your opponents next to you without breaking your streamline position.
Additionally, the Arena Cobra Goggles also includes a dual, silicone strap allowing for a really secure and stable fit in the water. All in all, a solid pair of swimming goggles.
How to choose the best swimming goggles for competition:
1. Goggle Peripheral Vision.
Peripheral Vision, meaning how wide your field of vision is while wearing your goggles, is arguably one of the most important factors when picking your pair of competition swimming goggles.
You want to be able to spot your opponents in the lanes next to you, without breaking streamline and placing yourself at a disadvantage.
This way you will know when to speed up if you are falling behind. Ultimately it could help you win the race, by giving you that heads up to push just a little harder.
2. Secure Goggle Fit.
We have all seen it, many of us have even experienced it ourselves. You are sitting at a meet watching some of the races and all of the sudden you notice that one swimmer in lane 3 swimming with his goggles hanging on his chin- not fun.
This is going to make it really hard to swim a proper and focused race. Instead, you are going to have trouble seeing where to swim, and will most likely have trouble with your turns. All of this while being constantly splashed in the face.
3. Low Profile Goggle Design.
Having a low profile design is a very important part when it comes to choosing the best swimming goggles for competition. Competitive swimming is all about reducing resistance in the water as much as possible and going as fast as possible.
Therefore reducing resistance in every single way you can is very important. a Low profile goggle design will help to reduce resistance even more and help you to swim that tiny bit faster which, at the end of the day, can help you to claim gold, an important qualifying time, or even a big meet record.
4. Swimming Goggle Comfort.
Comfort is an important part of choosing swimming goggles for competition. You want to be able to focus on your race, your turns, your stroke, breathing, whatever… You get the idea.
You're not going to be able to focus with an uncomfortable goggle digging into your face. That is why a comfortable swimming goggle is important as it will allow you to focus on swimming your race, without being irritated by a hard piece of plastic around your eyes the entire time.
You should also consider the events you swim- if you swim shorter distances like 50s and 100s you can go with something a bit more uncomfortable as long as it provides good performance features. However, if you are focused on longer distances like 800s and up you might want to consider something more comfortable.
5. Swimming Goggle Durability.
In case you haven't noticed, competition swimming goggles can be a bit on the pricy side sometimes. Therefore you want to pick something durable. This will save you a lot of money and will protect you from running the risk of your swimming goggles breaking before or even in the middle of your race.
6. Goggles Lense Type.
This is mostly for the outdoor swimmers, especially the backstroke swimmers. In case you haven't realized by now, there is a giant ball of burning gas above our heads for most of the day.
This giant ball of gas is named the sun, and it can be quite bright sometimes, making it hard to see what you are doing in the water.
Therefore a good pair of tinted or mirrored swimming goggles might not be a bad idea since you will be able to swim without having to worry about the Sun's bright rays shining in your eyes.
Conclusion
So there you have it, that is my complete list of the best swimming goggles for competition. There is no doubt about it that swimming goggles have come to play a major role in helping us to swim as fast as possible and optimize performance in the pool.
In my opinion, there is also a psychological benefit in having a specific pair of goggles for training and racing. That way when you put on your competition swim goggles, your body will know it's go time and will be ready to swim some fast times.
FAQ- Additional competition goggle qeustions.
How do I keep my swimming goggles from scratching?
Generally, with time swimming goggles will scratch no matter what. However, there are a few ways to protect them from scratching and keep them in mint condition for much longer.
Firstly, I recommend investing in a protective case. Yes, I know this might sound a bit simple and basic, but this actually really helps with protecting your goggles in general, not just from scratching. Arena has designed a really nice one, personally I also use and are a big fan. You can check it out on SwimOutlet by clicking here or on Amazon by clicking here.
Secondly, when getting out of the pool after swimming, do not take your goggles off until you are outside of the pool. The reason being is a lot of swimmers take their goggles off before getting out and then press down on them as they jump out causing the goggles to scratch.
How long do swimming goggles last?
There isn't really a specific time frame for how long swimming goggles last. Most of the time it all depends on how well you look after them. If you take good care of them, they will obviously last much longer.
It also depends on the quality of the goggle. Higher quality goggles, like the Speedo Fastskin Pure Focus, Arena Cobra Ultras, and MP Micahel Phelps Xceed swimming goggles, will last longer than other less expensive goggles.
I would, however, say that most of these goggles should last you at least 6 months to a year minimum.
Are mirrored swimming goggles better?
This really all depends on whether you compete indoors or outdoors. If you race mostly outside then you would probably be better off, swimming with mirrored goggles, since they will dim the light on the inside of the goggle and make it more comfortable for you to swim in high-light conditions.
On the other hand, if you compete mostly indoors then you might want to consider going with lightly tinted or clear lenses to allow enough light to come through while you swim.
More related swimming articles–