Note- I may earn commissions from affiliate links on certain pages at no extra cost to you. Thank you if you use my links, I really aprecciate it. Read Disclosure.
In the sport of swimming, there isn't much equipment involved. However, the equipment that is involved is quite critical. In this post, we'll be covering goggles, more importantly racing goggles.
Goggles are probably one of the most needed pieces of equipment in swimming (after your actual swimwear). They help you to see clearly while swimming, which is quite important for timing turns perfectly.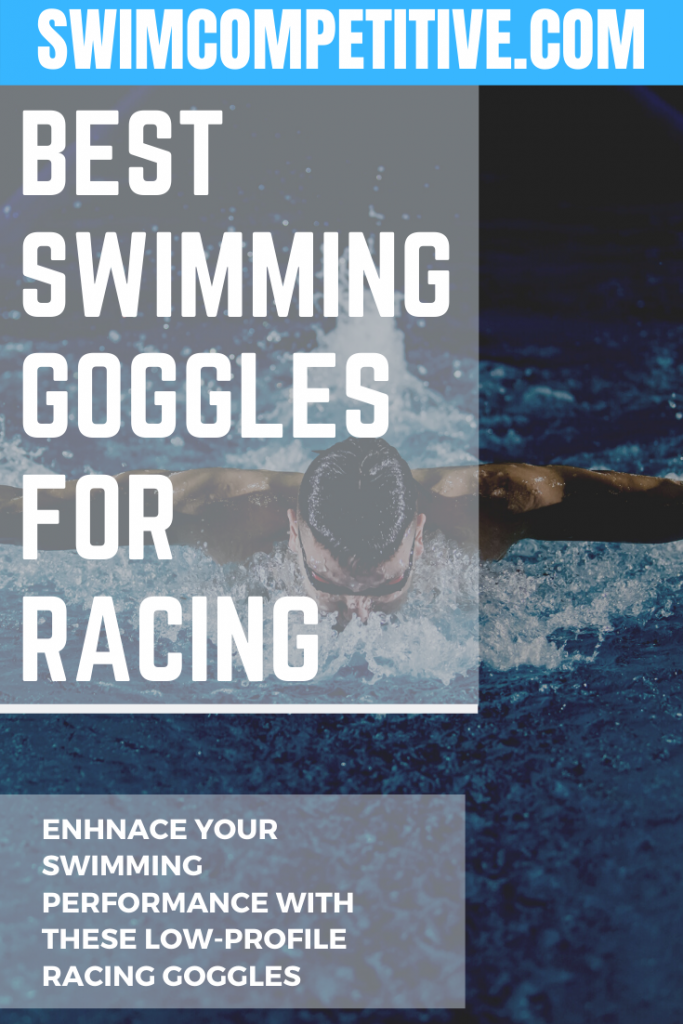 They also protect your eyes from chlorine and irritation and let's be honest they just look pretty awesome.
Like racing suits we have different designs of goggles.
Some we use for training some for racing. Racing goggles are generally designed to have a more streamline shape to help reduce resistance by as much as possible and help cut through the water on a more hydrodynamic way.
They also help give you a maximum field of vision, because let's be honest the only reason we wear them is to clearly see where we are going.
Through personal experience and some research, I have put together a list of the top 5 best racing goggles for competitive swimmers.
Best swimming goggles for competition
Here are my top 5 racing goggles for competitive swimmers-
Arena Cobra Ultra Goggles.
Michael Phelps MP Xceed Goggles.
Speedo Fastskin3 Elite Goggles.
TYR Blackhawk Racing Goggles.
Arena Cobra Goggles.
<–Scroll to view full table on mobile–>
| | | | | |
| --- | --- | --- | --- | --- |
| Racing goggles | Peripheral Vision | Hydrodynamic construction | Our rating | View latest price on SwimOutlet |
| Arena Cobra Ultra goggles | Yes | Yes | 10/10 | >View price |
| Michael Phelps MP Xceed goggles | Yes | Yes | 10/10 | >View price |
| Speedo Fastskin3 Elite goggles | Yes | Yes | 9/10 | >View price |
| TYR Blackhawk goggles | Yes | Yes | 8/10 | >View price |
| Arena Cobra Goggles | Yes | Yes | 8/10 | >View price |
1. Arena Cobra Ultra Goggles
The Arena Cobra Ultra goggles are by far the most advanced and popular racing goggles out there. All for a good reason too, I've been to meets where not a single swimmer wasn't wearing a pair of these.
Their blade designed shape reduces and minimizes drag and improves glide in the water. They offer high-tech molding and low profile lenses.
Their high-performance curved lens shape increases your field of view and gives you extra-wide vision.
They are equipped with a dual silicone strap and Arena rfa back clip for an excellent fit.
Out of personal experience racing with these goggles, I can say that they are my favorite by far and my go-to choice for racing goggles.
They are quite comfortable and offer some great features. They are also probably one of the coolest looking goggles out there. (Check out my full review on the Arena Cobra Ultra Goggles by clicking here).
2. MP Michael Phelps Xceed Goggles
The MP Xceed goggles are also a pretty awesome pair of racing goggles. They were designed and developed with the help of Michael Phelps and his coach- Bob Bowman.
They aren't quite as popular as the Arena Cobra Ultra's, but they also pack some seriously solid features.
The goggles include a patented curved lens for a wide field of vision. The design is engineered with exo-core technology, combining two materials for maximum performance.
a Semi-rigid exoskeleton design maximizes the structure, strength, and stability of the goggle.
They also include an ultra-soft softeril gasket for a watertight seal and maximum comfort and come with a low profile silicone strap.
Personally, I think these are more comfortable than the Arena Cobra Ultras. However it's up to you to decide, they are a great pair of goggles and pack some good features.
3. Speedo Fastskin3 Elite Goggles
Designed by one of the biggest and best companies for competitive swimwear are the Speedo Fastskin3 Elite Goggles.
The Speedo Fastskin3 Elite goggles are a part of Speedo's racing system- cap, goggles, and suit designed to work in harmony. It is one of the fastest racing goggles in existence along with the Arena Cobra Ultra's and MP Xceed Goggles.
The Speedo Fastskin3 Elite Goggles pack some solid and unique features. The design allows for a hydrodynamic shape.
a Low-profile lens design for reduced drag and goggle movement during dives and turns. They include a 3D TPR goggle seal design and a hydroscopic lens shape for an increased field of view.
a Unique part of the Speedo Fastskin3 Elite Goggles is the IQ Fit goggle straps. The fully integrated strap removes dangling ends and reduces bulk, ultimately reducing drag. They are also 100% silicone.
The Speedo Fastskin3 Elite Goggles are truly a unique goggle and offer some great and unique features for racing.
4. TYR Blackhawk Racing Goggles
Raced in by one of the breaststroke legends himself- Cody Miller, he says these are his preferred racing goggles. According to Cody, these goggles have some of the best peripheral vision out there.
They offer a sleek low-profile design to reduce drag in the water.
They have TPR gaskets, overmolded for a watertight seal and they include a silicone strap. Overall these are some pretty solid goggles and their design is perfect for both racing and training
5. Arena Cobra Goggles
The Arena Cobra goggles are the little brother (or sister) of the Arena Cobra Ultras. They pack some good features, but less than the Cobra Ultras.
The Arena Cobra racing goggles offer a low profile hydrodynamic design for reduced resistance while racing. They offer a silicone strap for a secure fit while racing.
The lens is low-profile and provides good vision. Overall not a bad option and they are pretty cool looking (like all of the other ones).
How to choose racing goggles- a few things to consider:
Below we are going to take a look at a few things you should consider before choosing your racing goggles. Remember not every swimmer is the same, we all have our own personal preferences in what swimming gear we like.
Racing Goggle Peripheral Vision
Peripheral vision is one of the most important features of a good racing goggle. It is always a good idea to have a wide field of vision while racing, that way you can keep an eye on your competitors next to you without looking to the side and breaking your body position in the water.
This could ultimately determine the outcome of a race, by giving you the notification to speed up just that extra bit at the end of your race in order to secure gold.
Goggle Comfort
Next up, you want to consider the comfort of your racing goggle. Comfort is an important characteristic of a racing goggle since you don't want to be worrying about how your goggle feels before your race.
Ideally, you want to slip your goggles on, slightly adjust them and be ready to go and swim fast.
Low-profile Designed Racing Goggle
We all know that speed in swimming is affected by the amount of drag and resistance of the water. Therefore it is important to try and reduce resistance as much as possible in every way you can.
Low-profile designed racing goggles will help you to do just that by eliminating any extra material or pieces that could cause resistance at the front of your stroke. They are also usually designed in a hydrodynamic way so that water can seamlessly flow past.
Goggle Durability
The durability of your racing goggle is also a good factor to consider since they can be a bit pricy here and there. You want to ensure that you invest in a high-quality pair of racing goggles that will last you at least a year or two.
Luckily, all of the racing goggles on our list are quite durable and you shouldn't have any issues with them.
If you are also interested in finding out what the best racing suits for swimmers are, then I highly recommend checking out my article-
10 Best tech suits for swimmers
, by clicking
here.
Conclusion
There we have it, the 5 best racing goggles for competitive swimmers. If you haven't yet invested some money into proper racing goggles I'd highly recommend you do so.
Racing goggles are a great way to maximize your speed in the water and to reduce any possible drag caused by big and clumsy goggles.
All in all, these goggles are a worthy investment for any competitive swimmer, just like training hard, eating healthy and going the extra mile is for your times in the pool.
Common features that help make you faster in the water-
Shape designed & engineered to reduce drag and improve speed.
Low-profile Lenses.
Silicone Strap for a tight fit, you don't want them to come off when your racing do you now?
Lenses designed to give you a wide field of vision, so that you can time your turns and flips perfectly and spy on your competition.
Design molded for a tight fit.
Comfortable.