Have you ever been interested in mixing up your swimming workouts with music, only to be disappointed by the limited- and often- outdated technology?
In that case, a creative new technology, the Zygo Swimming Headphones, might be your knight in shining armor.
Whether you want to stream music or podcasts, require active coaching or feedback on your swimming technique- the Zygo swimming headphones does it all!
The Problem with Swimming Audio Technology
If you have experience with swimming headphones, you'll know that using Bluetooth underwater is not an option.
We won't dive into the technical reasons for this- but in short- Bluetooth uses a signal frequency that doesn't work well in water.
To overcome this issue, swimming headphones, such as the popular FINIS Duo, have traditionally used onboard storage to keep music and podcasts directly on the device for streaming.
While onboard storage does solve the main problem and enables these devices to work well in the water, it presents another set of problems.
Firstly, most people don't want to repeatedly listen to the same music. This means you'll have to clean your storage and upload new songs to the device whenever you get bored with your current audio files.
Not only is this a hassle since you have to manually plug the device into a computer and update the files, but you'll also have to download the new files and convert them to MP3 format. Depending on which streaming services you use, this can be quite inconvenient.
Secondly, you don't have as much freedom to create custom playlists to fit your mood as you would on your smartphone. All of the audio files are uploaded in a random mix onto the device, making this quite impossible.
Tying into the previous two points is the fact that streaming directly from different audio services such as Spotify, Apple music, or Youtube music will be impossible since you'll have to download the files first and upload them to your device afterward. This means that switching between listening to podcasts or music is a pain.
Other devices, such as the FINIS Amnis stream headphones, have tried to solve this problem by allowing you to stream from your smartwatch.
However, the problem stays the same. For this solution to work, your watch must be disassembled every time and attached to your goggle strap along with the headphones to provide a reliable Bluetooth connection.
This concept is also based on the assumption that you already own a smartwatch- which can be an expensive piece of tech by itself.
The Zygo Swimming Headphones overcome all of these issues by allowing you to stream music directly from your phone– from any platform. While the system isn't 100% perfect just yet, it is much better than what has been available up until now.
Top Overall Swimming Headphones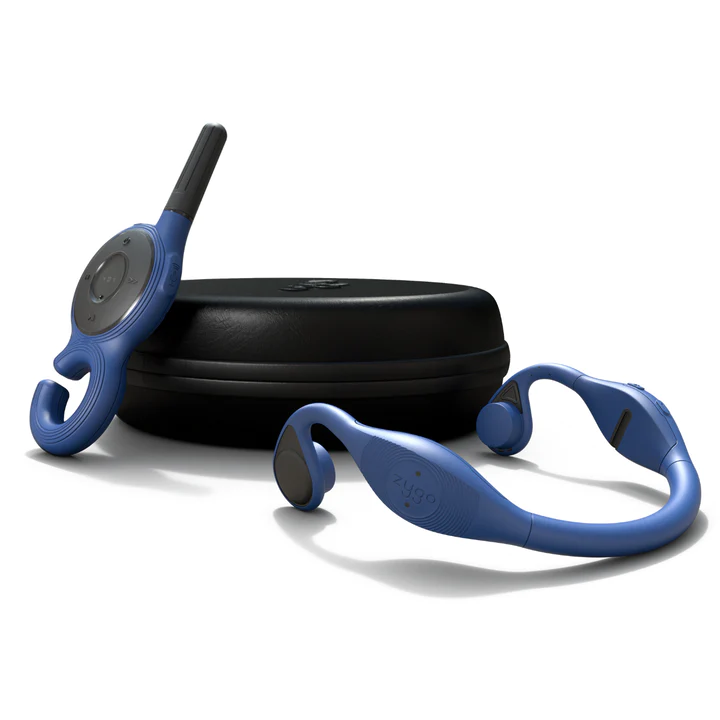 Zygo Solo Swimming Headphones Review
Ready to learn more about the Zygo Swimming Headphones? Let's dive right in. (Yes, pun intended).
What's Included with the Zygo Solo Swimming Headphones? a Quick Overview
The Zygo Swimming Headphones come in a premium black case. The case is multipurpose and is intended to carry your headphones, but it also serves as a wireless charging station.
Inside the case, you'll find the two primary components. This includes the Zygo swimming headphones and the transmitter. You'll also find two less critical components- a stand for the transmitter and a pair of earplugs.
You also get a microfiber cloth for cleaning your Zygo gear.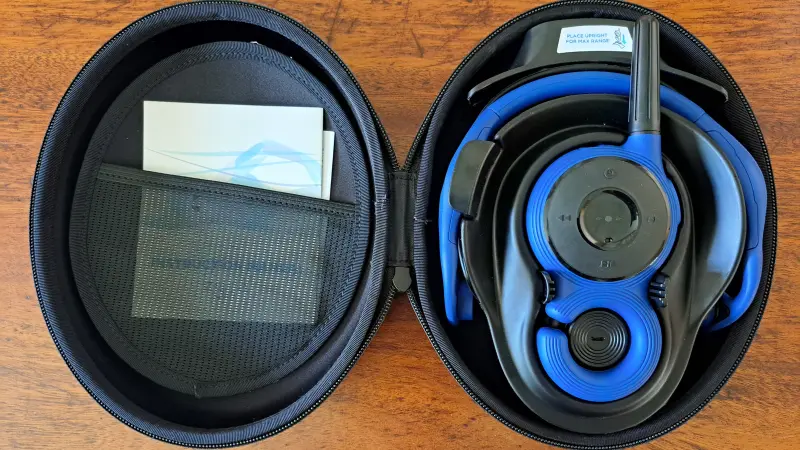 How Do the Zygo Swimming Headphones Work?
The Zygo swimming headphones use a creative approach to streaming audio underwater.
You may have noticed that the case carried not only the Zygo swimming headphones but also a transmitter.
So how does this fit together?
As we discussed earlier, streaming Bluetooth underwater isn't possible. (Not for more than a few inches, anyway).
This is where the transmitter comes in. It connects to your phone using Bluetooth and converts that signal to a radio frequency suited for underwater usage. This signal is then transferred to your Zygo headphones, allowing you to listen to audio being streamed directly from your device.
The converted frequency is also safe for human usage. Zygo is both FCC and CE-approved.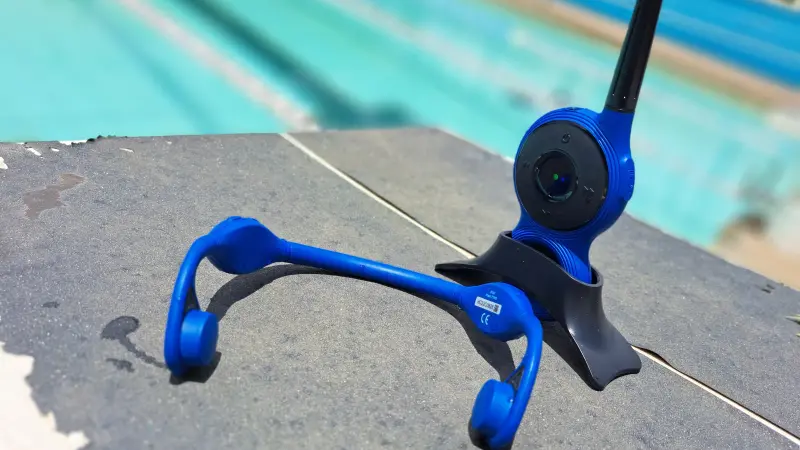 Design, Comfort, and Fit
As far as swimming headphones go, the Zygo headphones have a sleek design. They feature a sturdy over-the-ear style design that fits snugly around your head.
Unlike other devices, such as the FINIS Duo, this around-the-head design allows you to use your Zygo headphones without your goggles since it doesn't require a goggle strap to clip onto. Subsequently, the headphones are slightly bulkier overall but nevertheless still ergonomic.
The design features an IP68 waterproof rating. This means that the Zygo swimming headphones are completely waterproof. However, it's still recommended to rinse your headphones with fresh water after use to protect them from any potentially damaging chemicals.
The headphones come in 2 sizes which aren't adjustable. I went with the standard size of the headphones, and they had a great fit, regardless of the absence of adjustability. (A sizing chart is available on the Zygo website).
The Zygo swimming headphones weigh only 67 grams and feel light and comfortable. Initially, they might take some getting used to, but after that, they are barely noticeable.
Additionally, the headphones were comfortable to wear with or without a cap, as well as under or over my cap for extended periods.
In terms of stability, the headphones are very sturdy. I could comfortably do every stroke, different drills, kicking, flip turns, open turns, and even- to my surprise- dives without the headphones moving around.
The external frame has a durable design and features easy-to-press buttons allowing you to adjust the volume directly on the headphones.
If you want to pause, play, fast forward, or rewind audio, you can use your phone or the transmitter, which has its own set of built-in buttons.
Currently, the headphones are only available in a dark blue option.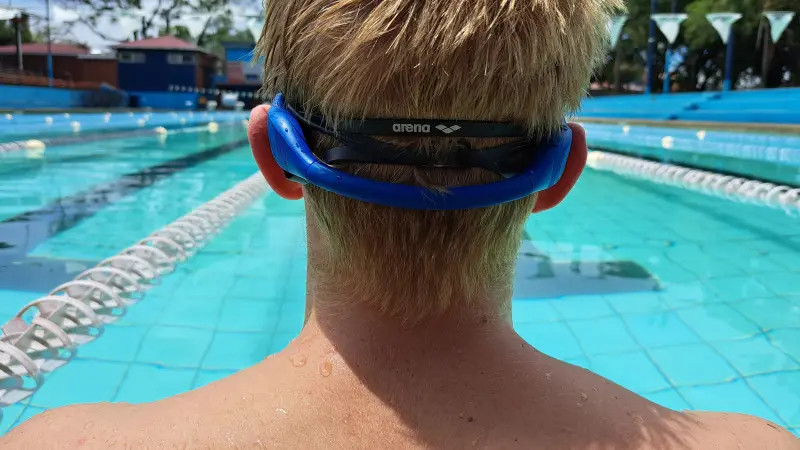 Sound Quality and Streaming
The Zygo swimming headphones use bone conduction technology to stream audio. This works by transferring the sound waves through your cheekbones to your inner ear.
Bone conduction technology is preferable to earbuds for swimming as it allows for a better underwater audio experience and leaves your ears open for improved comfort.
On top of that, you'll still be able to hear and interact with others around you without having to remove your headphones.
In terms of actual sound quality, the headphones sound good. They have more of an FM radio-style sound with an occasional crackle or pop. However, they are still very enjoyable to listen to.
It's important to know that the Zygo headphones won't have the same audio quality as your typical out-of-the-pool headphones. They are meant to be used in the water, and that's what they deliver. While the audio quality might not be cinema standards, it still provides a pleasant experience.
I could listen to a wide variety of music and audio– from modern pop to bass-style music as well as podcasts, and it all had a clear sound while swimming.
Suppose you want to enhance the sound quality further. In that case, I recommend listening at a slightly higher volume and using the earplugs to block out some of the external noise while swimming.
The sound quality is also better underwater than above. This likely has to do with water molecules being packed together denser than air molecules. So consider that for kicking sets or if you want to use them outside the pool.
As we briefly discussed, the Zygo swimming headphones can stream audio directly from your phone (or any other device, for that matter).
This means whatever your favorite music, podcast, or audiobook platform is- you can stream it. Some popular streaming services include Apple-, Amazon-, Youtube Music, Spotify, Audible, and much more!
What's more is that Zygo has also developed its own streaming app, with guided swimming workouts that you can adjust based on factors such as pool length, duration, difficulty, and more. The app also comes with curated music playlists and a tempo trainer.
Another innovative feature that I like about Zygo is its ability to offer live communication. The transmitter has a built-in microphone that can be activated by pushing a button.
This allows your coach or fellow swimmers to talk to you while you are swimming and offer feedback on technique and other aspects of your swimming.
Additionally, the transmitter can be plugged into an external microphone, in which case live speech is broadcasted continuously.
Top Overall Swimming Headphones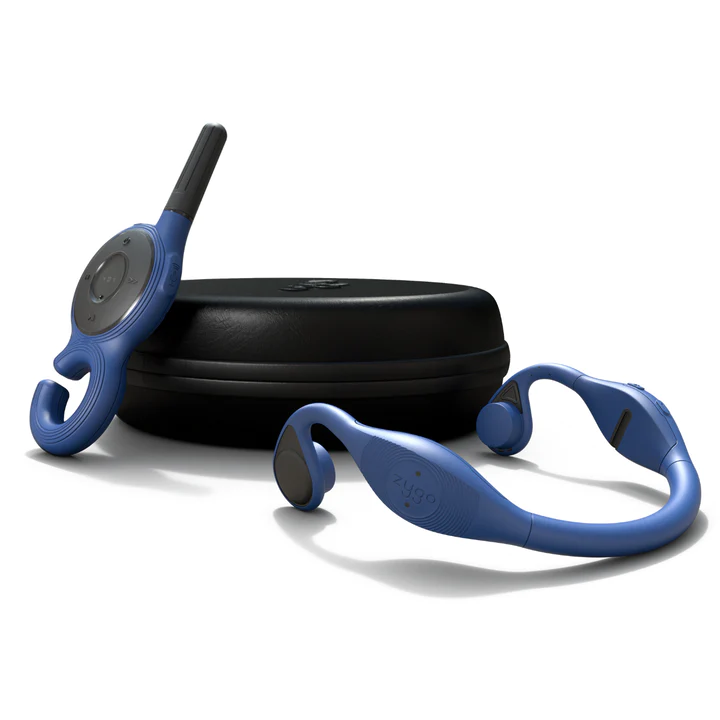 Do You Want to Make Every Lap Count?
Stop wasting your time in the pool feeling lost and doing directionless swim workouts, and start training effectively! Our ebook contains 97 structured and goal-orientated swim workouts to help you become a better, faster, and fitter swimmer. Whether you're a complete beginner or a seasoned pro, there are a multitude of workouts for every type of swimmer.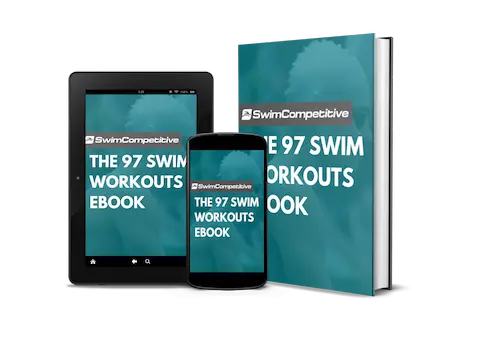 Range and Connectivity
The Zygo swimming headphones claim a range of up to 50 meters at 1-2 feet below the surface. While this statement certainly holds true, I found that after about 35 meters, the headphones cut out now and then, depending on your swimming stroke.
This issue mainly occurred on strokes like freestyle and backstroke. I suspect that my arms briefly cut out the signal as they traveled out of the water for the recovery portion of my stroke.
On other strokes like butterfly and breaststroke, where my arms were closer to the surface of the water compared to the rotation-like movement of freestyle and backstroke, this issue was far less prominent.
A possible solution is to place the transmitter at the halfway mark next to the pool. However, that, unfortunately, won't always be possible, and it's much easier to leave it on top of a diving block at the far end of the pool.
I also found the headphones to cut out on flip turns briefly. However, in all cases, they never lost connection entirely and quickly started streaming audio again as soon as it had a clear signal. That said, Zygo is currently working on a software update to fix this issue.
It's important to note that this was for training in a long course 50m pool. For shorter 25-meter and 25-yard pools, this issue will be practically non-existent. You may lose connectivity on turns now and then. Still, other than that, the headphones provide a constant stream of clear underwater audio.
Other factors, such as the type of water (salt, fresh, or chlorine) and how deep you are underwater, will also affect the range.
In terms of the setup, connecting the headphones and transmitter via Bluetooth to my phone was a breeze.
Something else you might find interesting is that you can pair multiple headsets with the same transmitter. This allows you and your fellow swimmers to listen to the same audio.
If you swim with someone frequently, you can also buy only an extra headset separately, saving you money.
The transmitter also has multiple channels ensuring that you can listen to audio by yourself in the same pool space. (For that, however, you'll require separate transmitters).
Battery Life and Charging
The Zygo headphones claim a battery life of 2-3 hours for the headphones and 6-8 hours for the transmitter.
How long you get out of it depends largely on how loud you are streaming audio. I couldn't deplete the battery life during my workouts, and I usually swim for 1.5-2 hours at a time.
I listened to audio slightly louder than I would outside of the pool. I played various music styles and never had any issues with the battery life.
What I really like about the Zygo headphones are their wireless charging capabilities. As mentioned earlier, the carrying case also serves as a charging dock. You plug the USB cable into the case, and your headphones and transmitter will charge up for your next swim.
It's important to note that the case serves only as a charging dock and doesn't have a separate battery. This means your headphones will only charge when the case is plugged in.
Unfortunately, the charging station still uses the older micro-USB cables and not the newer USB-C cable, but this isn't too much of an issue, in my opinion.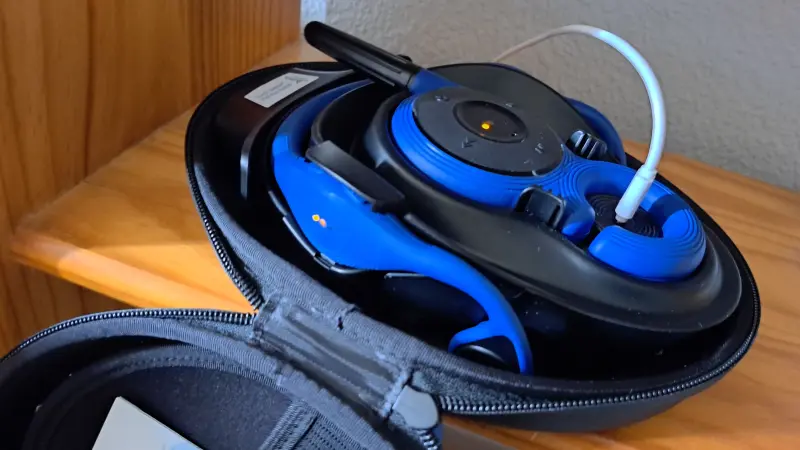 Pricing and Warranty
The pricing is the biggest downside to the Zygo swimming headphones and its various components. The entire set will set you back $300, which is quite expensive for headphones.
It also comes with an additional cost if you want to use the Zygo app. You can either pay $14.99 monthly or a fee of $119.99 for an entire year.
That said, the app does have a 2-week free trial for you to test it out.
However, it's not all so bleak. You can also purchase each component separately. That means if you ever lose a piece or something breaks, you can easily replace it without paying the full $300 price.
What's more is that the Zygo headphones, although expensive, remove the need for various other pieces of equipment that can currently be purchased.
For example, if you wanted a tempo trainer separately, you'd have to pay $60. If you wish to have just the ability to communicate with your coach while swimming, you'd have to pay $40 for the tech.
Other swimming headphones aren't much cheaper in any case, running in the range of about $150-$200 and presenting the set of problems I discussed at the start of this article. In contrast, with the Zygo Solo, those problems don't exist.
Zygo also offers a six-month warranty on each component from the day of purchase and a 30-day money-back guarantee if you decide that Zygo isn't for you. (Granted that your headphones are still in good working order).
Swim Tracking
Currently, the Zygo headphones don't offer any swimming tracking capabilities- but I have good news!
Most current models of the Zygo Solo have the necessary hardware built in to offer swim tracking. The software is currently being designed, and in the future, your Zygo headphones will be able to provide swim-tracking capabilities.
According to Zygo founder, Charlie Melvoin, the estimated release date for this update is January 2023. The update will also include the ability to see the battery status of your Zygo device directly in the app.
Top Overall Swimming Headphones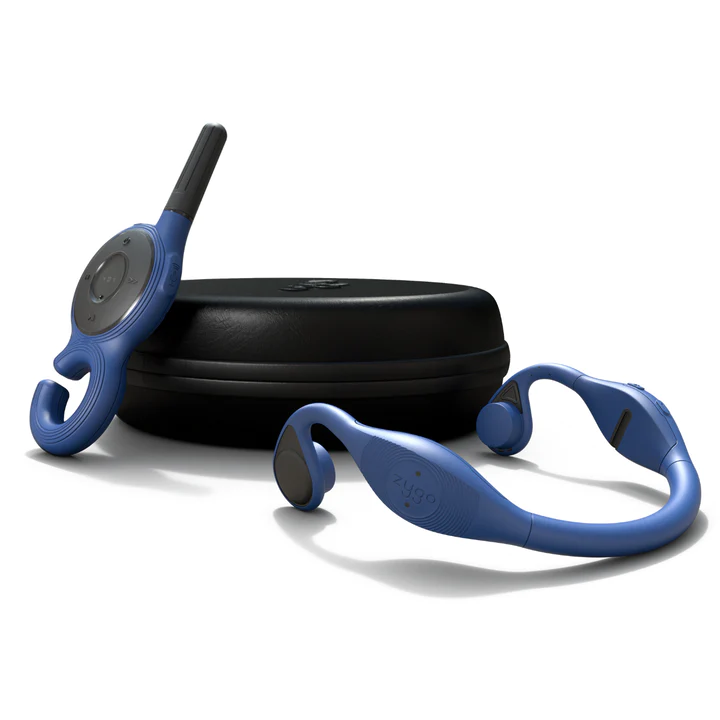 Spice Up Your Swimming with the Zygo Swimming Headphones
If you've ever dreamed of listening to Beethoven's Symphony Number 5 while swimming a 200m butterfly for time, now could be the time to do so.
Overall, I really like the Zygo swimming headphones and had a great experience with them. If you are serious about purchasing swimming headphones, the Zygo headphones would definitely be my first pick.
They are packed with a plethora of excellent features, have a great design, and will significantly simplify the streaming process when swimming while offering the opportunity not only for entertainment but also for improved swimming performance.