Do you want to become fitter and stronger? But not quite sure which training method is best and will provide you optimal results so that you can achieve your fitness goals as fast as possible? Well, don't worry, because in today's article we'll be taking a look at and comparing 2 of the most popular exercise methods- Swimming Vs Gym.
Now, before we start, I need to clarify that I'm not for one or the other. You might think that I'd have a natural bias for promoting swimming as being the best since I'm a competitive swimmer myself and since the name of my website literally screams swimming. 
But to be honest, I've achieved great results from both training methods. As a competitive swimmer I also frequently hit the gym to pump some iron and I've experimented with many different styles of weight training in the past.
So with that said, I'm going to try and provide you with an answer that will be best suited towards what your goals are and what you'd like to achieve with your health and fitness. 
It's, however, important to note that neither one of these training methods is going to yield overnight results. Heck, they won't even yield any significant result over the course of a month or two. 
You're going to have to stay consistent and put in the work on a daily basis if you'd like to reach your goals. I'd say give yourself at least 6 months of consistent training to see some nice results from both training methods- whichever you choose in the end.
For most people, swimming is the best option. Swimming is a full-body workout that will help you to build muscle, strength, and endurance. Swimming will also challenge your cardiovascular system and burn far more calories. Weight lifting in the gym will build mostly muscle and strength, making swimming a better all-around workout.
Swimming Overview
Swimming is one of the most popular exercise methods out there. It's a sport, hobby, and lifestyle for people of all ages and sizes. Swimming is an excellent way to build cardiovascular fitness, tone up, and become stronger and fitter- both in the water and out of it.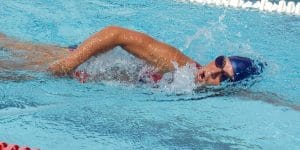 Like weight lifting, swimming is also a resistance exercise which means that it's also capable of building muscle but in contrast to weight lifting swimming places practically no stress on your joints and bones making it more sustainable in the long run (meaning you can do it until you're very old).
The constant pull- and push motions against the water is great for building muscle, toning up, and building endurance which is why swimming is so great- it's multi-functional and doesn't focus on one specific part of fitness, but rather provides a complete workout that maximizes the time you spend training.
Swimming trains almost every muscle in your body simultaneously, but it does place emphasis on certain muscles more than others since they are needed to generate speed and momentum in the water. These include the trapezius-, back-, shoulder-, abdominal, leg-, and tricep muscles. All of which are big and sought after muscles by most.
Gym Overview
Hitting the gym can mean more than one thing- it could mean that you're going for a run on the treadmill, or even a swim in the gym pool. So for the sake of making things less confusing, we'll be classifying hitting the gym as the most common thing people go there for- lifting weights to build some muscle.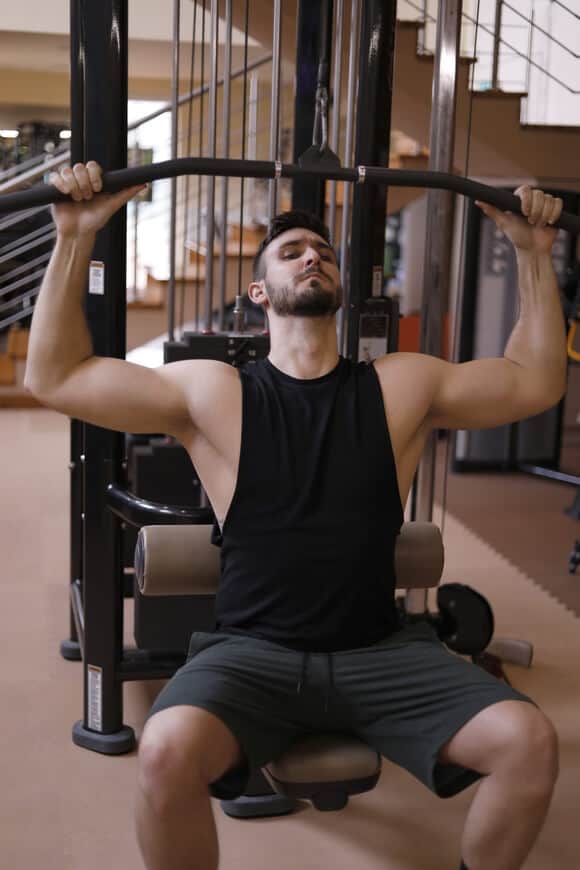 There are many styles of weight lifting with some people focusing on training to lift as much as possible and others using it as a way to build a serious amount of muscle mass while athletes generally use it to become stronger and develop explosive power that can help them in their defined sport.
Lifting weights is the most effective way for building muscle and can yield great results with minimal side effects when performed properly. This means taking the time to learn good lifting technique, stretching to stay mobile, and warming up properly before each workout.
You can train all of the muscles in your body with different weight lifting exercises. There are 2 main types of exercises that you can perform in the gym- compound and isolation exercises.
Compound exercises are exercises that use multiple muscle groups, like squats, bench presses, deadlifts, overhead presses, and so on. These are great for achieving some nice results and maximizing your time spent training.
Isolation exercises help you to zone in on one specific muscle in order to force it to grow and become bigger and stronger- such as your triceps or biceps for example. 
But unlike swimming, the gym is only good for one thing- building muscle, it doesn't yield any of the cardiovascular, recovery, or mobility benefits that swimming does.
Swimming Vs Gym for Weight Loss
Losing weight can be done in many different ways- but there is one principal written in stone that you have to abide by if you'd like to see good results, let alone any results at all. And that principle states that if you want to lose weight you have to be in a caloric deficit.
This means that you have to be consuming fewer calories than you are burning. This can be achieved by going on a diet and eating less or it can be achieved by doing some form of exercise that will burn calories and put you into that state of a caloric deficit.
So between swimming and gym, swimming is naturally going to burn far more calories- it is, after all, a combination of resistance and cardiovascular exercise. This, however, doesn't mean that gym doesn't burn calories- it does, just not as much meaning you'll have to exercise much longer to achieve the same results.
Swimming standard old front crawl, also more commonly known as freestyle by competitive swimmers will burn roughly 257 calories in just 30 minutes while swimming butterfly will burn up to 404 calories in 30 minutes.
Weight lifting, on the other hand, will burn only about 80-130 calories in 30 minutes which is still good but nowhere as much as swimming.
So if you want to lose weight then swimming is going to be your best bet since you'll be burning more calories and will lose weight faster. Just make sure not to eat more, you should preferably eat clean and healthy foods in moderate amounts. If you do that, there shouldn't be any need for a strict diet plan to see results- just remember to give it time and stay consistent.
If you'd like a more detailed guide for losing weight with swimming, I recommend checking out my article where I explain exactly how to achieve that in an in-depth guide. You can read it by clicking here.
Swimming Vs Gym for Building Muscle
As mentioned earlier, both swimming and gym are forms of resistance training. But as I also noted- lifting weights in the gym is the most effective way for building muscle. This is due to a couple of reasons.
Firstly, weights place much more resistance on your muscles than the water does when swimming. This will mean that micro-tears in your muscles are formed easier which helps to make your muscles bigger and stronger once they recover.
Swimming can still create these micro-tears but it doesn't do it at quite the same rate as lifting weights meaning that you'll build muscle at a slower pace.
Then secondly, as one becomes stronger and more muscular you'll require more resistance on your muscles to create those micro-tears. With weights, this is easy since you can just use heavier weights to achieve more resistance and in doing so keep creating micro-tears at a good rate.
With swimming, however, you can't add resistance as easily. If you want to keep building muscle you'll have to either swim for longer periods of time- which will eventually become unpractical or you'll have to increase drag by wearing a swimming parachute, drag suit, or swimming with a resistance band or weighted pulley tied to you.
Now with this said, most people will probably be happy with the amount of muscle they build from swimming, but others may be looking to build more than just that. 
So in short, for building the most muscle both in the long run and in the shortest amount of time you are probably going to want to hit the gym to lift some weights. 
Keep in mind, unlike with losing weight you'll have to eat more food and go into a caloric surplus to sustain the muscle-building process, otherwise, you won't achieve good results in the gym.
If you want to you can check out a few of my weight lifting articles for some more guidance, here are some useful ones-
A Cheat Sheet for Creating the Perfect Swimming Workout and Routine
Download this FREE cheat sheet to create the perfect swimming workout and routine. Learn how to structure your swim workout and enjoy 9 example workouts, ranging from beginner to advanced.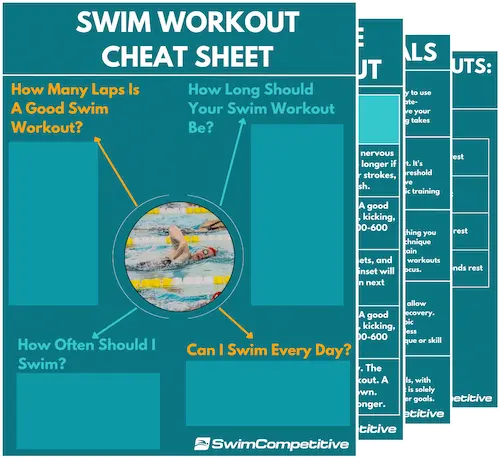 Swimming Vs Gym for Cardiovascular Fitness and Endurance
This one is going to be a clear, concise, and simple answer. If you are looking to build cardiovascular fitness and endurance, then swimming is going to be your best bet by far compared to hitting the gym.
Lifting weights at the gym simply doesn't build a lot of cardiovascular fitness and endurance. That's why a lot of bodybuilders and powerlifters can lift an absolute ton of weight and look like the human version of a tank, but they can't jog a mile, let alone swim one, without being completely out of breath.
With swimming, you develop an absolute ton of cardiovascular fitness and endurance. This is great since higher levels of cardiovascular fitness will mean that you have a stronger heart and respiratory system helping you to be healthier and also power through pretty much any long-winded physical obstacle that you may face whether it be hiking a mountain or running a couple of miles.
As someone who consistently swims 2-3 or even more hours a day, 6 days a week I have no problem running a few miles or cycling a few more even though I never even train for those activities.
The other day I actually ran about 10km in just over an hour just because I felt like going for a run. This is by no means fast, but the point is that I could run 10km in one go without training for it and without being very tired at the end of it either.
If you'd like to check out some nice swimming endurance workouts you can check out my article on it by clicking here or you can read my article on how to improve swimming endurance by clicking here.
Related: How does swimming change your body?
Want the Best Results? Why Not Combine Swimming and Gym? Here's How
So with all that said, it's clear that both of these training methods are great ways to become a healthier person and that's probably also why they are so popular. Yet, both yield different benefits and emphasize different aspects of fitness.
So my question to you is- why not combine both swimming and gym instead of comparing them and trying to decide which one is best? You don't have to train like an absolute freak like I do, with swimming and gym on the same day, but I mean if you really wanted to you could.
For most people, you can combine swimming and gym training to work with each other on alternate days. This way you receive the best of both worlds- you build muscle and strength at a fast rate, and also some good endurance and cardiovascular fitness, while swimming can also serve as a way of becoming more mobile and also a method of active recovery after a hard lifting session.
Here is an example of how your training could look throughout the week-
Example 1-
Monday- Gym
Tuesday- Swimming
Wednesday- Gym
Thursday- Swimming
Friday- Gym 
Saturday- Swimming
Sunday- Rest
Example 2-
Monday- Gym
Tuesday- Swimming 
Wednesday- Gym
Thursday- Swimming
Friday- Gym
Saturday- Rest
Sunday- Rest
Example 3-
Monday- Swimming
Tuesday- Gym
Wednesday- Swimming
Thursday- Gym
Friday- Swimming
Saturday- Rest
Sunday- Rest
If you're going to adapt this training style (which is a great idea), maybe consider checking out my article- should you lift weights before or after swimming?
Swimming or Gym- It Depends on Your Goals
a Combination of both would be an excellent idea, but for those who want to know the simple answer to which one is better here, it is- 
If you're like most people you just want to be healthier, build some muscle, and feel and look good. For this swimming is going to be perfect and also optimal. It's going to build both cardiovascular fitness and muscle and will maximize the time you spend training.
Hitting the gym is still good but it doesn't yield quite all of the benefits that swimming does, it's more self-centered towards one simple goal of building muscle and becoming stronger instead of achieving all-around fitness, strength, mobility, and health which swimming provides in one complete workout.
So, in short, I'd say swimming is better and would recommend you to swim to receive a great and complete workout. If you want to build a ton of muscle on the other hand, maybe consider lifting weights.