When we, as competitive swimmers, hear the word "Arena powerskin" we immediately want to jump into race mode. Powerskins are one of the most critical pieces of equipment when it comes to race day and I will explain exactly why-
As competitive swimmers, we use a lot of different equipment to help us enhance performance in the water. Most of this equipment is used during training to help us improve on certain aspects of technique in our strokes or to help build power in the pool.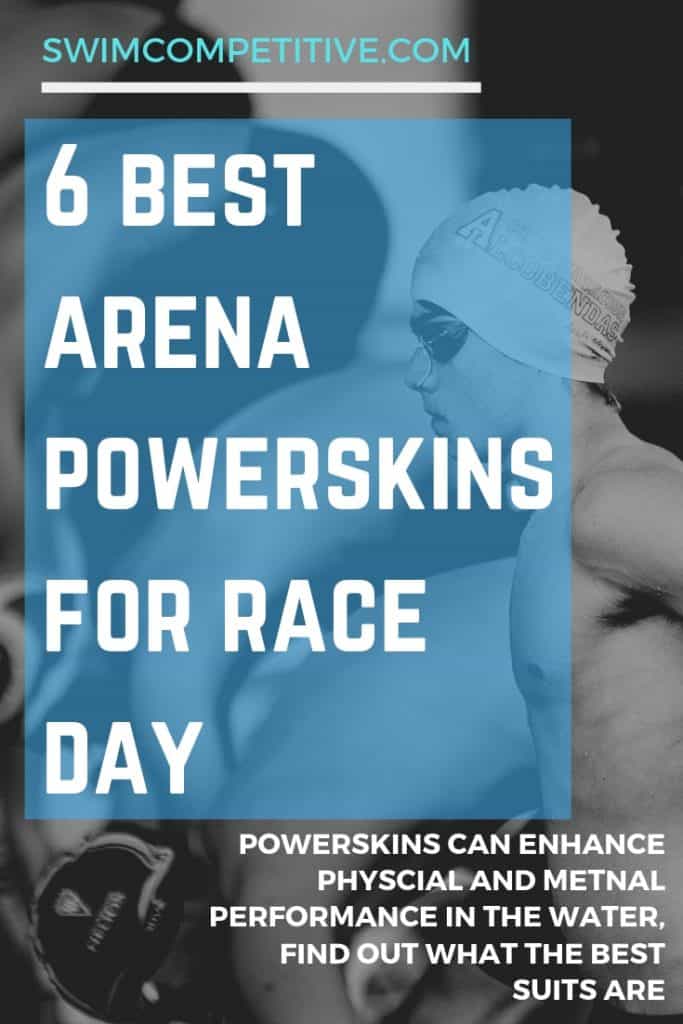 However, there are 2 very critical pieces of equipment every swimmer should invest in to enhance their performance on race day. The first piece of equipment is competition swimming goggles. (Read my full article on the best competition swimming goggles, these goggles have the possibility to enhance performance in the water.)
And the second piece of equipment (you guessed it) is Powerskins, also known as racing suits or tech suits. Powerskins are easily one of the pieces of equipment that have the biggest performance enhancing effects in the water.
If we go back to the summer of 2009, when powerskins were first introduced to competitive swimming it is quite clear that they can change the course of a race quite significantly. Over the course of a week in July at the World Aquatic Championships in Rome, 43 world records were smashed.
Since then, FINA has changed the rules and there is now an "approved list" of powerskins that limit the type of materials and sizes that can be used. Nevertheless, these suits still hold performance enhancing effects for competitive swimmers.
Powerskins can enhance performance in the water in 2 main ways. The first would be physically and the second would be mentally. Let's have a deeper look into how these suits enhance both physical and mental performance in the pool.
---
Physical Benefits.
---
(1.) Compression.
Almost all powerskins offer muscular compression, although high-end suits tend to give more compression benefits. Compression is probably one of the biggest performance-enhancing features of powerskins.
It allows blood to circulate faster through the body, this blood then replenishes the oxygen supplies in your muscle tissue and it removes toxins like lactic acid and carbon dioxide. Ultimately, this allows for enhanced physical performance since the body is able to exert more power at a faster rate.
(2.) Improved stroke rate and stroke length.
The second most notable physical benefit of powerskins is improved stroke rate and stroke length. An improved stroke rate and stroke length allows swimmers to swim faster for longer while racing.
This has even been verified by a study done on elite French swimmers. The study found that powerskins allowed for lower resistance in the water, while swimmers experienced longer gliding phases and improved efficiency in the pool.
The study also found that the effects of powerskins were the highest at sprinting speeds. Thus we can make the conclusion that the effects of the suits will vary from swimmer to swimmer depending on size, speed, and technique.
(While we are on the topic of the physical body, I recommend that you check out my article on the 10 best strength exercises for competitive swimmers. These exercises can help you to build power and ultimately allow you to swim faster.)
---
Mental Benefits.
---
Powerskins have also been known to have positive effects on a swimmer's mental state before racing. If you were to ask any swimmer who has worn a powerskin for race day they would most likely answer with something along the lines of how it made them feel more confident as they stepped up to the diving blocks.
Confidence in competitive swimming and competitive sports, in general, is extremely important. Why? Well, if you don't believe you are ready or you have done everything you possibly can to prepare for your race, then you won't be able to perform optimally.
One of the reasons we see world-records still being broken today is because swimmers believe that they can do it. If no one believed that they could brake a really though record, then it wouldn't be done.
The fact of the matter is that powerskins give swimmers confidence that they are completely ready for their race. When you put on that suit it is like pulling a mental switch that tells your body you have entered race mode.
(Quick heads up! If you are interested in getting up to date on some awesome psych up tips before your race, I highly recommend that you check out my article- "10 Best Psych Up Tips For Swimmers". Your mind is very powerful and it can be used to enhance your performance in the water. )
---
Today we will be taking a look at a few awesome powerskins, more specifically Arena Powerskins. I will go into an in-depth analyzation of each Arena Powerskin. We will take a look at some of the features of each suit, the weight, and the material composition.
---
Arena Carbon Air Powerskin
---
The Arena Carbon Air Powerskin is one of the best racing suits available on the market. (Keep, in mind, there is now a new and improved version- the Arena Carbon Air 2, but we will discuss it a bit later.)
With that being said it is important to note that the classic Arena Carbon Air is still a very reliable suit with some awesome features packed into its design. The Carbon Air is part of Arena's carbon line of powerskins. (We will discuss a few more of the carbon line suits in this article).
The Carbon Air powerskin has intelligent muscle compression built into its design. Like I mentioned earlier this is a great performance-enhancing feature since it allows for faster oxygen replenishment and lactate removal from the muscles.
Secondly, the Arena Carbon Air powerskin is significantly lighter than most other powerskins. This is a huge plus in terms of the performance side of the suit. The powerskin has a material composition of 65% Nylon, 34% Lycra and 1% Carbon Fiber.
Arena claims that the powerskin is 30% lighter when compared to most other tech suits. This isn't hard to believe since the suit is relatively thin and is made up out of a good material composition. Unfortunately, this causes the suit to have a slightly shorter lifespan, but it's nothing to complain about.
Further, the Arena Carbon Air powerskin is built with carbon bands in its design. These bands allow for intelligent muscle compression, reduced drag and resistance in the water, and maximum power output.
All in all, I truly believe that this Arena powerskin is one of the best on the market. It is a great suit for all of the strokes and events. However, I wouldn't completely recommend it if you are looking for a pure breaststroke powerskin. (In that case, check out the Arena Carbon Flex VX powerskin below.)
If you would like to know a bit more about the Arena Carbon Air powerskin. I suggest you check out my full review on this suit. I dive very deep into detail about the suit, how it made me feel in the water and some of its cool features.
---
Arena Carbon Flex VX Powerskin
---
For our second Arena powerskin, we have the Arena Carbon Flex VX racing suit. As you have probably already realized. The suit is also part of the popular Arena carbon line and it is feature loaded.
The Carbon Flex VX is a high-end powerskin designed specifically for breaststroke swimmers. If you have watched any race where Adam Peaty was present, you would have most likely noticed that he loves this suit. (He wears it all the time!)
Adam Peaty is one of the greatest breaststroke swimmers in the sport of competitive swimming and he is the current world record holder in the 50m and 100m breaststroke events.
And although this suit is a popular option for breaststroke swimmers. I definitely don't believe that it is limited to swimming purely breaststroke. I have seen many competitive swimmers rock this suit out to butterfly, backstroke and freestyle events. Needless to say, many of them achieved great results.
The Arena Carbon Flex VX powerskin has a multi-panel design. This uses anchor points and high-strength elastic tape to create a tension line along the back of the upper legs. This added tension helps the swimmer to maintain a good body position in the water and reduce drag. Ultimately, making them faster.
If we take a further look at the design we will notice that this powerskin has a V-flex build. This allows the side seams to be removed. When the side seams are removed the swimmer gains access to maximum flexibility and freedom of movement in the hips and glutes, while racing.
The Carbon Flex VX also has intelligent muscle compression built in. Once again, this is a great feature to have since it allows the muscle's oxygen supplies to quickly be replenished while removing lactate.
Overall, the Arena Carbon Flex VX is an excellent powerskin. And like I mentioned, it is an awesome suit for breaststroke swimmers, but certainly isn't limited to only swimming breaststroke events.
---
Arena Carbon Ultra Powerskin
---
The third high-end powerskin we are going to have a look at today is the Arena Carbon Ultra powerskin. This racing suit is also a part of Arena's carbon line of powerskins.
The Carbon Ultra Powerskin is one of the slightly newer suits introduced to the Arena Carbon line and it's a feature built racing suit, ultimately allowing for some awesome high-speed performances in the pool.
In terms of a suit that is good for every stroke, the Carbon Ultra definitely doesn't fall short. The suit is relatively optimized to support every stroke and event, except maybe for the longer distance events. (In that case, you are better of with the Arena Carbon Air).
The Carbon Ultra has an interesting design feature called "infinity loop". This feature allows key muscle groups to be linked together while racing, ultimately allowing you to swim faster.
In my opinion, the Arena Carbon Ultra powerskin has some of the best and most intense compression out there. (Heads up- it's quite uncomfortable.). The suit basically utilizes ultra-compression panels to compress your muscle groups when swimming, allowing for higher oxygen levels, lower lactate and more muscular activation.
It isn't the lightest powerskin, but it definitely isn't heavy. The suit has much more lycra and carbon fiber than other suits. The final material composition is 50% Nylon, 47% Lycra and 3% Carbon fiber.
The powerskin allows for natural movement and freedom of movement, once again verifying that it is a pretty solid option for all of the strokes. It also has movement isolation and targeted compression to allow for better body position and improved stroke efficiency while swimming.
All in all, the Arena Carbon Ultra powerskin is a really solid option. It is feature packed and will support all of the different strokes. Sure, the suit isn't the most comfortable, but it gets the job done.
---
Arena Carbon Air 2 Powerskin
---
Like I mentioned earlier, Arena has recently released a new version of the original Arena Carbon Air- The Arena Carbon Air 2 (super impressive name change, I know right).
The fact of the matter is the Arena Carbon Air 2 is very similar to the original Carbon Air. This new powerskin basically builds on what has already been achieved with the original racing suit. But it aims to improve it and add some cool new features and technology into the design.
The new Carbon Air 2 powerskin is made from a single fabric, instead of 2 separate fabrics that are weaved together. This reduces drag and resistance in the water by removing the side seams on the powerskin.
The single fabric build also reduces the amount of water that gets absorbed. It drastically increases comfort and even makes the suit easier to get on.
On the compression side of things, the suit now has carbon bands built into the fabric. This allows for comfortable and effective muscle compression. These integrated carbon bands attach to critical stretch points to provide compression on overextended zones. They improve core stability and enhance power when needed most.
Lastly, the Arena Carbon Air 2 has been redesigned for greater freedom of movement. The internal lining of the Carbon Air 2 is made up out of 3 different panels. Ultimately, resulting in more range of motion while swimming.
Overall, I really like the new features and upgrades in the Arena Carbon Air 2 powerskin. It allows for an awesome feature-packed high-end powerskin. In terms of strokes and events, the suit is good to go with pretty much all of them.
---
Arena R-Evo One (Mid-range powerskin)
---
Now that we have covered all of the high-end Arena powerskins. We are going to take a look at a slightly less expensive, but still, feature-packed mid-range powerskin- the Arena R-Evo One powerskin.
The Arena R-Evo One is designed with a single piece fabric construction. It only has one bonded seam at the back, allowing for reduced drag in the water. Ultimately, this has the possibility to increase speed while racing.
Secondly, the Arena R-Evo One powerskin is designed with an ultra-lightweight fabric. This makes the suit one of the lightest suits available. Unfortunately, the material composition isn't the most impressive. The suit is made up out of 78% nylon and 22% lycra.
The R-Evo One powerskin offers decent muscle compression, but it lacks when compared to the high-end Arena racing suits. Luckily, the suit is designed for reduced water absorption and it's quite comfortable and easy to get on.
All in all, the Arena R-Evo One powerskin is definitely still a great option for a powerskin. It has some good high-end features and comes in at a slightly lower price.
---
Arena ST 2.0 (budget powerskin)
---
Maybe you haven't ever bought a powerskin and you're trying it out for the first time. Or maybe you are just looking to save some cash. The fact of the matter is the Arena ST 2.0 is a great budget racing suit.
The suit comes in at a significantly lower price when compared to the high end-suits. Unfortunately, this also comes at a "different" cost. The suit lacks many of the high-end features found in the more expensive suits.
The Arena ST 2.0 definitely feels a bit looser than the rest of the suits, but nevertheless, it still has a good weight and decent material composition with 71% Nylon and 29% Lycra.
Lastly, the powerskin allows for complete freedom of movement, which allows the swimmer to use it for any stroke or event. Including long-distance events since the compression isn't so tight. The Arena ST 2.0 has an ergonomic construction, allowing for enhanced support, stability and comfort while racing.
Overall, I definitely don't think the Arena ST 2.0 is such a bad option. It still packs some nice and useful features and the price is a big win if you are looking for something a bit cheaper.
(If you would like to find out a bit more about the Arena Powerskin ST 2.0, I suggest you check out my full review of the suit. In that article, I go into a lot of detail about the pros and cons of the suit and my overall experience racing with it. Click HERE to read the review).
---
5 Tips to make your competition swimsuit last longer.
---
1.) Save it for your big day.
I would recommend that you only wear your tech suits at big races. Or at races where you are trying to qualify for something like nationals. Do not wear your suit at each and every race.
The only time this would be acceptable is if you have a few different competition swimsuits. That way you can cycle through the older ones at the non-important swim meets.
2.) Don't hang it up.
When drying your tech suit, it's better to roll it up in a towel and wait it out or to simply lay it out flat on a towel. If you hang it up it can result in stretching your suit. Stretching will make your suit looser and have you lose some of those nice compression benefits.
3.) Rinse it out with cold water.
The high concentration of chlorine in the pool (some more than others) can damage your suit if you don't remove it. When you are done racing for the day it's always a good idea to rinse your suit out with some cold water to remove unnecessary chlorine.
4.) Wear pants and shorts over them in between races.
Unless you are planning on taking your suit off and putting it back on every 20 minutes it's probably a good idea to wear pants or shorts over them. This will prevent your suit from damage or getting caught on something and tearing.
5.) When tying your drawstrings, cross them before pulling to prevent tearing.
This is a slightly more complicated one to explain on paper, but I'll do my best. When tying your suit before you go and smash another PB cross the drawstring so that it forms an X.
Do not pull them in different directions from each other when tying them. (Meaning like a Y).
When you do this you are essentially putting a strain on the fabric and it can result in an unnecessary tear.
For another 11 tips on how to make your competition swimsuit last longer, I would recommend that you check out my article on "How to make your tech suit last longer". We all know that these suits are expensive and this article will help you to take good care of your suit, allowing it to last longer. Ultimately, saving you some cash.
---
Conclusion
---
In my opinion, I think it is quite obvious that these Arena Powerskins can enhance your physical and mental performance in the water. I mean just look at what happened at the 2009 World Aquatic Championships in Rome.
These powerskins have the ability to improve stroke rate and stroke length. They can enhance the renewal of oxygen to your muscles and increase the speed at which lactate is removed.
It is important to remember that these suits aren't the only important thing. They aren't somehow going to magically make up for you skipping training or not doing your strength and conditioning training properly.  These suits only enhance the performance level that you have worked for. They don't create it.
If you aren't quite convinced yet that one of these powerskins is for you, then I highly recommend you check out my article- "The swimmer's ultimate guide to competition swimsuits". There are another 10+ powerskins in that article, from different brands of course that you might want to consider.
---
MAKE SURE TO VISIT MY

BLOG

FOR MORE ARTICLES ON COMPETITIVE SWIMMING.
---